Government commits to ending gender violence in five years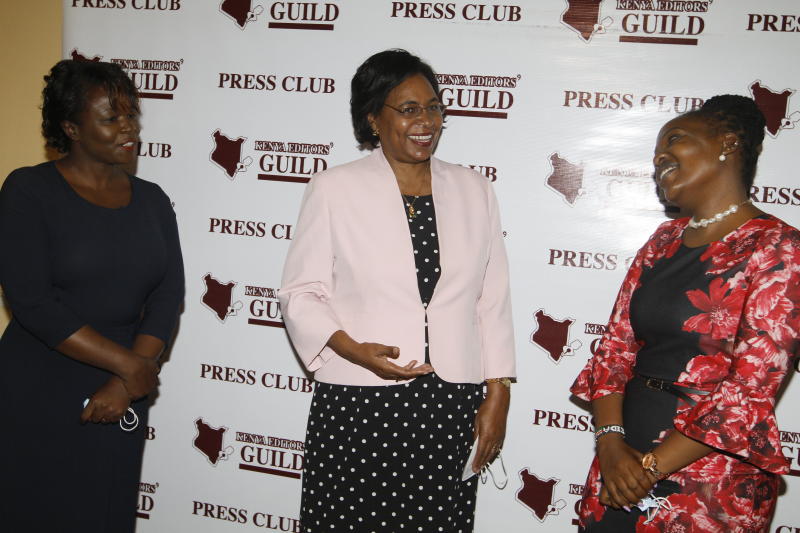 Gender Cabinet Secretary Margaret Kobia has said the government is committed to eradicating all forms of violence against women and children.
Speaking at a Press Club luncheon organised by the Kenya Editors Guild, Prof Kobia said the government is aiming at eradicating the vice by 2026.
She also promised that the government would intensify campaigns to end these violations by undertaking a series of commitments that would remove the barriers that allow GBV to thrive.
Speaking during the meeting themed Generational equality: Enhancing Progress for Gender, Kobia said: "I welcome this choice of focus within the context of Kenya's commitments under the gender equality forum," she said.
According to Kobia, the government will allocate $50 million (Sh5.5 billion) by 2026 to end GBV. The resources will be mobilised through a co-financing model in the spirit of existing goodwill from various development partners.
"These resources will be critical for implementing existing commitments on ending GBV, including working with the counties towards the establishment of shelters and GBV recovery centres," Kobia said.
The CS added that the media has a critical role to play in promoting the Generation Equality Forum agenda and that gender equality can only be promoted by highlighting the unconscious gender bias.
She said the government would introduce a module on GBV in the 2022 Kenya Demographic Health Survey to strengthen the utilisation of gender statistics in informing the design, scale-up and evaluation of FGM and GBV programming.
The CS said many people are sometimes influenced by unconscious gender bias and which has to be tackled.
"I appeal to the media to promote these programmes, address gender stereotypes and prejudice. 46 per cent of media content promotes gender stereotypes and prejudices while only four per cent challenges and criticise gender stereotypes," she said.
Kobia also said the National Police Service will be integrated to respond to GBV 'policare' and establishing recovery centres and shelters in all 47 counties.
These commitments by the government came a few days after it denied accusations by a Human Rights Watch (HRW), which accused it of late response in helping abandoned Covid-19 GBV victims.
KEG Vice President Zubeidah Kananu called for the inclusion of women in leadership roles and as experts on panels.
"Public awareness done through targeted messaging, tracking down and documenting victims of gender discrimination and a close working relationship between the ministry and the mainstream media will go a long way in stemming the tide of gender discrimination," she said.