Kenya, Uganda to find lasting solution to Migingo Island dispute, says envoy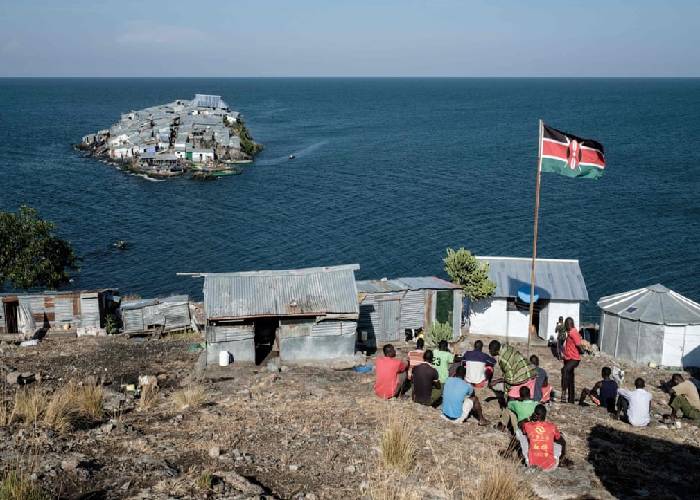 Uganda's High Commissioner to Kenya, Amb Dr Hassan Wasswa Galiwago has said Kenya and Uganda will soon find a lasting solution to the dispute over Migingo Island in Lake Victoria.
In an exclusive interview with Spice FM on Friday morning, Galiwango said the Migingo Island tussle will form part of the discussion during the inter-ministerial commission meeting slated for Kampala before the end of the year.
"What is important and everyone should know, is that Kenya and Uganda are brothers and they cannot sustain a conflict. Any conflict will be resolved even when it means sacrifices,' said Galiwango.
"One thing that I want to assure you is that there is no question between Kenyan and Uganda that cannot be resolved. It is just a matter of time before the dispute is resolved.
He said the dispute had been discussed at inter-ministerial levels and even at the level of the principals.
"President (Yoweri) Museveni and President Uhuru (Kenyatta) discuss all these issues."
Kenyan fishermen continue to suffer at the hands of brutal Uganda forces as they go about fishing expeditions in the lake.
The most recent incident between the two countries was in August this year when fishermen from Homa Bay county staged demonstrations after one of their colleagues was allegedly killed by Ugandan security forces.
Haraphat Okinyi Nguka was allegedly shot dead by people believed to be Ugandan coast guards and his body dumped into Lake Victoria.
The source of tension has been the boundary of Migingo, a tiny island that covers just 22,000 square feet and is believed to be the boundary between Kenya and Uganda.
Tariff barriers
According to Galiwango, the joint-ministerial commission meeting will also discuss tariff barriers and regional peace.
"Seven ministers from the republic of Kenya will come to Kampala to discuss how to manage these issues."
This will be the second meeting since 2019 one, held in Nairobi.
"It should have taken place already, but it is the Covid-19 that interfered with the programme. But we all agreed that it should have a meeting before the end of the year to handle most of these issues."
Last April, the two governments held an inter-trade meeting in Kampala that culminated in President Museveni lifting the non-tariff barrier on furniture and sanitary towels from Kenya.
"There is nothing that can make us fail. Kenya is also reciprocating in the same way. Our sugar is now coming in," said Galiwango who disclosed that Uganda exports 90,000 tons of Sugar a year to Kenya.
Galiwango took over as the Ugandan High Commissioner last March, from Phibby Otaala
Otaala had resigned to contest for a parliamentary seat in the last Ugandan General Elections.