Government deploys 200 new assistant county commissioners in Rift Valley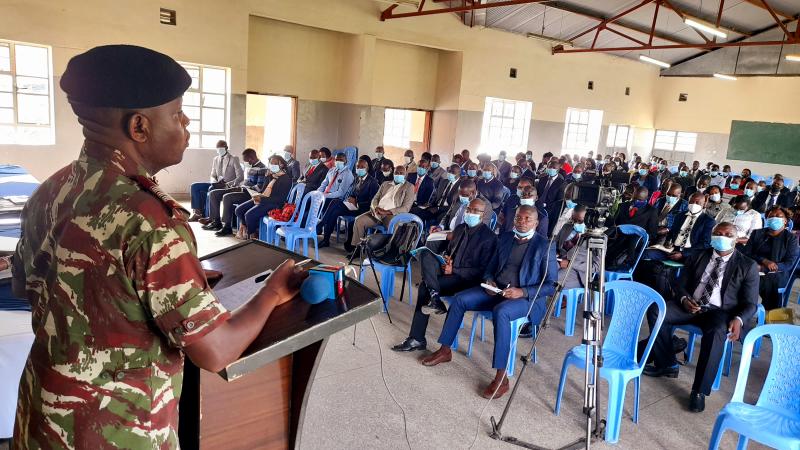 The government has deployed 200 newly recruited Assistant County Commissioners (ACCs) to different parts of the Rift Valley as the country gears towards the next General Election.
Rift Valley Regional Commissioner George Natembeya met the new administrators after their initial training ahead of posting to their respective divisional headquarters.
Mr Natembeya said the administrators were recruited following the creation of new administrative units in the region and a growing workload as the country approaches the next elections.
"A lot of work needs to be done under the Rapid Results Initiative (RRI). We are approaching a general election and they will be required to organise peace meetings and coordinate government functions," said Natembeya.
Among their first assignments under the RRI, Natembeya said, the ACCs will be tasked with spearheading registration for IDs and mobilisation of potential voters to get registered.
The regional commissioner revealed over 70,000 national ID cards were still uncollected.
"We have 24,000 processed ID cards that are yet to be collected in the North Rift region. Another 47,000 are yet to be collected in the South Rift region. Most of them belong to youth yet to register as voters," said Natembeya.
He directed the Deputy County Commissioners to collect the IDs from the respective offices and ensure they are handed over to chiefs who will aid in tracing the applicants.
He challenged the new ACCs, the majority of whom are fresh university graduates, to bring transformation in public service at the lower levels which have been on spot over dismal performance.
"Some chiefs have been barriers to Kenyans accessing government services. You are new blood in the system capable of transforming the culture in government offices. Be the change that Kenyans desire," said Natembeya.
He added that the government's move to employ young ACCs will go a long way in bringing a new experience for the Kenyan population, the majority of whom are youth.
"You are the people who know best about modern challenges and best solutions. Expectations are high that you shall bring new solutions to address challenges facing our society today," said Natembeya.
He further called on the young ACCs to be at the frontline in pushing for the implementation of government projects.
"As government officers, you are mandated to ensure that government programmes are running. You are expected to be assertive and firm in pushing contractors to deliver government projects," he said.
He urged them to be the first link between the youth and government programmes aimed at empowering the youth towards the country's economic recovery.
He warned them against getting comfortable with government facilities, urging them to push for their individual growth in and outside the public service to inspire other youth.
"Don't forget about your own life. Don't get too comfortable with government facilities. There are many opportunities for career growth in public service which you should work hard to access," said Natembeya.
Among the newly recruited ACCs is Sharon Mwalili who was posted to Londiani Sub-County in Kericho where cases of school dropouts have been on the rise.
"I am ready for the task and to engage the community and especially the young girls who have been dropping out of school. This is a new challenge for me, which I want to use as an inspiration to my fellow youth," said Ms Mwalili.
Felix Oluoch, who was posted to Kajiado County, said that he was up to the task of dealing with retrogressive cultures popular among local communities.