Farmer who sold Sh1 million bull to Uhuru quits dairy farming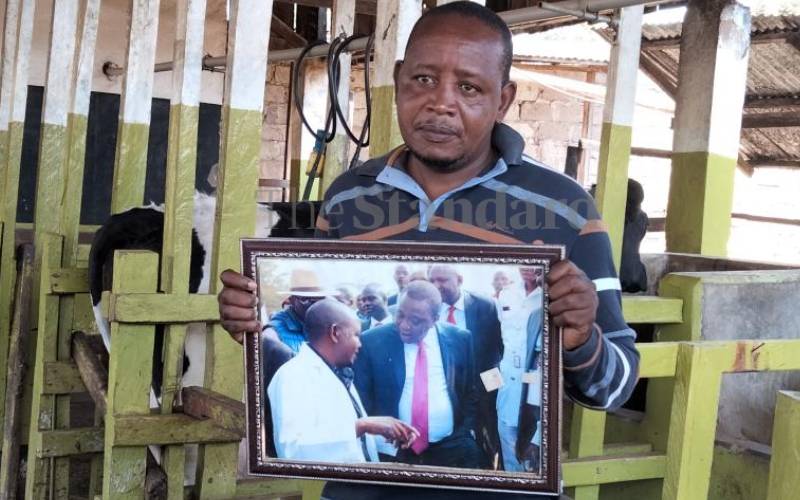 On December 4, 2018, John Njoroge walked home with Sh2 million after selling four animals to two clients at the Narok Agricultural Show.
His clients were President Uhuru Kenyatta, who bought a bull at Sh1,150,000 and Narok Senator Ledama ole Kina, who bought three heifers at Sh850,000.
The President was impressed by the Friesian breed bull nicknamed Tom, which weighed 1.5 tonnes. It was sold through auction and attracted the highest bid.
It was a remarkable day for Njoroge, who not only made a tidy profit but was happy for the proximity with the Head of State and the fond ties he made with the Narok lawmaker.
His dairy farm in Kananachi village Kiminini Constituency, was earning him a fortune with over 1,000 litres of milk produced daily.
But three years after making that incredible sale and almost a decade since starting the venture, Njoroge has decided to quit dairy farming due to low returns from milk produce.
The 46-year-old father of three cites high costs of production in contrast to the current milk prices in the market as his main reasons for abandoning the once-lucrative venture.
Way back in 2012, Njuguna, then a sales attendant at a local petrol station, bought a cow and a heifer from his sister Joice Mbugua for Sh30,000.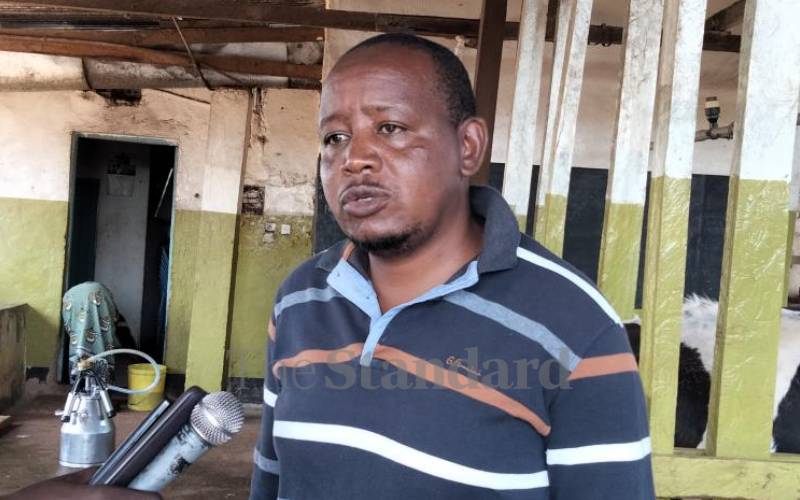 "I started the dairy farming venture to supplement my meagre income. Initially, I managed to produce 25 litres of milk per day," Njuguna tells The Standard.
A few years later, his stock had risen to six, which he sold at once after finding a good market. He then restocked with 15 dairy cows.
At his farm in Kiminini constituency, Trans Nzoia county, the industrious farmer gradually increased his stock to 100 dairy cows, and he produced an average of 1,000 litres a day. With a market price of between Sh40 and Sh45 per litre, the venture had some good returns.
The fluctuating milk prices however became a challenge later with a record low of Sh19 per litre recorded from around June 2019 through to mid 2020.
"Despite the fall in milk prices, the cost of feed kept escalating, and it became a real challenge to sustain the animals," said Njoroge.
At some point he was compelled to sell part of the stock to feed the remaining animals, which was a clear indicator that things were thick.
His main markets were milk processing factories and secondary schools, which took hundreds of litres from him. But as he notes, he began feeling the heat when schools were closed for holidays.
"I had to hawk my milk at that little price of Sh19 per litre, yet the produce was at the same time flooded in the market and I felt so frustrated," he disclosed.
But what made it worse was the high cost of feed. Njoroge and other dairy farmers from the region sourced ingredients for the dairy meals from Uganda and Tanzania.
As 2021 ushered in, the cost of soya, a major component for the dairy meal, had risen from Sh40 per kilogram to a whooping Sh110 for the same quantity.
Cotton cake, also a component also shot up from Sh25 to Sh65 per kilogram besides other components such as sunflower and wheat baller which also hiked.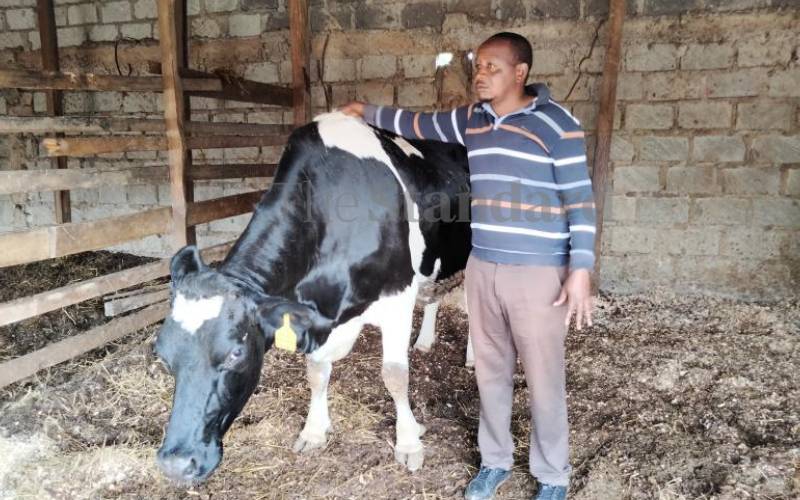 With the exchange rate at Sh1 to Ush33, down from Ush37 in 2019, the cost of feed sourced from Uganda became even worse for the dairy farmers.
"The cost of producing a litre of milk is Sh40, while the cost of making a kilogram of dairy meal is Sh50. On average, a cow feeds between eight and 10 kg, when you add silage or hay, the amount gets to Sh800 which means a cow eats more than it produces," he lamented.
Njoroge says he plans to sell his remaining herd in a months time due to the high costs of production. He cites that out of Sh20,000 monthly earning he spends an upwards of sh17,500 on feeds.
As if that was not enough, the strike of Covid-19 made it unbearable for most investors in the dairy sector. With many business sectors affected, the dairy sub-sector was not spared by the harsh realities.
Njoroge says it became difficult to pay workers at the farm, pay taxes as well as obtain more feed to sustain the cows with the prevailing harsh conditions.
While he employed at least 10 workers in the farm earning an average Sh10,000 per month, he had to scale down to half both the size of his stock and the number of employees. Production subsequently lowered to 500 litres a day.
Njoroge has since decided to quit the venture and is considering majoring in pig rearing, which he believes is better.
He has already acquired a number and intends to fully embrace the venture after disposing of his remaining dairy stock.
"We had a local company from Eldoret charging us Sh15,000 to chop an acre of silage but when their machines broke down, a foreign investor has taken advantage and is charging us between Sh18,000 and Sh25,000 for the same," decried Njoroge.
His appeal is to President Uhuru Kenyatta to intervene and cushion farmers in the dairy industry from plunging into further losses. He notes that the sector is crumbling and that soon the country may be forced to import milk and its products.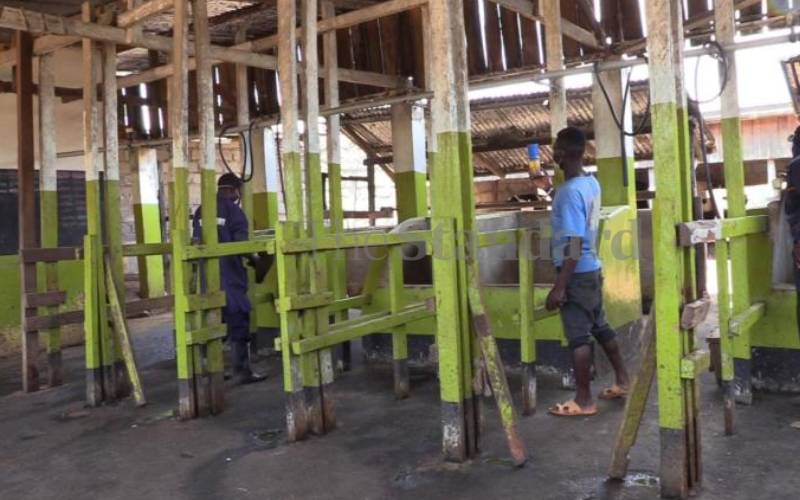 Although Njoroge has registered his concerns with the county department of Agriculture, he says that the devolved unit may not be able to individually restore the glory of the sector, hence calls on the head of state to intervene.
County Livestock Chief Officer Shadrack Kimutai alluded to the high costs of feeds in the market, but he adds that the parent ministry at the national level to extend an olive branch to farmers.
"Agriculture as a sector has many challenges affecting production among the vagaries of the weather, cost of inputs, pests and diseases among many. We however encourage farmers to work with us in overcoming them rather than quit," he said.
Kimutai says the department has crafted a strategy to reach out to farmers and record their experiences with the view of support where applicable.
He adds that the county administration will continue to work in partnership with the national government and other industry players in restoring the vibrancy of the once-lucrative sub-sector.
"In our records, we have seven dairy farmers who have quit and ventured into other types of farming," he disclosed.
But Njoroge's sentiments Bruce Cheti, an economist, who opines that the government should provide incentives such as making feeds duty-free.
"It is imperative as well to ensure we have more local feed manufacturers as well as regulated milk prices to ensure that a farmer can sell a litre of milk at between Sh60 and Sh70 to get better returns," observed Cheti.