Keeping Kenyan politicians off the pulpit is no mean feat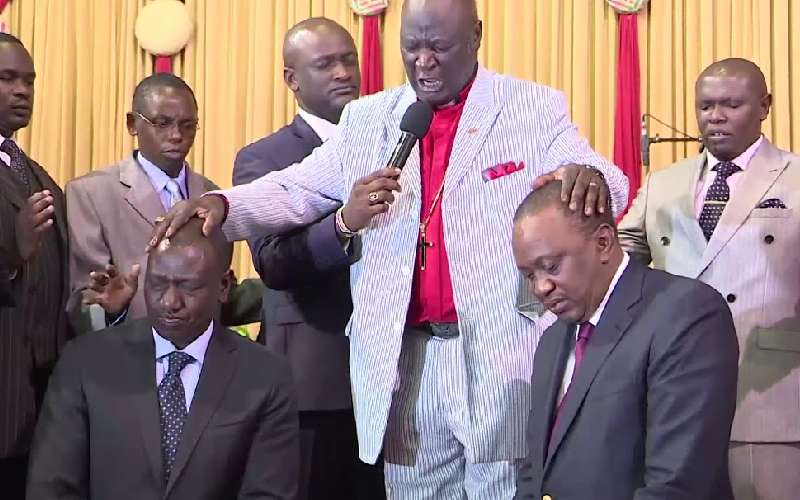 The debate of keeping politics off the pulpit was reignited last weekend by Anglican Church of Kenya head, Bishop Jackson Ole Sapit when he declared that politicians will not be allowed to address congregants in the church.
A similar warning has been issued by Bishop Anthony Muheria of the Catholic Archdiocese of Nyeri. Echoes of similar warning reverberate from pulpits across the country.
For the longest time, the church and the State have been entangled in dance, at times flawlessly flowing in rhythm to their symphony.
In other instances, they are engaged in a bitter struggle that has at times ended in fatalities. One of the bitterest struggles started in 1929 when the missionaries launched a campaign to end FGM.
This triggered a revolt. The church, which had been representing the disenfranchised Africans was now in bed with the government.
Its stand fueled a huge crisis which in a way shaped Kenya's politics and religion as mainstream churches splintered into indigenous outfits.
Among these were Dini Ya Musambwa and the African Independent Church of Africa which actively agitated for freedom.
But when Kenya got independence, some of the indigenous church leaders such as Elijah Masinde ran afoul of the new administration and were even jailed and their denominations outlawed by the new government.
The climax of the love-hate relationship between the church and the State happened in 1969 when Jomo Kenyatta's administration tried to administer an oath to all people in Central Kenya including the clergy after the murder of Tom Mboya.
The Moderator of the Presbyterian Church of East Africa (PCEA), Crispus Kiongo, and Reverend John Gatu were summoned to Kenyatta's home and ordered to take the oath that would bind them to defend his government.
Their refusal, Gatu wrote in his memoirs, saw their wives and children abducted and forced to take the oath.
However, when Kenya was fighting for democracy in the 1980s and 1990s, a number of brave clerics used their pulpits to attack the government. They also offered refuge to beleaguered politicians.
Some of these memorable fighters include Reverend Timothy Njoya who was defrocked for preaching against the government and was later almost killed when he agitated for political reforms.
ACK's Bishop Alexander Muge was also vocal against the government's excesses and in his church, critics were always welcome till the day he died in a controversial road accident in 1990, at a time he had been warned of death if he persisted with his criticism.
Bishop Ndingi Mwana a'Nzeki was in Rift Valley in the 1990s when Nakuru erupted in ethnic clashes where he used his to speak for the voiceless.
At one point, Ndingi smuggled Prof Wangari Maathai, disguised as a sick Muslim woman into Nakuru to witness the killings at a time the district was closed.
At the time, whenever democratic space got smaller and freedom of expression was repressed, the politicians spoke from the churches, aware that State agents would not desecrate places of worship.
However, today, even senior politicians including government ministers are rushing to church to endear themselves to captive audiences on Sundays and during burials.
Places of worship have been desecrated in a violent confrontation between different political formations. Covid-19 has shrunk the space for politicians to express themselves.