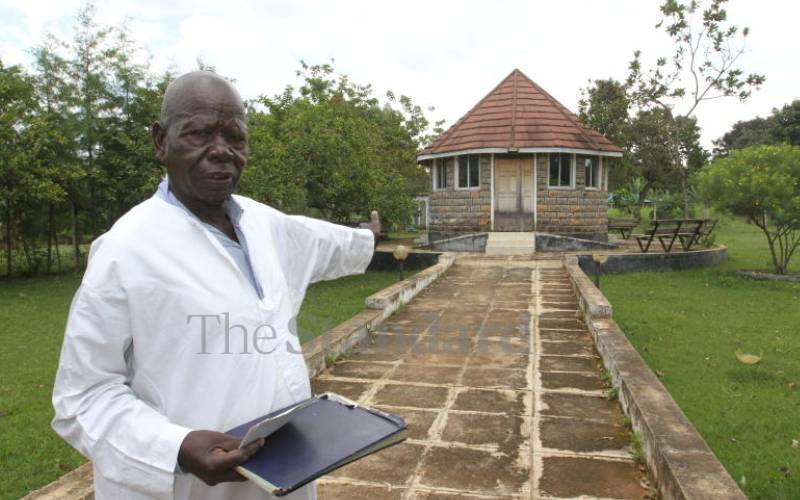 Elijah Masinde continues to be an enigma in death as he was in life.
He is remembered for his exploits as the spiritual leader of the 'Dini Ya Msambwa' sect, and a political agitator who shared a prison cell with Jomo Kenyatta at the Kapenguria detention camp.
Masinde died in June 1987, and his remains were interred next to his son's homestead in Maeni village of Kimilili, Bungoma County, as per his last wishes.
When we visited his mausoleum recently, we were welcomed by 82-year-old Richard Wafula, Masinde's son.
The mausoleum sits on a quarter-acre fenced in land, with a black metallic gate.
There's a cobbled pathway, from the gate to the grave. There are several garden lights and a solar panel mounted on a metallic pole along the pathway. Yet despite the evident effort that went into building the place, neglect is everywhere.
"Please remove your shoes and leave them outside. Nobody goes beyond this point in their shoes," Wafula said.
"This building was put up by Raila Odinga. Unfortunately, the lights no longer work, and the solar panel is faulty" he said.
The circular mausoleum's floor is made of brown and white tiles, while the edges of the grave are marked by raised white tiles at the centre. A worn-out Bible lies at the head of the grave. Wafula proceeds to pick it and calls for silence as he reads from the book of Psalms chapter 70. He then says a brief prayer.
And having observed the ritual, we move outside.
"Many prominent politicians visit this place to pay their respects to my late father," Wafula said as he proudly leafed through a visitor's book to show us signed entries by prominent politicians. As a young man, my father was a footballer. One day, while playing soccer at Eshieywe in Kakamega, he kicked the ball into the sky, and it never dropped back," says Wafula.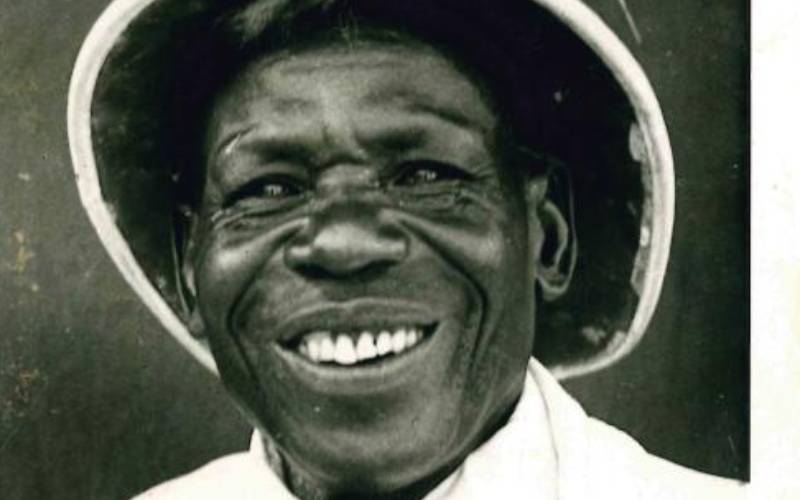 The folklore that a ball could defy the force of gravity has endured for a long time but would offend philosopher Albert Einstein.
Einstein opined that: "Scientific research is based on the idea that everything that takes place is determined by laws of nature, and therefore this holds for the action of people."
"After that incident, my father worked briefly as an Askari Kanga (court orderly) before he got a calling to serve God in 1938. He was a Quaker before founding Dini ya Msambwa. Later, he became actively engaged in the freedom fight. He demanded that white settlers and Asians go back to their homes." Wafula said.
He said that while fighting colonialists, Masinde hid at Chesamis where he had dug an underground hideout but was betrayed by a colleague.
"He was arrested in 1948 and taken to Kapenguria where he met and interacted with Jomo Kenyatta," Wafula said.
Masinde had six wives, three of whom are now deceased. At his homestead, we meet his fifth wife, Elizabeth Nakhumicha, who says her marriage to Masinde was not ideal.
"Our husband was constantly on the move to avoid being arrested by the white men. We never spent quality time together, and when he died in 1987, I was pregnant with our fifth child," she said.
The white, yellow, and blue painted house in which Masinde died has been turned into a shrine where remnants of the Dini ya Msambwa meet every June to celebrate him. The shrine stands alone near the gate.
A large unoccupied permanent house also painted white, yellow and blue sits between mud-walled houses belonging to Masinde's remaining wives.
"Mzee gave instructions that the house over there should serve as a guest house," Nakhumicha says.
But there is an air of dejection around the homestead, proof that life has not been easy for the family.
"Life has been hard for us. Masinde was a freedom fighter, yet the government has failed to recognise us. We do not even get the monthly stipends paid to the elderly. Mr President, come to our rescue," Nakhumicha says.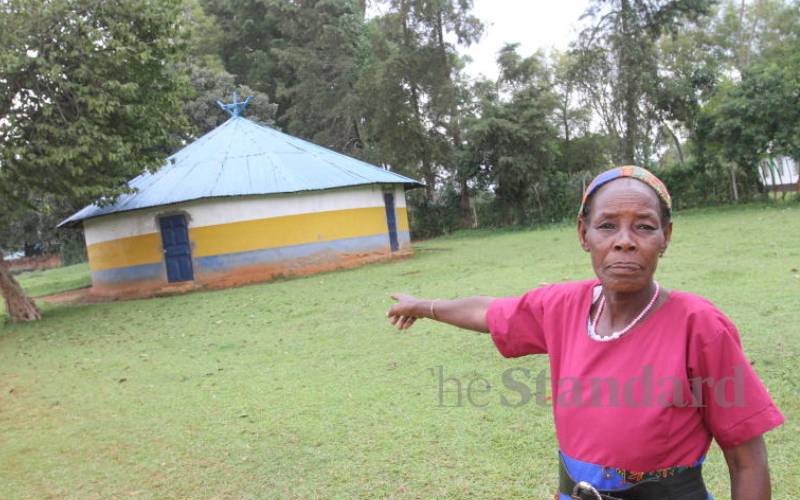 According to John Wanyama, a neighbour, Masinde died without benefiting from his struggle.
"I knew Masinde from my childhood days. He was a freedom fighter who fought so that we could reclaim our land from the colonialists," he said.
The residents attach more political significance than religion to Masinde's mausoleum.
"As we get closer to the campaign period, more and more aspiring candidates will visit Masinde's graveside for blessings," Rodgers Nyongesa said.
Wafula is not coy about it when we seek clarification. "You will be surprised at who comes here at odd hours to get blessings before embarking on their political journeys."
"My father's prophecy that the presidency will come to the Luhya through the Lake region will be fulfilled. At the moment, however, the presidency will continue to elude the Luhya because its leaders are greedy. No one is willing to step down for the other," Wafula says.
The Bukusu and Maragoli are the largest sub-tribes of the Luhya but often take different political paths.
"When missionaries came to Western region, they first settled in Vihiga before moving to Kaimosi. While at Vihiga, they trained the Maragoli in many things and translated the Bible and hymn books into the Maragoli dialect," Joseph Kedera said.
He added: "Until recently, the other Luhya sub-tribes have been forced to read the Bible in Maragoli. Among other things, this 'Maragoli hegemony' has caused some hard feelings."
Maragoli elder Ellam Ambasa cautioned that: "We must go beyond such pettiness and forge a common front as Luhyas."