Tailor taps into renewed love for traditional wear to grow business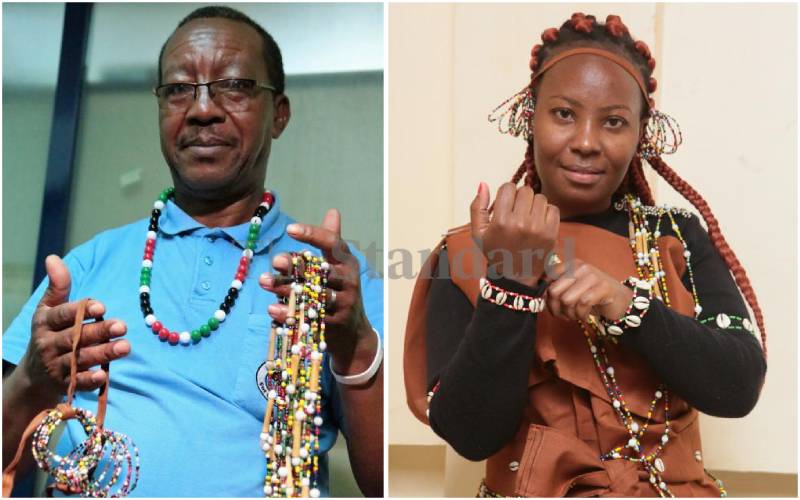 What started as a pastime for Moses Ndung'u has seen him develop skills in producing authentic cultural outfits.
Mr Ndung'u rode on his passion for Agikuyu cultural dances and attires to start a business that has thrived for the last 46 years.
In 1975, Ndung'u, popularly known as Wamugumo, was a cultural dancer at the Bomas of Kenya. Here, his group held performances featuring traditional dances from various tribes.
He later moved from Nairobi to Nyeri County in 1988 and joined a group of cultural dancers at a local hotel.
"I joined the group of dancers who entertained revellers at a local hotel. It is a job we do to date, and it is how I got into designing and making the traditional attires," he said.
During their early years, the Nyeri group used to order their attires from Bomas of Kenya because they had authentic clothing.
"After a few years, we decided to make our clothing and ornaments, and gradually we began to make the full gear for our dances," he said.
Wamugumo has no formal training as a tailor. He relied on his wife, a trained tailor, to teach him the basics.
"Even as we made our attire as the dancers, we started getting clients who wanted to wear the outfits at events," he said.
For the last 15 years, Wamugumo has seen a gradual increase in the number of clients who want the traditional attire.
One of the prominent clients on his list are the Kikuyu Council of Elders officials in Nyeri County.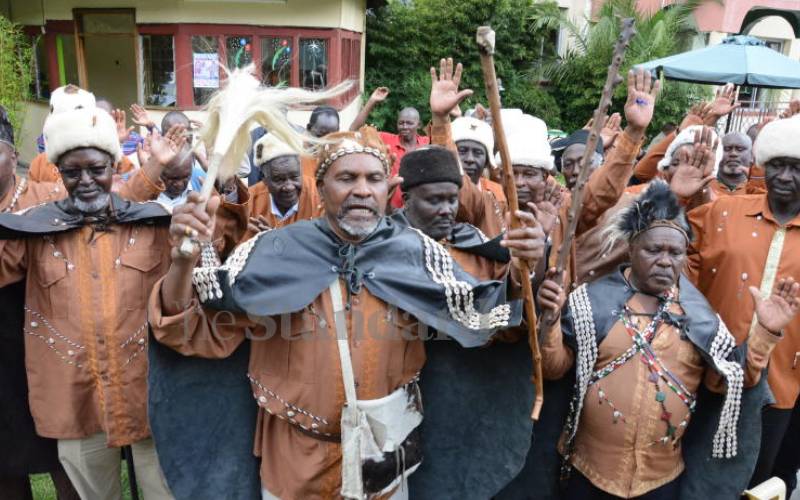 He said the elders make up a large customer base for his attire, and with the recent reawakening of cultural groupings of elders in Central region, the demand has continued to rise.
Wamugomo has over the years accumulated cultural information on the traditional wear of the Agikuyu men and women.
The traditional garb, brown in colour, has been part of the community since pre-colonial times. It signifies the soils which the Agikuyu cultivated.
Men and women had different pieces of clothing and jewellery based on their age and status.
For instance, young girls wore three special garments to cover their bodies. And after they crossed into puberty, they graduated from a cloak to a more intricate outfit.
"The mwegu was a brown cloth that covered a woman's front from the waist down, and the muthuru was a cloth tied to cover a woman's back from the waist down. It was closely checked by her grandmother to preserve her dignity," Wamugumo explained.
On top of these two inner garments was a one-shoulder cloak that covered a woman's breasts and the inner clothes.
Wamugomo said the women wore jewellery made out of cowrie shells and seeds known as bollos.
It was only after marriage that women could wear earrings (hangii), bracelets and armlets.
For the men, their attire also evolved as they matured. Young boys donned kabithe, a soft flap of soft goatskin on their front and backside.
After circumcision, they wore a one-shoulder cloak known as a githi and a Columbus monkey headgear.
It is only after a man is an elder that his attire shifts to the sheepskin headdress.
Wamugomo's skills include decorating the attire with intricate beadwork and cowrie shells to beautify the outfits.
Each ornament is hand-stitched into the material, which takes hours of work and skilled labour.
When dealing with a large order, he employs at least seven tailors to help him make the outfits. He carefully supervises their work to get the details right.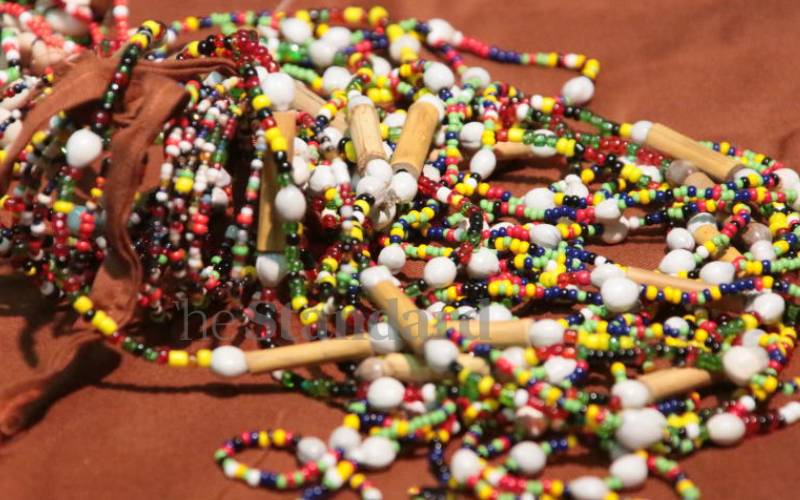 Surprisingly, many of his clients are women because they are usually more passionate about organising traditional functions.
"If you hear of a traditional wedding or dowry ceremony, usually it is the women who are keen to ensure the attire is available. Most men just show up for the event," he said.
Most of his clients are referred to him by word of mouth, and he usually has orders of between five shirts and ten dresses per month.
He sells one shirt at Sh2,000 depending on the design and Sh4,500 for a woman's outfit.
"I also offer master of ceremony services at traditional functions. I use the opportunity to advertise my business," he noted.
However, business and art are not without their challenges in the modern world. Most tailors avoid this business because it is a niche market with unique clients.
"I make the attires according to orders, and unfortunately, this is not sustainable for many tailors who need daily incomes," he said.
His trade is also not attractive to younger tailors, and Wamugumo fears it might be a dying trade.
"I only have one young man who has shown interest, but due to the seasonal nature of the job, it is discouraging," he noted.
Covid-19 pandemic has also hit his business hard because cultural ceremonies are on the decline, and the number of those attending such functions has also reduced significantly.
The demand for more modern designs by some clients has also been a challenge for Wamugumo. He is often reluctant to make outfits that he considers revealing and which do not adhere to the cultural norms of the Agikuyu.