Crisis looms in Ol Moran as churches struggle to house displaced families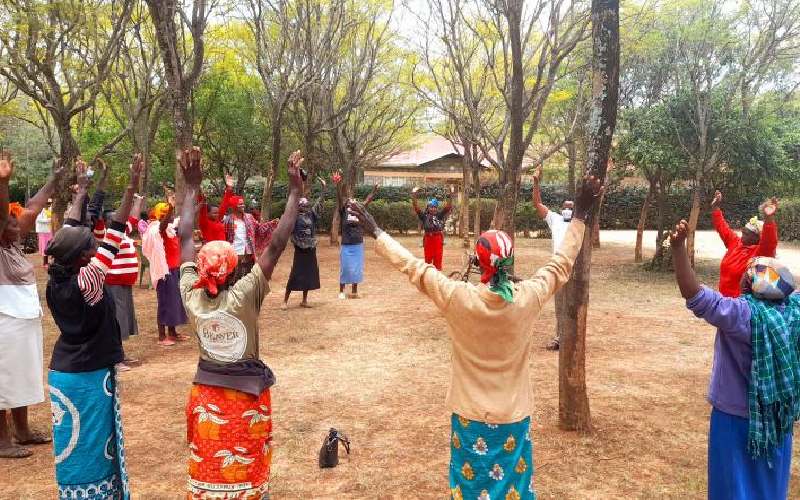 After brutal attacks meted on her family on the night of September 6 during a bandit raid at Mirigwit village, frequent theft of livestock and uncertainty in Laikipia County, Grace Nyambura feels hopeless.
For two months, her family and other people living in Laikipia West have never known peace.
Ms Nyambura, who moved to Kahuho village in 1975, said that the attacks have changed her life for the worst as she now has to depend on food donations from church.
"After they burnt down my house, I sent my sons back to collect some cereals from the farm. They found a herd of cattle grazing there. All the crops were destroyed and they couldn't approach the armed herders," said Nyambura.
For over a week now, 150 families have been relying on the hospitality of St Mark Catholic Church and Deliverance Church at Ol Moran trading centre.
The parish priest at the Catholic church, Father Giacomo Basso, said that it has been an uphill task hosting the families, most of whom arrived only with the clothes they had on at the time of attack.
"All residential houses were taken up in the area and we had to provide alternative shelter for them. We don't have enough bedding and we are giving them food stocked for the pastoral centre which we have since closed," said Fr Basso.
While appealing to well-wishers to donate bedding and clothes to the affected residents, Basso said that the food in their stock can only last them for another three weeks.
At the facility, we found families perched on benches divided into groups of men, young mothers, middle-aged mothers and the elderly receiving psycho-social therapy.
"These people have undergone a lot of trauma, which we are trying to help them overcome through counselling and physical exercises to relieve tension among them," said Basso.
We found Samwel Murage, a counsellor from Saint Martin Catholic Social Apostolate Nyahururu, speaking to the family of Peter Kairu Njuguna, a church elder who was killed in Mirigwit village last week.
"The children were greatly affected. They witnessed the execution of their father. His 21-year-old son is so disturbed that he only wants to stay in a quiet place. He is still terrified and any loud sound leaves him shaking," said Murage.
He said the family's pain has been worsened as they can no longer access their home, which is now part of the operation area.
"The family has been forced to bury their father at a public cemetery despite him having a parcel of land where they would have wished to bury him. This is causing them more pain," said Murage.
Peris Muthoni, a resident of Mirigwit village where a primary school was partially burnt down by the bandits on Tuesday, regretted that her children's education had been disrupted.
"I have five children. Two of them are candidates - one in Standard Eight and the other one in Form Four. They are no longer going to school. This instability will definitely affect their performance in their final exams," said Muthoni.
Lucy Wahito, 56, is a disturbed elder whom we found undergoing counselling after she witnessed the execution of her neighbour.
She narrowly escaped death by hiding in a thicket.
"Any slight bang reminds me of the countless bullets that claimed the life of my neighbour. I had taken cover behind some shrubs as they executed him while illuminating the surroundings with strong flashlights," said Wahito.
She said on the night of the attack, she was forced to sleep in the cold and found her household items and clothes destroyed.
"The only thing I was left with were the clothes on my back. They destroyed everything they couldn't carry with them. I have to start life afresh," said Wahito.
We caught up with a distraught Peter Maina who had brought his son to a clinic within the church compound.
"My son has developed stomach complications. He witnessed the shooting of an elderly man from our hideout. The scene traumatised him and he can no longer sleep comfortably," said Maina.
The trauma has not spared him and his wife, as they have been victims of violence in different parts of the country, which forced them to relocate to Laikipia.
"I was living in Molo until 1992 when ethnic clashes forced me to buy land in Githima area in Laikipia. In 2007, I resolved to permanently relocate to Laikipia where I have been witnessing recurring attacks," said Maina.
David Gichinga, a former Ol Moran Ward councillor, said that he moved to the area in 1976. He said he has witnessed recurring banditry attacks but noted that the current one is the worst he has ever seen.
Gichinga, who owns residential houses at Ol Moran trading centre, said that there are currently no vacant houses as most of the displaced families have moved in to them.
"Today, you can't get a vacant house. Those who can rent have taken up all the houses, which multiple families are struggling to fit in. In a few days, getting food will be difficult due to the influx of people," said Gichinga.
Susan Wanja, a mother of seven, said that she was hosted by a friend for a few days but that proved to be a heavy burden on their host, forcing her to move out.
"I was lucky to get a single room where I am currently living with my seven children. One of them is disabled and we lost his wheelchair as we escaped," she said.