DCI used woman to plant cash in our chambers, Justice Chitembwe claims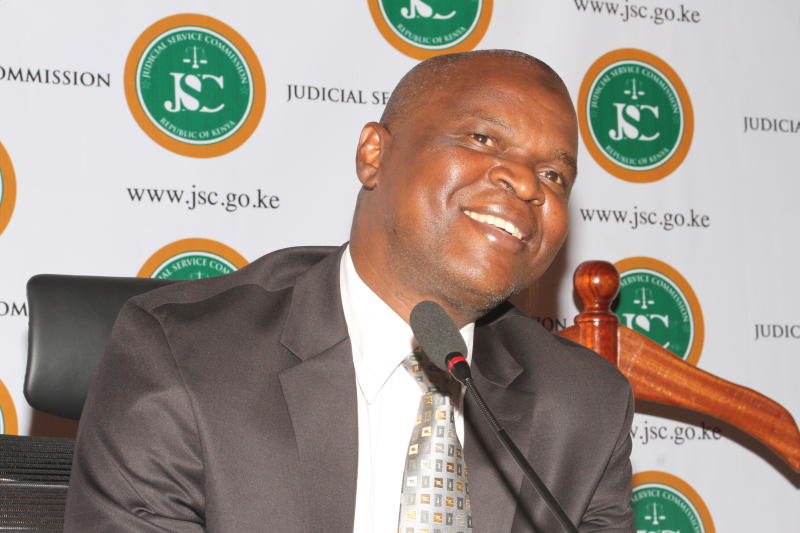 A judge claims a set up by police investigators to plant more than Sh5 million in their chambers in order to arrest them failed.
Justice Said Chitembwe in his response to claims that a total of $57,000 (Sh6.2 million) from their chambers were lies and accused the Directorate of Criminal Investigations of using a strange woman to plant the money at his colleague Justice Aggrey Muchelule's chamber.
Justice Chitembwe, however, admitted that the DCI officers found him in possession of USD7,000 (Sh770,000) which he said was personal money he intended to send to his son who is studying in Australia.
"These are mere allegations bereft of any viable basis. They are matters being fit to be described as hearsay. They have not even disclosed the alleged brokers or the court cases that they were seeking to influence by offering the bribes," swore Chitembwe.
Justices Chitembwe and Muchelule were dramatically arrested by DCI detectives on July 22 and taken to DCI headquarters to record statements over allegations that they were planning to receive a bribe from an unnamed broker to influence the outcome of a court case.
The judges, however, through the Kenya Magistrates and Judges Association obtained court orders stopping the DCI from investigating, arresting or preferring any charges against them.
In response to the Judges' suit, the DCI claimed that they recovered the cash when they conducted a raid on their chambers on July 22 after a tip-off that they were about to receive a Sh7 million bribe.
According to Chitwembe, he had left his chambers on that day and went to Justice Muchelule's chamber so that they could go for tea at Milimani High Court's fourth floor but his colleague informed him that he had already had tea and he decided to leave.
"I met three people outside Justice Muchelule's chambers who identified themselves as police officers and ordered me back to his office. While inside, they informed us they were conducting a search but when we asked for a search warrant they said they did not need it," said Chitembwe.
He stated that after conducting a search at Justice Muchelule's office which yielded nothing, the officers sneaked in an unidentified lady who they took to the judge's toilet to search and returned saying they had recovered $50,000 (Sh5.5 million) from her.
After the incident at Justice Muchelule's chamber, he stated that the detectives escorted him to his office where they conducted another search but did not recover anything.
"After the search, I removed USD7,000 from my pockets which I was intending to pay for my son's school fees at the Edin Cowan University in Australia and handed it over to the officers. There was no seizure of the amount from me since I voluntarily gave them," said Chitembwe.
He added that it was not strange for him to have money in USD currency since his family has been keeping a dollar account since 2018 and that he had that for two days before the arrest.