How Uhuru, Raila are unknowingly building DP for 2022 presidency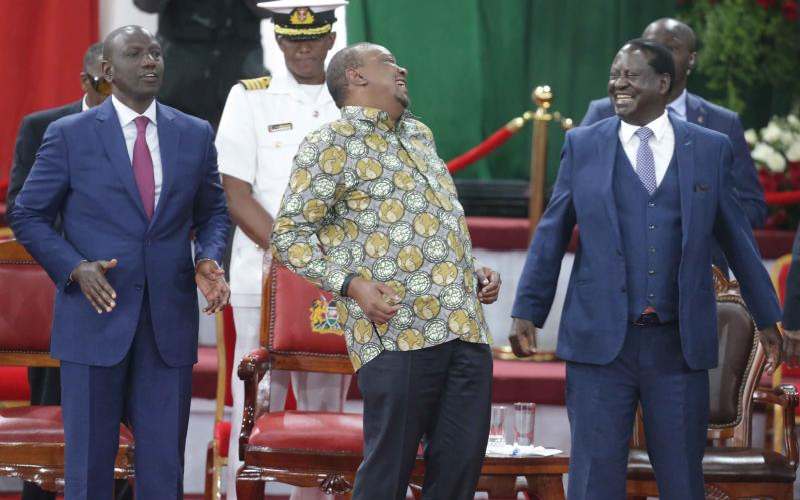 The first rule of the 48 Laws of power teaches us to never outshine our masters in all their forms and manifestations. But what happens when the master is handing you the ammunition to attack him.
We don't want to wait until 2023 to write how President Uhuru Kenyatta and his 'handshake' brother Raila Odinga made William Ruto the fifth president.
Notably, President Uhuru has thrown building blocks to his deputy since 2018 handshake with Raila Odinga. But Ruto is not a political greenhorn; experience has proved to us that he knows how to build using stones thrown at him, a strategy that exposes the tenderfoot of his nemesis. This is the first thing Uhuru should have learnt from his deputy when they worked and walked together. The way things have been going, it is possible that Uhuru didn't understand his DP, unless he is keeping a secret card—if Uhuru is holding a secret card on his deputy, so far; then if it succeeds, we shall revise the political science texts.
Sun Tzu in The Art of War declares that "If you know yourself, but not the enemy, for every victory gained you will also suffer a defeat." It is clear that all political battles that have involved Uhuru and his deputy have taken this trend, be it the divisive BBI, the fumigation of the supposed Jubilee party renegades in Parliament, as well as the face-offs to take control of Mount Kenya region. So think about it—either Uhuru is determined to give Ruto mileage knowingly, or he isn't interested in succession politics.
The DP has been arrogantly laying bare his victories to the extent that he is advantageously predictable in his political PR. The recent incidence, which was poor timing, is the Inspector General of Police's normal re-assignment of withdrawing elite presidential escorts from the deputy president's Karen residence. The truth is, this alone is pulling the building strings of Uhuru's legacy. These very acts are the building blocks that Ruto has been using to erect hustler nation political skyscrapers.
Whether the president is aware or not, Tangatanga will make it look like President Uhuru ordered it. Note that once it is blown out of proportion, no amount of explanation, whether from the IG, statehouse or from angels, will quench the cynicism already created. The sympathy capital is credited to DP Ruto.
For example, over the same incidence, see how Ruto played PR to the 'hasolas'—saying that he would be comfortable even if G4S were deployed to offer security in his residence. This was a gagging strategy to those who insisted that he should not be seen drinking elite security's wine since he has been preaching hustlers' water. However, we all know that his office sought an explanation from IG Hilary Mutyambai as to why such a "breach of security" was effected.
The explanation was that this was a regular security swap, but anyone who doesn't want to give DP Ruto political building blocks would avoid such actions at a time like this. Atwoli, who has been the fiercest critic of the deputy president, played it very smart when he immediately blamed the government for failing to follow procedure when swapping the security detail of the DP. To me, that was a stroke of genius.
As if that is not enough, the incident gave Ruto a chance to stir up affective political domain reactions. This domain includes consolidating the feelings, emotions and attitudes, including the resultant ventilation of the same scene with Bahati legislator Kimani Ngunjiri when he wept.
Notably, the fact that the AP's Security of Government Buildings Unit is not mandated to secure the deputy president raises eyebrows—going by the subsequent Fourth Estates' in-depth reports on the same. Some media reported that the incidence was given form by claims of meetings in Ruto's Karen residence that often breached the Ministry of Health Covid-19 protocols. So, if that was the case, why didn't the State give such an explanation? Why keep silent about it?
See the strategic political reaction of the deputy president on the same. He was later seen seated around the APs, taking tea with them and establishing a rapport. Probably asking them, "Hawa watu wanawadharau eti nyinyi mko chini ki security!" In whatever way, he seems to win in his political strategy.
The building of Ruto has not started now—when Uhuru said he was 'tangatangaring' around without work, he used it to build a 'political sect' calling itself Tangatanga.
The best way to win Ruto is to take his advice, implement his strategies because he doesn't hide them and take the credit. Law number seven of the 48 Laws of Power has it that he who wants to win should use smart people's wisdom and knowledge to advance his cause. The reason is that the master here appears 'intimidatingly efficient and knowledgeable", and the smart will be forgotten, and the master will get all credit.
It has not gone unnoticed that other presidential hopefuls seem to watch as DP Ruto builds his blocks. Kalonzo Musyoka said publicly that his number one mission is to cripple Ruto's dream of becoming president. Could this be the mission of all of them? If so, they too are building their nemesis unknowingly. I have stated several times in my Political Chessboard column that 2022, methinks is already won. With hardly ten months to elections day, every presidential candidate should be burning their midnight oil strategising and mobilising their grassroots in readiness for the official campaign.
We must agree with Brandan Tobin 2018 argument on 17 tips to get elected, that "Political campaign should be 20 per cent strategy and 80 per cent implementation." Verily, I tell you, dependence on traditional ideation that Wanjiku will vote 'pop' politics might frustrate come 2022. Let those who have ears hear.
Another assumption is that politics of propaganda and sabotage will work. Most might bank on the 19th-century wisdom that politics is a dirty game; and that what they need is to mud smear the opponent, then the voter will have no option but to fall for the cleansed. But, my fellow countrymen, this won't work in 2022.
The fourth mistake is buying time waiting for a political Godot— it has been in the public domain, there is an amorphous voter manipulator called 'system' that works in favour of some people. The street narrative that a president isn't elected but chosen gives this political android life; that some powerful oligarchs somewhere come together and select who is to be president and who is not to be president.
Well, even if that's true, there is too much laxity while relying on this imaginary voter scooper. I have a reason for thinking like that. Where was this imaginary political omnibus in the various by-elections that the State would have wished work in their favour? Unless the wins were political checker moves, I'm not convinced.
The other opiate for the presidential aspirants that gives Ruto a free walk in the park is that the competitors are seemingly putting too much trust in successive politics. I have on several occasions warned that they must avoid outgoing president's endorsements like a pestilence. This might work for lower positions, though. It is the reason why Raila Odinga allies want his political hands up even if he's tired. They know their winning in the political field depends on his hands lifting; if his hands are up, they are winning, and if his hands are down, they lose political battles. The same applies to other political honchos in their regions like Kalonzo Musyoka and Musalia Mudavadi.
However, it's not so for presidential flag bearer endorsement. The 2002 history taught us that endorsement by an outgoing president is a terrible idea. Mwai Kibaki got the lesson. He knew in 2012 that he was a candidate for a bad omen and thus did not want to spoil for Uhuru, his presumed endorsee.
President Kibaki used the likes of late John Michuki and other proxies. The abstinence from endorsing anyone is part of the legacy of any outgoing president. The outgoing head of state endorsement has the highest chances of killing their legacy and spoiling for the endorsee. Don't be deceived; the Moses and Joshua analogies cannot work with the 21st century political world. Let this sink!
To avoid the headache of going back to the doctrine of "votes have been stolen", all the presidential candidates start early, learn your political landscape, and organise grassroots votes. Procrastinate at your own risk. So many political pundits have said it that it seems it's only Ruto who wants the presidency.
Instead of concentrating too much on building their bases, he is seemingly serious while the rest are interested too much in his person and strategies. This way, they are sitting believing that whatever he's making will crumble and then, they will be rewarded for saving their energy and using whatever little they afforded to frustrate him. What if it doesn't work? Please don't say you were never told.