Kenya's middle class: Story of people living on borrowed time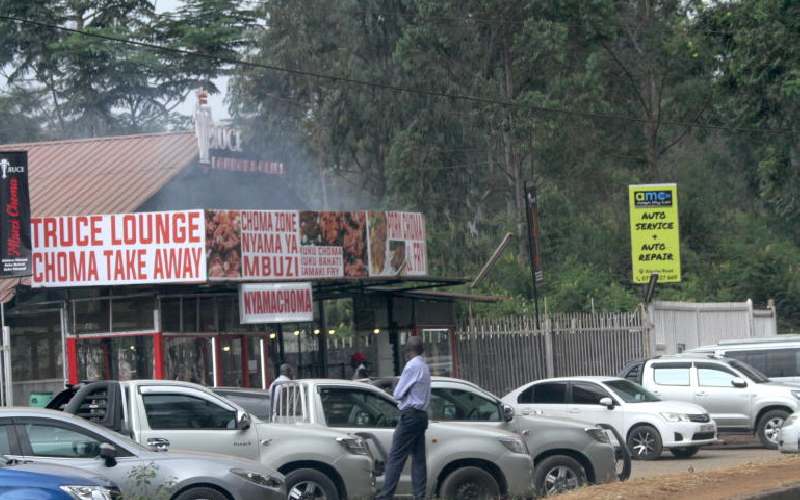 "Lord won't you buy me a Mercedes Benz, my friends all drive Porsches, I must make amends, worked hard all my lifetime..."
These lyrics by the late American musician Janis Joplin in a song of "great social and political import" rejecting consumerism in the 60s, might help explain Kenya's rising middle class today.
Consumerism and the love for distinct brands to be "seen" have driven many people to live on loans to fund lifestyles and keep up appearances while having lesser savings by the day.
And consumerism can be traced directly to government's economic policy.
"In true Keynesian fashion, Kenya punishes savings and lenders and rewards borrowers and consumers," says ABC Capital corporate and advisory finance manager Johnson Nderi.
The reference is to the work of John Maynard Keynes, one of the world's most influential economists on government policies since the 20th Century, who argued that consumer spending is a positive factor that boosts economic growth.
Nderi says this is inherently a plot to boost consumption and potential investment, and might explain why Kenya has witnessed a rise in loan merchants lounging at every corner.
"That's why lowering interest rates and increasing money supply is considered an economic stimulus," he says.
Away from policy to the personal, as Western influence continues to permeate society, materialism, love for shopping and acquiring things can only rise.
Global brands including automotive retail, fashion and fast food have since set up shop locally to tap into these 'Joneses' who want to keep up.
With the influence of social media, people continue to shun frugality. "The person enters a false world... on one hand desire to attain materials such as luxury cars can motivate (them) and on the other it can lead to frustration and depression," says Dr Geoffrey Wango, a senior lecturer in counselling and psychology at the University of Nairobi.
Wango notes that many, especially the younger aspiring generation, are heavily indebted.
One top luxury car dealer says their leasing division was frequented by people who want the badge to "make a statement".
Recently, the Central Bank of Kenya (CBK) Governor Patrick Njoroge warned that personal household debt had risen to unsustainable levels.
Since last year, the Covid-19 pandemic shattered the illusion of a Kenyan middle class, which is described as floating and one emergency away from financial ruin.
"The Kenyan middle class are a hardworking lot and also very ambitious. Many understand the importance of good debt to help propel you to grow," says Dennis Mombo, Mwananchi Credit chief executive.
The asset financier is one of the top providers of logbook and other secured emergency loans. It also has a product dubbed "weekend loan" which, perhaps, the typical middle class would take for a hedonistic trip out of town.
Dealing mainly with loans offered against cars and which can be accessed on the same day, the firm's predominant clients are driven by an emergency of sorts. Reasons for taking the loans range from development, funding lifestyles, real emergencies or business.
Stagnated wages
"You find that because of our rather elastic risk tolerance policy, we also get a lot of loan applicants for business expansion, especially those who may find it hard to qualify for loans in other financial institutions," he says. "Our data set thus will be skewed towards these two categories (emergencies and business expansion.)
He says with lost incomes and stagnated wages, it was hard to say whether the pandemic had accelerated borrowing habits.
"On the other hand, this loss of livelihood also meant many did not qualify for financing as well."
Mombo says most lenders feared for the worst but things had worked out differently.
But who exactly is the middle class in the Kenyan context? Holding a steady white-collar job, owning a home and a car and taking their children to the best schools?
Nderi says that traditionally, the middle class was a reference to the merchant class. "The upper class was the aristocrats and the lower class was the peasant class. The middle class became richer than the aristocrats. They still are in this sense."
The sticky issue is when talking about monthly income ranges. Some say Sh100,000 and above but Nderi says such earners are few in the country. "Middle would be below the 70th percentile and above the 30th percentile … I think people who earn more than Sh100,000 in the country are only a handful," he says.
Mi Vida Homes chief financial officer Anthony Kambiriri said that what excited investors was the growing middle class driven by a young population.
The firm, linked to private equity fund Actis and part of a mixed-use development in Garden City, target middle-income families seeking affordable homes within Nairobi.
Kambiriri says that, aided by a survey by global consulting firm Mckinsey to see their focus area, they decided to "step down the food chain" into the more affordable middle and lower segment.
"Today, Covid-19 has affected the economy and incomes," he says. "The definition of middle class depends on who you speak to. Some researchers say anyone who earns over Sh100,00, but we also have upper-middle, middle-middle, lower middle."
The apartments at Mi Vida are selling at between Sh8 million and Sh16 million. Kambiriri says they plan to further step down to where majority of the population is and can afford houses at between Sh5 million and Sh10 million.
CBK's Njoroge told MPs last month that Kenya was witnessing a crisis in household debt, primarily fuelled by unregulated digital lenders.
"We are not talking corporates, we are talking households. Particularly with Covid-19, it's quite problematic because the sources of income have been truncated," he said.
CBK has recently sought to bring more than 100 digital lenders under their regulatory ambit to tame predatory lending. Kenyans were borrowing Peter to pay Paul and consequently trapped in an unending debt cycle, he said.
A 2019 study by Financial Sector Deepening (FSD) Kenya indicated that young people tap into multiple sources of credit, particularly when anchored on a stable source of income or social network.
Men accounted for the biggest proportion of digital borrowers at 60 per cent compared to women at 40 per cent. Sixty-seven per cent of digital borrowers live in urban settings compared to 44 per cent of formal and 34 per cent of informal borrowers, said the report.
Runaway digital lenders
CBK data shows that Kenyan banks gave out Sh333 billion in personal and household loans between March and December 2020.
There were 10.8 million personal and household loan accounts held in the country during the period, linked to the numerous Kenyans either self-employed or working in the public or private sector.
In addition to this, 3.9 million mobile loan accounts exist in the regulated digital lending market with a loan book of Sh50.6 billion.
Many of these also hold bank accounts with active loans and, according to the CBK, some have multiple loans from both regulated and unregulated digital lenders.
Another recent report from CBK indicated that banks have prioritised recovery of personal and household loans in their plan to improve their asset portfolio.
For the third quarter of this year, 84 per cent of credit officers will be going after this lot of borrowers.
This is bad news for borrowers who do not renegotiate with banks or pay the debts as auctioneers might be on their necks to repossess the assets used as collateral.