Interior CS Matiang'i flies to Zambia to deliver Uhuru message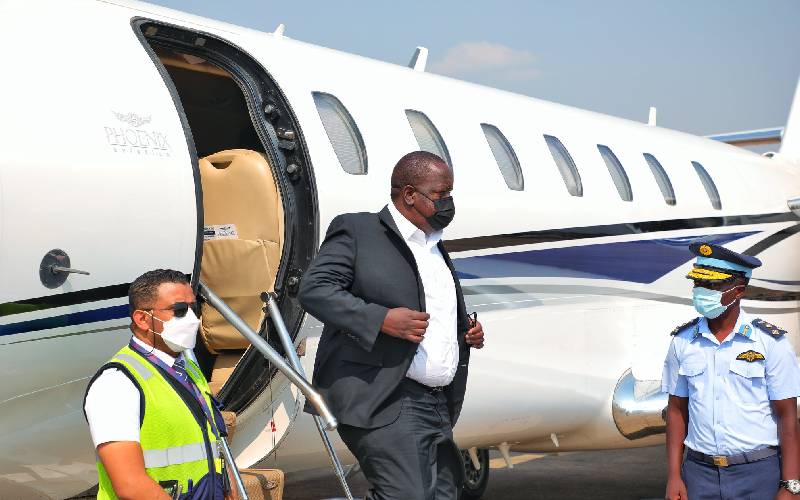 Interior Cabinet Secretary Fred Matiang'i has travelled to Lusaka, Zambia, to deliver a special message from President Uhuru Kenyatta.
Matiang'i left Wilson Airport on Thursday, September 2, aboard a chartered Cessna 680 Citation Sovereign jet.
A statement from the Ministry of Interior said the CS flew to Lusaka to convey President Kenyatta's entreaties to Zambia's Hichilema to support Kenya's candidate for the post of the Secretary-General for the Commonwealth of Nations.
Kenya is fronting Defence Cabinet Secretary Monica Juma for the influential office of an organisation that brings together the United Kingdom and 53 Countries that were formerly British colonies. Besides the UK, notable members of the Commonwealth are Canada, Australia, New Zealand, South Africa, Nigeria, India, Malaysia, Uganda, Rwanda and Tanzania among others.
"Today in Lusaka, Dr Matiang'i who also chairs the National Development Implementation and Communication Cabinet Committee (NDICCC), also conveyed Kenya's quest for a new and enriched bilateral deal with the Zambian leadership," the Ministry said.
Through Matiangi, Uhuru also invited his Hichilema to visit Kenya at his convenience.
Kenya and Zambia enjoy a rich history of bilateral relations in trade and cooperation in strategic and mutual geopolitical interests.
Matiang'i said Kenya is keen to form a new and enriched bilateral deal with the new Zambian leadership.
"It was my humble duty to convey this to Hichelema in Lusaka this morning," he stated.
Defense Cabinet Secretary Monica Juma has said she is fit to become the seventh Secretary-General of The Commonwealth.
Ambassador Juma told members of the diplomatic community in Nairobi on Tuesday that she was equal to the task while seeking their endorsement.
Juma was nominated on Monday by President Uhuru Kenyatta and if she is nominated by Commonwealth leaders, she will replace Rt Hon Patricia Scotland QC and serve for a period of four years.
''I am strategic, visionary, innovative and a transformative leader with a track record of successful public service, commitment, and integrity, at the national, regional, and international levels,'' said Dr Juma.
She hopes to receive the endorsement of the heads of governments at the next Commonwealth Heads of Government Meeting (CHOGM).
The CS added that she has a three-point approach to transforming the Commonwealth into a dynamic organisation.