Ruto allies protest withdrawal of residence elite security but police say move is normal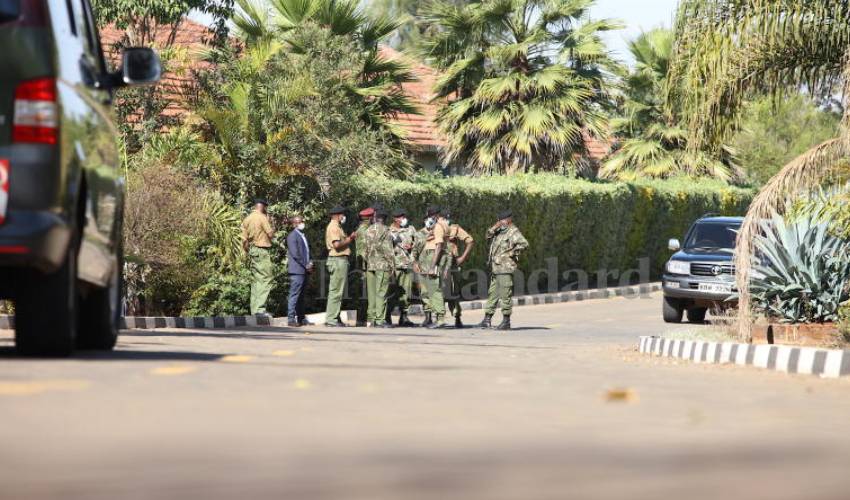 The State yesterday withdrew the elite security team that guards Deputy President William Ruto's official and private residences and replaced them with Security of Government Buildings (SGB) officers from Administration Police.
Ruto's office immediately protested the changes and demanded an explanation from the Inspector General of Police Hillary Mutyambai.
But Mr Mutyambai downplayed their concerns, terming it a normal police procedure in regards to protection of VIP officers.
"Today, August 26, 2021, the Security of Government Buildings (SGB) has been deployed to provide general security in the official residence of H.E the Deputy President from General Service Unit (GSU)," said Mutyambai in a statement signed by police spokesman Bruno Shiosho.
DP's office had termed it as breach of security which they feared may expose him to personal harm. "The office of the DP has formally written to the IG, seeking an official explanation on this matter and reason for the breach of security," stated David Mugonyi, the DPs communication secretary.
"This is the latest installment in a sustained and systematic effort to undermine the DP's personal security in pursuit of political vendetta, and is consistent with a strategy to expose the DP of the Republic to personal harm."
Mutyambai said the Presidential Escort Unit (PEU) will continue to provide the DP close protection. The GSU G-Company normally guards DP's homes while those from PEU take charge of his DP's movements.
The DP's security detail is drawn from the GSU G-Company. They are specialists in handling and detonating explosives, securing vital installations, anti-terrorism, sky marshal services (the counter-terrorism unit onboard commercial flights) and rescue operations.
Each of his homes have at least ten GSU officers who work in shifts. The DP has 45 elite officers guarding him and his family.
The DP has outriders, chase cars and roads are cleared to make way for him and the police are deployed wherever he attends fundraisers or is campaigning at.
A serving president in Kenya has the highest number of security officers at his disposal. The officers are drawn from Recce squad, an elite unit in the General Service Unit (GSU). They guard the president and his family.
The SGB team arrived at Ruto's Karen home in a double cabin truck and a van for briefing at around 3.30pm.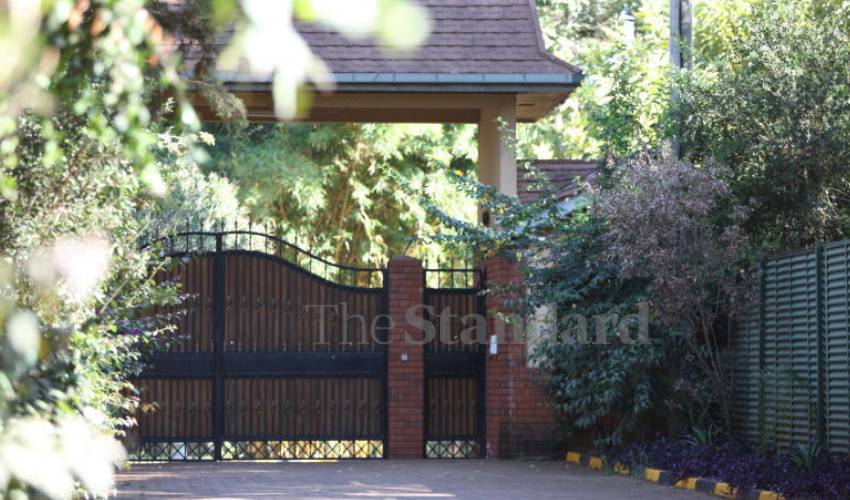 The 12-odd officers were taken around the home by their GSU counterparts before leaving in company of two GSU officers.
A senior officer declined to comment on the redeployment saying "please I am just from a crucial meeting and heading back to the office. I am not aware of what is happening there."
Mugonyi said the move was part of a sustained and systematic effort to undermine the DP's security in pursuit of political vendetta.
"The withdrawal extends to all of His Excellency's residences. At this stage, no explanation has been offered for the strange and unlawful decision. The decision has been made contrary to Public Service Standing Orders., Chapter 8, Section 5(e), that the GSU Commandant shall be responsible for security of the President, the Deputy President, Statehouses and lodges," said Mugonyi in a statement.
He chronicled incidences he claimed were choreographed to humiliate the DP. He cited an incident in 2017 when the DP's Sugoi home was attacked by a lone gunman, who injured a GSU officer after laying siege for several hours.
"In October 2020, armed police officers violently attempted to stop Deputy President from attending a church service in Murangá County and lobbed teargas canisters at worshipers at Kenol AIPCA church," said Mugonyi.
The DP, according to Mugonyi, was prevented last September from holding a meeting in Kisii. Another incident was last week when police officers disrupted a funeral service of Mahoo MCA Ronald Sangarini.
While demanding an explanation over the change of security, Mugonyi said the DP deserves respect.
"The Deputy President is elected to perform prescribed constitutional roles and duties, and therefore this is worrying pattern of wanton violations of the law and of His Excellency the Deputy President's constitutional rights and personal security is calculated to sabotage and undermine the office," said Mugonyi.
GSU officers were still on guard at the DP's private home in Hardy, Nairobi last evening. An officer at the gate said he was not aware of an order requiring them to leave the compound.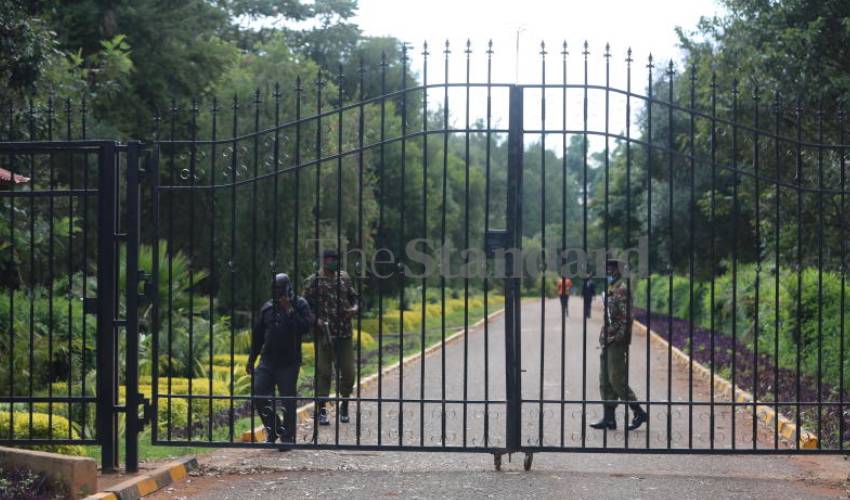 At DP's rural homes in Rift Valley, GSU officers manning Sugoi and Elgon View homes in Eldoret town were replaced with SGB officers.
According to a source who sought anonymity, 22 GSU officers attached to Sugoi residence were replaced by SGB officers.
Another eight GSU officers who were attached to his Elgon View home had also been replaced though it was not clear the number of APs deployed.
"We received information that the officers were replaced following an order by their seniors," said the source. "We only have three AP officers out of the 22 GSU officers earlier manning the premise."
By last evening, residents, some riding on boda boda had started thronging the gate to the homestead where they said they were ready to stand guard if government protection had been withdrawn.
The changes immediately angered DP's allies, MPs Kimani Ichung'wa (Kikuyu) and Oscar Sudi (Kapseret), Dismas Barasa (Kimilili), Aden Duale (Garissa Township) and Kimani Ngunjiri (Bahati) who read mischief in the changes.
At Karen, Ichungwa and Sudi said the government was trying to compromise Ruto's security.
"Now they have brought eight AP officers to take over. Whatever is happening it's only the president who knows. But we're telling him we even don't need the police," said Sudi.
Ichungwa said the redeployment of security is the latest move to frustrate the DP.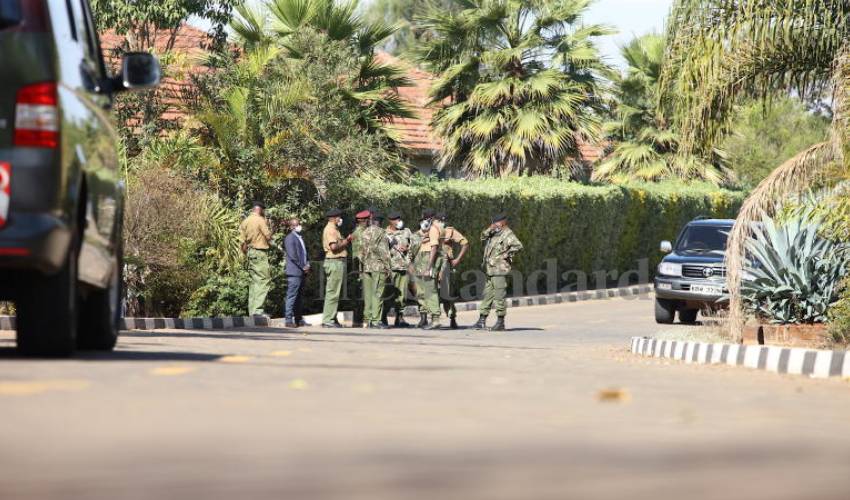 "What is happening is a criminal enterprise trying to undermine the DP's security. If they don't provide him security, we shall mobilize our people to protect him," said Ichungwa.
Former National Assembly Majority Leader Aden Duale termed it unacceptable and unconstitutional order. "The security guarding DP's residences in Nairobi and upcountry have been withdrawn! The political detractors of the DP must know that there is law," he said.
"We are not a lawless country. We are bound by the Constitution. The position of the DP is a creation of the Constitution and have specific functions under Article 147 of the Constitution."
Barasa faulted the State for the decision to withdraw GSU officers. "They are just changing the contingent. They report to different command and therefore it appears it was not well coordinated. The ideal situation was that, they should have reported and other officers notified and asked to prepare for a proper handover," he said.
"This is setting a dangerous precedence and it will scare future office holders who might not want to go through what the DP is being subjected to."
Elgeyo/Marakwet Senator Kipchumba Murkomen also weighed in on the matter, asking why the president was after his deputy.
Nelson Havi, the Law Society of Kenya president said that the elite command forces that protect VIPs are the GSU while Administrative Police maintain public order.