Lords of waste in Lunga Lunga slums are killing crucial Ngong River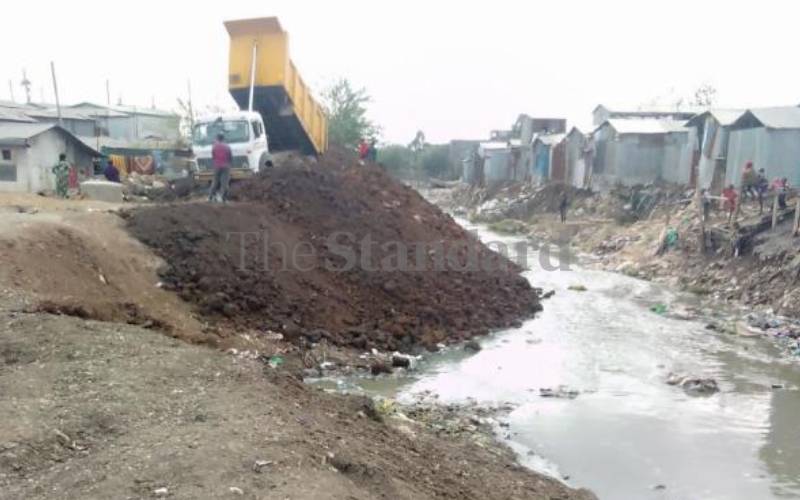 Ngong River is slowly choking to death. Some enterprising slumlords are strangling life out of the river as they seek to create artificial plots for sale.
With just Sh10,000, you can own a piece of Lunga Lunga, a slum in Nairobi's industrial area. But this is only for a season, and that is when the gods of flooding are placated.
After months of stalking these soil merchants, who can be deadly if provoked, we can now reveal the mechanics of creating a slum which will, in the long run, lead to an environmental disaster if left unchecked.
And this is how they do it.... excavated soil and debris from construction sites are generally considered waste. Developers have to pay Sh500 for every truckload carted out of their sites.
However, it is this waste that slumlords depend on for their illegal activities. They use the waste to create new plots from Ngong River in Lunga Lunga. Besides, the slumlords get paid for debris and excavated soil they dump in the area.
Using this waste, these individuals create embankments along the riverbank and sell reclaimed land as plots. A 10x10ft plot is sold for Sh10,000 and there is always demand. Each new space reclaimed from the river is quickly converted into some ramshackle hut using old tins, mabati, timber, discarded plastics and cardboards.
Lunga Lunga is ideal. Keen on saving money on fuel, truck drivers taking garbage to Dandora dumpsite have found a shortcut in Mukuru Kwa Reuben slums, where they reroute the trash that eventually ends up into the murky stream.
If the river was to talk, it would blame the two slums for the slow and painful death it is being subjected to. Even local administrators, who should ideally rescue the river, feign helplessness. Lunga Lunga and Mukuru Kwa Reuben slums are the checkpoint for re-channeling and dumping in this vital ecosystem by individuals said to be untouchable.
Possible extinction
In the course of our investigations, we witnessed a sliver 100 metres long and 30 metres wide being filled up with construction waste and garbage. Right before our eyes, that section of the river died just 500 metres from Viwandani assistant county commissioner's office. In its place, 90 plots were created, meaning the cartel minted Sh900,000 in a month.
Blocking and possible extinction of the river, residents fear, will be catastrophic. It will disrupt their lives, destroy their property and lead to loss of income for those who rely on it – a reality that does not scare those behind illegal dumping in the area.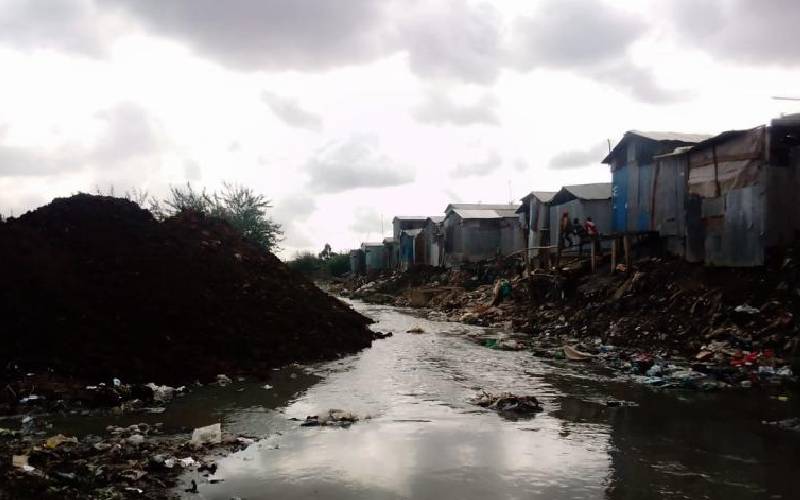 "Try raising a finger and you are in trouble. There is nothing we can do to stop these cartels; they have money, connections and are dangerous," said a local elder, who did not wish to be named for fear of his life.
The man was once threatened with death when he attempted to expose those dealing in illicit brew and drugs along the river. Flooding is one of the imminent dangers even as the cartels continue to narrow or block the river's course. Without the natural passage, water swamps into houses.
Despite recent warning signs of a disaster in waiting, encroaching on the river's course continues unabated. When Nairobi witnessed some floods on May 13, several houses in the area were swept away. There were deaths too, but they were not documented. Very little is ever documented here.
"When the raging floods waters subsided, we recovered seven bodies here," says Daniel Munai, a resident who has been fighting illegal activities along the river.
Residents have defied the buffer zone rule that requires individuals to maintain a 30-metre distance from the river bank. Some are also directing human waste into the river.
"The encroachment is massive. The people we met on the ground are not the real faces behind the illegal activities; they are just agents for influential individuals benefiting from the mess," says Michael Othili, programmes coordinator, Mazingira Yetu Organisation.
The organisation carried out a pilot project along the river in Kibra where similar activities were being undertaken. The project entailed cleaning up the river by improving sewer lines, constructing ablution blocks, designating dumping and waste collecting points and creating awareness.
"There is a lot of resistance from the provincial administration to the political class and even residents themselves. People are questioning our motives yet this is a noble course," says Othili.
The second phase of the project, which has since stalled due to lack of funding, was to extend it to Mukuru Kayaiba, Lunga Lunga all the way to Soweto.
In Lunga Lunga, dumping is done under the pretext of erecting embankments to guard against floods. Once enough heaps of garbage have been deposited in an area along the bank, a grader is brought in to flatten and level the earth, creating 'land', on top of the river's course. The reclaimed land is divided into smaller portions used to put up hovels by those who buy them.
Stealthily encroach
The elder, who Saturday Standard interviewed, said a half an acre can generate around Sh1 million assuming 100 plots measuring 10x10ft are created out the new space.
"It is the work of a few individuals who stealthily encroach on the river with the blessings of some government officials," says the elder.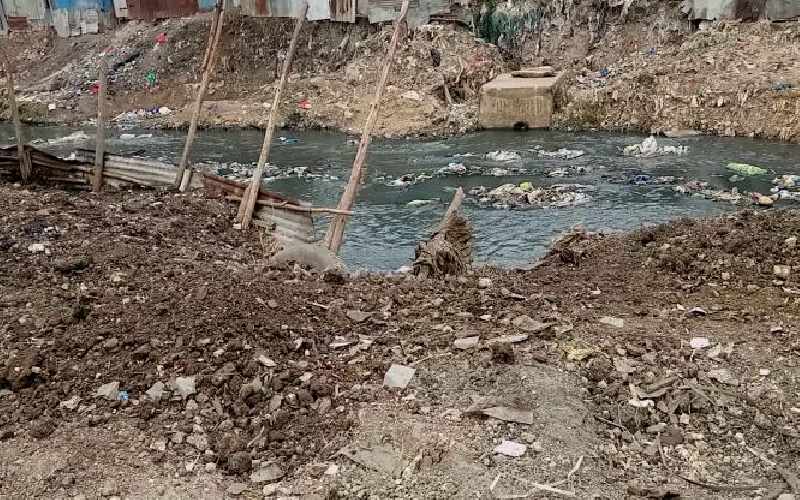 Viwandani Assistant County Commissioner Maonga Medah, however, terms the problem as complex. He says stopping dumping of waste in the area is a challenge since the illegal activities are carried out at night when government agents are not around. Some residents, Maonga says, encourage the dumping which they think cushions them from floods during rainy seasons.
"I am barely six months here. I understand the illegal activities have been going on for many years. I am trying to figure out the best solution," she adds.
Mukuru Kwa Reuben slums is the gateway of garbage into the stream which, almost a century ago, was sparkling with clean water. It is here that another cartel is in control, directing garbage into the stream via a temporary dumpsite where lorries offload waste collected from homes.
Here, the waste is sorted for valuables while rejected non-biodegradable trash such as silver foils, plastics, synthetic fibres, polythene, glass objects and medical waste are swept into the river.
Residents say they always come across gauzes, syringes, scalpels and razor blades which, when burnt, emit a nauseating smell that predisposes them to chest ailments.
"Waste from hospitals is the worst; it has caused us respiratory problems. Many people are sick and suffering in silence because of this dumpsite, which is controlled by one rich family," says Munai.
He has been fighting for relocation of the dumpsite without success. Having lived here for 19 years, the man has watched as the river is slowly swallowed by waste. He nostalgically remembers times when the shanties were 100 metres away from the river with the open space being utilized for farming and recreational activities. But not anymore; the river is shrinking almost to extinction. You will be forgiven if you mistook it for open sewerage.
Munai has written several letters to National Environment Management Authority (Nema) and the provincial administration but no intervention is forthcoming. According to him, one waste collection company is notorious for dumping at the undesignated site. Sometimes, school children abscond classes to rummage for valuables from the trash.
"It's unfortunate that the children are attracted to this illegal dumpsite. I have tried to evict them without much success. I normally chase them away but they always come back," says Munai.
Drivers offloading waste are charged between Sh1,000 and Sh2,000, depending on size of the truck. On average, 20 trucks dump garbage here, according to residents. Like Maonga, acting Mukuru Kwa Reuben chief Christine Marete says it is extremely difficulty to stop the illegal activities, mostly done during weekends.
"For sure, I won't lie all is well. We have a big problem. I am trying to find a lasting solution to," says Marete.
Nema acknowledges the appalling situation which it plans to deal with in a five-year plan, in collaboration with partners, including the ministry of Water, Water Resources Authority, Nairobi Metropolitan Services and NGOs.
"The situation of Ngong River is terrible. It requires concerted efforts to salvage it. The river is polluted most in informal settlements where people discharge waste into the water," says Simon Weru, Nema's head of Urban Rivers Restoration Programme.
Weru says the authority has set aside money in the current budget to fight those downloading effluent in the river. These efforts will be concentrated in Kibra, Mukuru Kayaba, Lunga Lunga, Mukuru Kwa Reuben and Soweto slums, where houses on riparian land have already been marked for demolition.
However, it will not be an easy task, according to Weru. For the exercise to succeed, she says, some people have to be moved, especially those occupying the riparian land.