Akasha twins last seen in the company of foreigners missing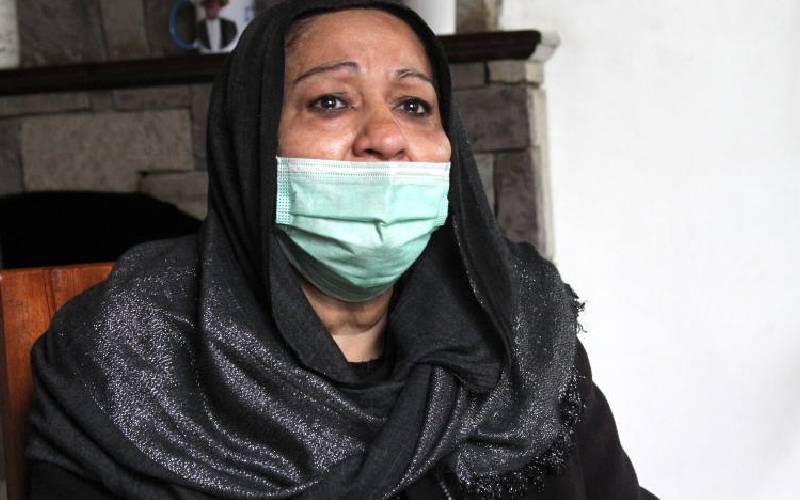 It has been almost two weeks now since two granddaughters of slain drug baron Akasha Abdalla went missing. Hayat Abdalla, Akasha's wife, can barely hold back her tears as she narrates her pain for not seeing her 18-year-old twin granddaughters for a fortnight.
She claims they were last seen in the company of neighbours, who are now said to be foreign nationals.
With the shadows of Akasha's sons Baktash and Ibrahim who are currently jailed in the United States still lingering over her shoulders, the elderly woman now fears that her granddaughters may also have been spirited out of the country.
"Niliwalea na mikono yangu mimi (I raised them with my own hands)," Hayat says while rocking her arms near her chest as if to soothe a baby.
In 2017, the Akasha brothers were whisked away to the USA to face drug trafficking charges, as they battled to stop the extradition. They are now serving jail sentences after admitting to trafficking elephant trophies and drugs. Ibrahim is serving 23 years while Baktash is in for 25.
Hayat, 70, claims police had said the twins would be produced at Dandora police station 9am yesterday, but this did not happen.
"Leo nangoja mpaka saa tatu. Wanasema kujeni saa tatu asubuhi wasichana iko (I waited until today 9am. They told me to go there, that the girls are there," she said, tears rolling down her eyes.
Four foreign nationals are said to have rented a house adjacent to that of the twins' parents'.
Speaking to The Standard yesterday, the Akasha family lawyer John Khaminwa said it was not clear when, but that the four foreigners, a woman and three men, occupied the apartment.
According to Dr Khaminwa, on August 2, the girls woke up, took breakfast as usual, and had morning chitchat with their parents before leaving for their neighbour's house. They were last seen at about 7am.
"But why"
"Her grandchildren, two girls, have disappeared. Why would it take the police so long to trace the whereabouts of the two and give assurance to their grandmother and their parents?" Dr Khaminwa posed.
A frantic search for the two started. First, the family made a report under OB BL10/02/082021T, at the Dandora police station, then started tracing their neighbours.
One of the neighbours is said to have left the country already, while the rest are allegedly no longer living in the same house.
Hayat believes her grandchildren have already been flown out of the country.
Khaminwa says his client fears that the girls have disappeared. "It is difficult to make her (Hayat) believe they are safe," he said, adding that the two teenagers had no identification cards. "When I went to Dandora police station last Thursday, I was told the children would be produced today at 9am but they were not brought as promised," he said.
Buruburu DCI boss Jackson Muriuki said the matter was under investigation.
jmuthoni @standardmedia.co.ke