Matatu is full, Covid be damned, I just wanna go home!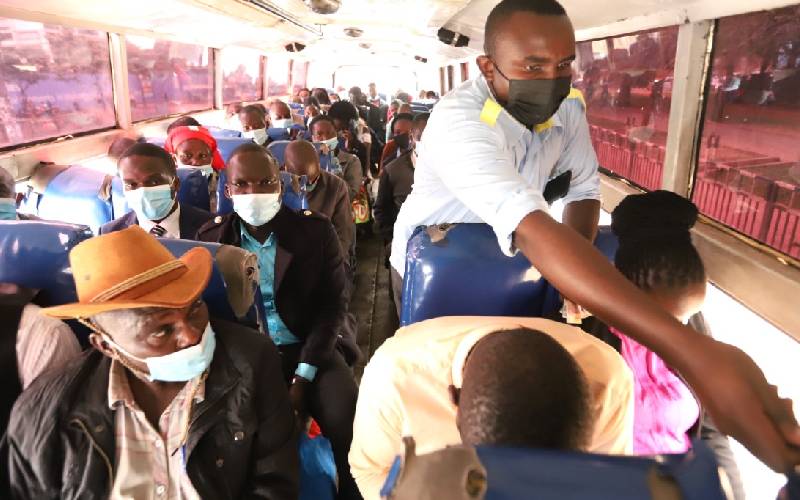 Public service vehicles resumed carrying passengers at full capacity yesterday amidst surging cases of Covid-19.
The resumption followed a directive last week by Transport Cabinet Administrative Secretary Chris Obure. A check by The Standard team showed some bus stops like Kencom in Nairobi had hand-washing spots but very few passengers were using them. Most touts had thermo guns and sanitizers for those boarding.
But it was survival of the fittest at the Railways bus station where most passengers scrambled to board without sanitizing or washing hands, contrary to measures given by the Ministry of Health.
Other directives were that all passengers must be screened for fever before boarding and those coughing or with a temperature above 37.5 degrees not allowed to board. Windows should be open throughout to allow air circulation while preaching and hawking in vehicles was banned.
Passenger vehicles have been operating at 60 percent capacity to maintain social distancing. CAS Obure said return to full capacity was after matatu operators agreed to self-regulate by ensuring all PSVs have sanitizers. Most players were happy with the increased earnings.
"As an industry, we have been struggling since Covid-19 came, we welcome this move. It was timely, numbers are still surging that's why we are taking into consideration the lives of our passengers by ensuring they observe the measures put in place," said Teddy Peter of Citi Hoppa.
Dalton Muchoka of Dandora said that "now that matatu's are carrying full capacity then the country needs to open up other places like churches and bars."
But some passengers said the directive came too soon and other measures should have been implemented like vaccination before return to full capacity.
Facts and figures about Tokyo 2020
With the Tokyo Olympic Games closing tonight, Xinhua takes a look at facts and figures about these special Games held under the COVID-19 influence aft