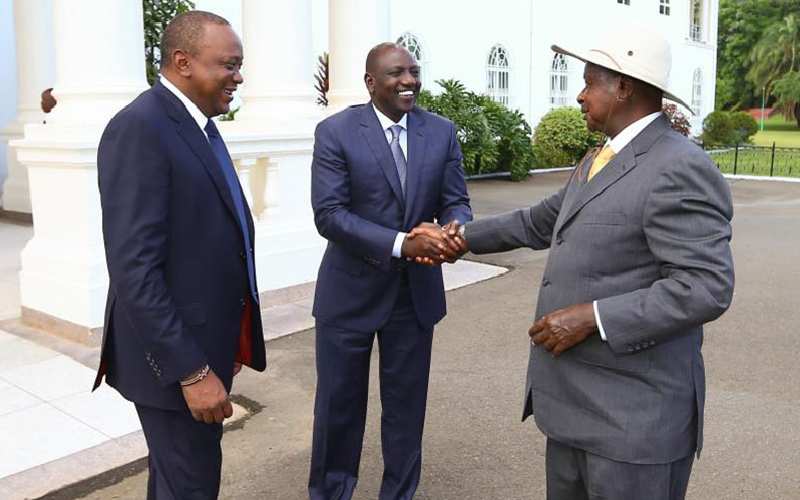 Deputy President William Ruto's abortive visit to Uganda has opened another chapter in the tumultuous relationship between Kenya and Uganda.
Kenya prevented the DP from making his second visit to Uganda in a month, sparking protests from Ruto's office and drawing Uganda into Kenya's cauldron of combative politics.
Politicians in Kenya have accused Ruto of a dalliance with Uganda's ruling party, National Resistance Movement and questioned his relationship with Uganda President Yoweri Museveni.
It has been a busy week during which Uganda's Foreign Affairs Minister Henry Okello Oryem issued a statement distancing the country from any interference in Kenya's politics.
"Our foreign policy is very clear that we don't interfere in the internal affairs of any country whatsoever," the Ugandan official said from Kampala.
But the latest spat between the two countries just adds to the numerous incidents over the past five decades.
Kenya and Uganda have been in occasional political and economic friction which has contributed to a decline in relations.
In the chequered history of these two countries lies suspicion, accusations of spying and spilt blood.
All that is, however, covered by the veneer of robust trade, as Kenya is the economic lifeline for landlocked Uganda.
But once in a while, that dark past flares up, leading to tension.
In December 1987, lives were lost in a skirmish on Kenya's border with Uganda at Busia.
The two sides disagreed on the extent of casualties. Kenya said its police officers killed at least 47 Ugandan soldiers, but Uganda said only three of its men were killed.
As a result of the escalating tensions, Kenya expelled Uganda's two diplomats on December 19,1987, as it accused its neighbour of spying for Libya.
Uganda was then at the height of a battle with rebels in the North and East of the country and viewed Kenya with suspicion for "harbouring rebels."
The uneasy relationship between the two neighbours deepened, with Uganda stationing troops at the border in what it explained as an attempt to block rebels from Kenya staging cross-border attacks.
Kenya pledged to retaliate any Ugandan attempt to cross the borders. A shootout resulted in deaths.
According to press reports, Kenya believed that Uganda had helped 200 dissidents travel to Libya for military training to overthrow the government.
Arguably, the troubles started much earlier during the tenure of strong man Idi Amin.
Amin was easily the antagonist and shaped Kenya's relationship with Uganda in the 1970s.
Never heard from
In 1976, Amin attempted to redraw Uganda's boundaries, claiming up to Naivasha as part of Uganda.
The areas that Amin was intent on annexing were Turkana, West Pokot, Trans Nzioa, Bungoma, Busia, Kakamega, Central Nyanza, South Nyanza, Narok, Kisii, Kericho, Nakuru, Uasin Gishu, Elgeyo Marakwet, Nyandarua, Nandi, Kisumu, Eldoret, Tambach, Maji Moto, Maji Mazuri, Gilgil, Lake Baringo and Naivasha.
That proclamation from Amin came as Kenya was pushing Uganda to explain the disappearance of Esther Jeruto Chesire on February 13, 1976, at Entebbe Airport.
Jeruto, a student of Political Science and Diplomacy at Makerere University, was reportedly picked up by Ugandan authorities at the airport while waiting to board a plane to Kenya and was never heard from again.
Later that year, in July, Kenya cooperated with Israel to enable the rescue of more than 100 Israeli hostages held at Entebbe Airport.
The hostages were from an Air France flight from Tel Aviv to Paris, carrying 247 passengers and 12 crew.
The plane made a planned stop in Athens, where it was hijacked and flown to Uganda.
While Amin and the Ugandan regime colluded with the hijackers, Kenya granted Israeli military aircrafts the use of its airspace and refuelling stops.
The Israeli military ran some of their affairs from Kenya and once the rescue operation was complete, their first stop was Nairobi.
In 1976, President Jomo Kenyatta cut off Uganda oil supplies and Uganda in turn disconnected electricity supply to Kenya.
Amin came to power in 1971 in a military coup that deposed Milton Obote.
When Dr Obote was overthrown, many Kenyans working in Uganda were killed or driven out.
Amin also accused Kenya of joining an alleged American?Israeli commando group he said was preparing to invade Uganda.
But Amin's excesses would not stop at that and would a year later lead to the collapse of the East African Community whose members were Kenya, Uganda and Tanzania.
Military revolt
In 1979, after eight years of chaotic rule, Amin was deposed and Yusuf Lule, Godfrey Binaisa and Paulo Muwanga led for fleeting periods, before a presidential commission oversaw the election of Milton Obote.
Under Obote, Kenya and Uganda continued with their uneasy relationship over suspicion that Obote had a hand in the Kenyan military revolt against Jomo Kenyatta, led by Maj Gen Joel Ndolo, in 1971.
After close to five years in power, Obote was deposed by General Bazilio Olara-Okello, who led for two days, and resigned in favour of General Tito Okello who was then deposed by Yoweri Museveni on January 26, 1986.
Kenya attempted to mediate between the National Resistance Movement and Gen Okello and President Daniel Moi convened peace negotiations in Nairobi in 1985.
Kenya hosted refugees but they would later be thrown out on claims by top leadership that they were saboteurs and spies.
Uganda helped dissidents fleeing the Kanu regime such as ODM leader Raila Odinga and Koigi Wamwere.
Other sticking points between Nairobi and Kampala have been over cattle rustling in the North.
Museveni has publicly shown his disdain for Kenya over the cross border cattle raids. At a national event, he sought to know the whereabouts of a community that "steal my cattle".
The other source of conflict is Lake Victoria's contested Migingo Island which both Kenya and Uganda claim.
During the violence which rocked Kenya during the 2007/08 elections, Museveni blamed ODM for vandalising railway infrastructure key to the economy of Uganda.
Until the tension between Kenya and Uganda took a political twist last week, the differences had mostly been economic.
The two nations were on the verge of signing a deal to have Kenya transport Uganda's crude oil.
Uganda first discovered oil mines in 2006 in Hoima and has since found 6.5 billion barrels. The landlocked nation needed a pipeline to transport the crude to international markets and started talks with Kenya.
In 2016, Uganda announced it had shelved plans to build a pipeline for its oil through Kenya, opting instead to go the Tanzanian route.
Part of the reason Uganda abandoned a joint venture with Kenya to link its oil fields to the Lamu port was its proximity to Somalia.
Museveni also said that Uganda would have paid higher tariffs.
But trade wars have been more common.
Kenya has increasingly turned to Uganda for agricultural imports.
However, milk, maize and eggs from Uganda have been the bane of Kenyan farmers.
Last year, Nairobi banned milk imports from Uganda after an outcry from farmers.
In a letter on January 15, Uganda complained that Kenya was violating the East African Community protocol by seizing the products.