Low budgets cited for poor disposal of waste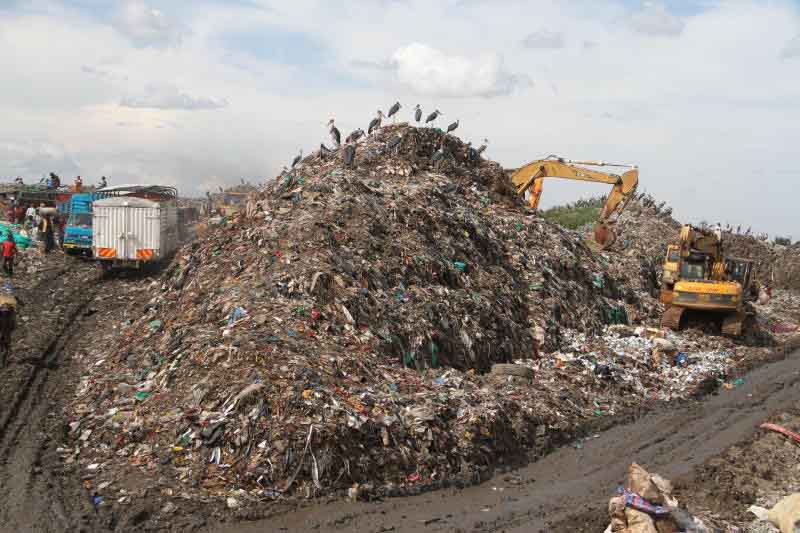 Counties still struggle to achieve effective waste management in their urban centres due to failure to allocate adequate funds for disposal initiatives.
Lack of funds is hampering the entire waste management cycle from collection, transportation and disposal, leading to mounds of waste. The situation is exposing the ever-increasing population in metropolis regions to unnecessary environmental hazards.
In a waste management situational analysis contained in its report for April 2021, National Environmental Complaints Committee (NECC) also notes that most urban centres lack dumping sites, leading to irresponsible disposal in the open.
"Minimal prioritisation for waste management in counties has led to inadequate budgetary allocation. Low funding has affected investment in waste management facilities and equipment," stated the NECC report.
The report signed by NECC secretary Dr John Chumo states that counties should allocate sufficient funds to implement environmental issues, including management of waste.
It also urges the National Government to provide enabling policies to facilitate respective counties to effectively deliver waste management services.
"Disposal of waste in the country remains a major challenge as most of the counties lack proper and adequate disposal sites. The few towns that have designated sites practice open dumping of mixed waste, as they lack appropriate technologies and disposal facilities," stated the report.
This, it states, is despite the directives by National Environment Management Authority (NEMA) that all county governments should designate areas of waste disposal and undertake basic actions to manage the sites including fencing, manning and weighing of the waste to ensure proper management of the dumping sites.
"Most disposal sites are undesignated due to the fact that they are either located in proximity to residential areas, surface water sources, hospitals, schools and other vital facilities," the report states.
It noted that proximity to residential areas causes environmental pollution that increases chances for occurrence of human illnesses.
The report established that waste transportation is largely rudimentary using open trucks, handcarts, and donkey carts, among others.
"Poor transportation modes have led to littering, making waste an eye-sore. Some counties have adopted appropriate transportation trucks as stipulated by the waste management regulations," it adds.
It also noted that some county governments have privatised waste transportation through Private Public Partnership arrangements.
The report also cites lack of knowledge by the public on the importance of a clean environment, thus poor handling of waste at the household level like lack of segregation, reuse, reduce and recycling.
"Negative attitude towards waste management and failure to take individual responsibility has contributed to poor practices such as littering, illegal dumping and open burning," the report further states.
According to NECC, field investigations were conducted in Nandi, Kajiado, Bungoma, Machakos, Murang'a, Kiambu, Mombasa and Kisumu.
The report was arrived at through stakeholder consultative meetings and interviews with dumpsite managers, among others.
The NECC further noted: "As Kenya's economy and cities grow at the accelerated rate consequent to devolution, challenges facing sound waste management across most counties have reached major proportion."