Abdalla admits he has specific attraction for polls commission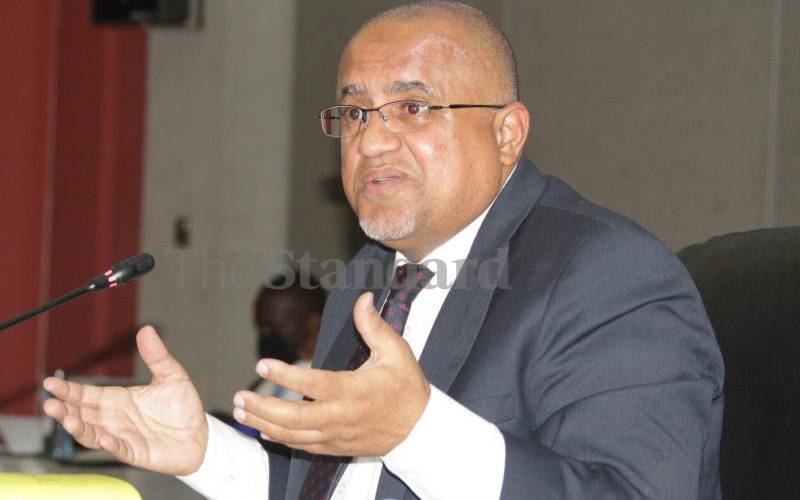 Former commissioner Murshid Abdalla Mohammed was yesterday put to task over his 'love' for commissions when he was interviewed for the job at the electoral agency. Abdalla, an advocate, who was the second candidate to be interviewed by the Electoral and Boundaries Commission (IEBC) selection panel, has previously served as a former interim commissioner at the National Police Service Commission (NPSC) from 2012–2018.
Panelist Morris Kimuli sought to establish from the interviewee if he will stay put to complete his term should he get the commissioner's job or he will quit to apply for another, as was the case in 2016 when he applied for the IEBC chairperson's post.
According to Kimuli, Abdalla served in the defunct Interim Independent Electoral Commission of Kenya (IIEC), then applied for the same after IIEC transitioned to IEBC but was not shortlisted despite having contributed a lot.
The oral interviews entered week two with Abdalla defending his past moves in various commissions. He had applied for the vacancy of chairman of the IEBC and although he was shortlisted, he lost to the ex-chair Issac Hassan. But that was not the end of his quest to join the commission. In 2016, he again applied to join the commission but was not successful, arguing that it was because he was still a state officer and shouldn't have applied.
This puzzled Kimuli, who wondered why Abdalla would look for a job elsewhere despite being on a six-year fixed contract with the NPSC.
"By the time you applied in 2016 this country had given you a job in an independent commission and you were serving a six-year term with two more to go but you presented an application to join another independent commission. Did you intend to bail out of the NSPC," he posed.
In his response, Abdalla claimed he has a specific attraction for the electoral body and he felt like the four years in the commission was enough as most of the work had already been concluded.
Mr Kimuli, however, pressed further to know why he was still working at the commission after he lost despite making it clear that he felt his work had come to a close.
"But you didn't resign to say that you have done enough and need to leave the commission. When you were not successful to join the IEBC in 2016, you continued to serve the NPSC for the other two years, earning public money despite your inner feeling that your work for the commission had been done," stated Kimuli.
Abdalla argued he "was committed to the police service commission and the question of me now having gone to the IEBC is a moot point because I did not go there".
Kimuli said he failed to understand why Abdalla claimed that his interest was in electoral matters yet last year he made an application to join the data commission, which is not an electoral commission.
He applied for the post last year but lost to Immaculate Kassait.
The advocate had also applied to become the Chair of the Commission on Administrative Justice (Ombudsman), but lost to Rarieda MP Otiende Amollo. In 2019, he applied to be a judge at the Court of Appeal but was not successful. Kimuli also wanted to know why Abdalla had applied for a job at the National Lands Commission (NLC) shortly after applying for the IEBC post.
"Do you then agree that you have been all over," Kimuli posed.
Abdalla, however, told the panel that the cycle will go on should he fail to secure a slot at the commission because working was a means of livelihood. The job was available and it's also a key commission and at the time, the IEBC job was not advertised. Should it have been advertised, I would have settled on IEBC," he stated. Naisiae Paloshe Tobiko, manager IEBC said mistrust was one of the major issues that need to be worked on in order to maintain peaceful coexistence with members of the public.
"We need to engage stakeholders more and the young people since they are more advanced with technology and we can learn a lot from them," she said.
Prof Michael Lokuruka said he had the capacity to make a difference in the commission, arguing that he will have positive influence.