Ex-agency boss defends decision on CORD demos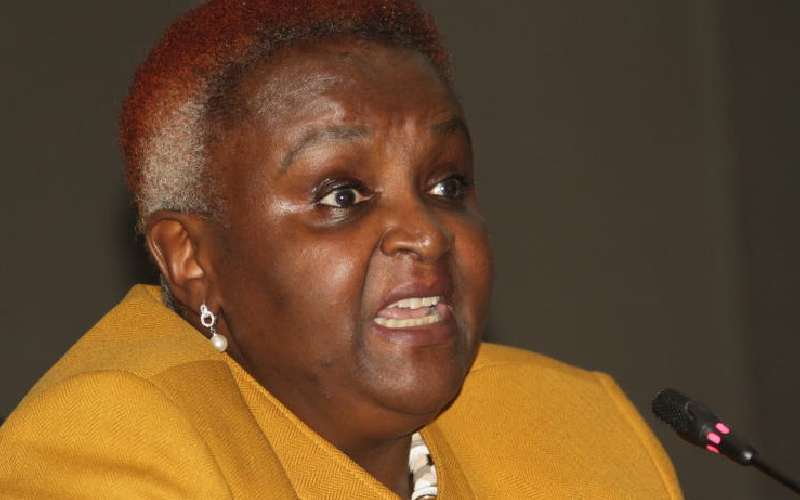 Former Kenya National Commission on Human Rights (KNCHR) chairperson Kagwiria Mbogori was questioned on her role during protests by the opposition against the Issack Hassan-led electoral agency.
Mbogori is among the 36 candidates seeking to fill vacant commissioner slots at the Independent Electoral and Boundaries Commission (IEBC). Yesterday, she was asked to set the record straight over allegations that she did not defend people's rights while at the KNCHR.
The panellists were concerned that Mbogori's stand on the matter, which went contrary to demands by the defunct Coalition for Reforms and Democracy (CORD) principals Raila Odinga, Kalonzo Musyoka and Moses Wetang'ula (Bungoma), could have triggered the petition for her removal from office.
"After the 2013 elections there was an altercation between you and CORD and they even filed a petition for your removal, arguing that you were partisan and had thrown your independence out of the window and was supporting the government and IEBC in situations where the commission was not fair and just," panellist Morris Kimuli queried.
The coalition sought removal of top IEBC officials and at the time, it was alleged that she was in support of the government and not people, and worsened by allegations that she was in support of police brutality. And for that some civil society groups lodged a petition to remove her from office.
Mbogori, however, maintained that she did what she did to maintain peace and would do it again if the same were to happen today.
"During the lead up to the 2017 election, there was a lot of violence and I felt the political party in question could have done better in avoiding that violence," she said.
She told the panel that she never faulted CORD for protesting, but rather the parties involved were responsible for how the protests were conducted.
"The law allows peaceful protests but if you recall at the time, most of them turned brutal. There was violence," she said. She was interviewed just a day after IEBC invited international bids for the supply of poll materials ahead of next year's polls. Already, one of the candidates eyeing commissioner slot has criticised the move.
Justus Munyithya, a former Law Society of Kenya (LSK) official, yesterday told the panel that the commission needs to re-strategise the commission's procurement plan and think locally for cost-effective means. "Can we have homemade-based solutions and procure the materials locally? It's time to think of how much money we are using for these materials," he said.
In an advertisement on Wednesday, the commission invited tenders for a contract that will run for three years to supply election and referendum declaration forms, ballot papers, voter registry among other electoral materials.
Mr Munyithya said use of technology is another way to reduce cost. He said should he be appointed as a commissioner; he would ensure that blockchain technology is adopted to help reduce cost of elections. Blockchain technology is a system of recording information in a way that makes it difficult or impossible to change, hack, or cheat the system.
It provides a platform for creating a highly secure, decentralised, anonymised, yet an auditable chain of record used presently in cryptocurrency systems.
"Such a system can reduce the cost of running an election by up to 300 per cent and offers greater security and transparency," he said.
"The cost of a ballot in Kenya ranges between Sh700 and Sh2,500. If we use blockchain technology, this cost will go down to Sh50. This is an area I would explore as a commissioner," he said.
Today, Koki Muli, Lucy Jebet and Maurice Amutabi will appear before the panel.