Sharon Murder Trial: prosecution gives an account of police report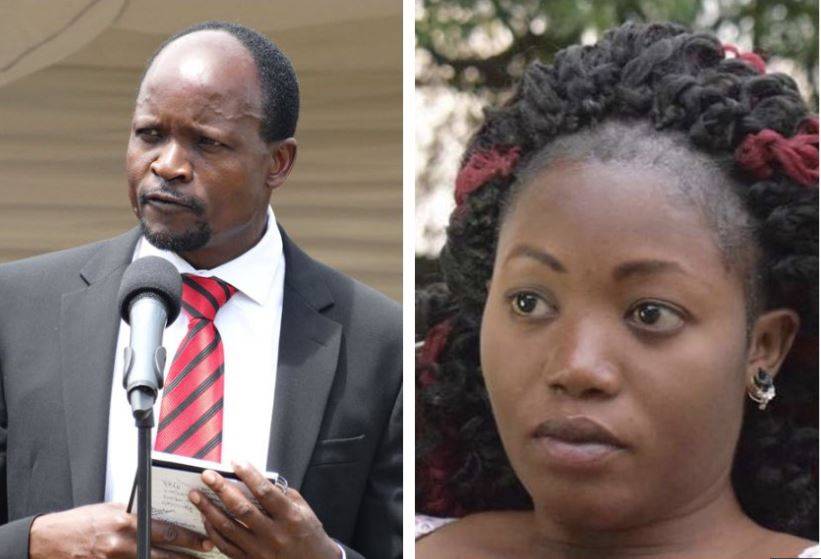 The prosecution team in Sharon Otieno's murder trial have given an account of how the report of the alleged abduction and subsequent murder of the then 26-year-old expectant Rongo University student was made.
Police Constable Willy Okoti, an officer attached to Mawego Police Station on Thursday, while appearing as the final prosecution witness for the four-day court session, narrated to the court how he recorded the report.
According to PC Okoti, the reportee (whose identity has so far been sealed by the court) did not give full information at the time of reporting because he appeared shocked and confused.
"At the time of recording the report, he said his life had been threatened because of the allegations that Obado had impregnated the deceased (Sharon Otieno)," PC Okoti told the court.
Okoti has served in the police service for 38 years, and at the time the report was made, he was working at the report office in Kadel Police Post in Homa Bay County.
He said he made a brief report on the Occurrence Book number 09/03/09/2018 as the reportee was narrating his encounter. He later shared the OB extract with DCI detectives.
Okoti testified before the Milimani Law Courts that the reportee told him how they (together with the deceased) were in a hotel in Homa Bay town when Migori Governor's personal assistant and two unknown men led them to a Probox car with a promise of solving Otieno's financial woes.
"Fearing for his life, he jumped out of the moving vehicle between Homa Bay town and Kendu Bay town then he escaped," Okoti told Justice Cecilia Githua.
The officer was quick to note that the reportee was in pants that were torn on the knees, with injuries and bloodstains on his knees and palm of the hands.
"He walked in the company of a good Samaritan, Kennedy Kasera, a villager who went home afterwards. The reportee was handed over to Mawego Police Station OCS," the officer added.
Although the court agreed to have the reportee's identity hidden, Obado's lawyer Prof Tom Ojienda made an unsuccessful attempt to overturn the decision.
"The media choreograph the facts before the court because of such inconsistent witnesses. It is all out in the media," Ojienda told the court.
Sharon Otieno's body was found dumped at Kodera Forest in Homa Bay county a day after she went missing. Investigations put her lover, Obado and two others as suspects in her brutal murder.
Sharon was seven months pregnant when she met her death.