Kenya, Tanzania set to finalise directive on removal of trade barriers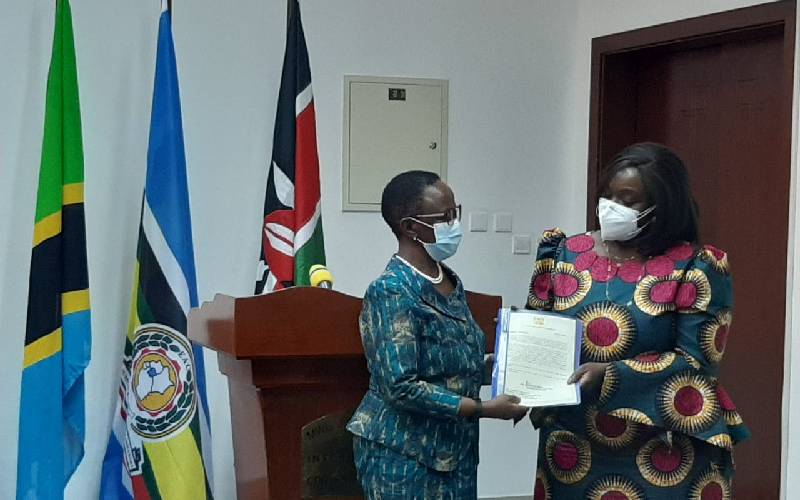 Kenya is expected to host Tanzania next month to finalise the directives to remove all barriers that have hindered trade between the two countries.
Foreign Affairs CS Raychelle Omamo said the meeting between the two countries is in line with the harnessing of the Joint Commission for Cooperation (JCC) put in place since September 6, 2009, as the main framework of bilateral cooperation.
Omamo spoke after a one-day official visit to Tanzania where she was hosted by her counterpart Ambassador Liberata Mulamula.
The CS said the purpose of her visit was to follow up on the successful State Visit to Kenya by President Samia Suluhu in May 2021.
She said the main agenda was to call for expedited implementation of agreements signed and directives issued by the two Heads of State during the historic State Visit.
Omamo said following the meeting, they had recalled the directive by President Uhuru Kenyatta and Tanzania's Samia Suluhu to convene the next session of JCC and called for the expeditious conclusion of consultations of Joint Technical committees in time for the 4th Session of JCC.
As a result, they agreed Kenya will host the meeting this August in Nairobi.
President Uhuru Kenyatta then in his address said ministers from both Kenya and Tanzania should resolve all non-tariff barriers and other restrictions affecting the two countries within four months.
Uhuru said going forward, there would be no business visa or work permits for Tanzanians wishing to do business in the country.
"You are free to come and trade here in Kenya, there will be no business visas or work permits as long as you abide by the laws of the land," he said.
Uhuru urged the ministers to move swiftly and ensure the ease of doing business at the border points was decisively tackled.
"It is not about wearing suits and meeting over tea. Get to the ground and understand what is affecting those traders. Don't just sit in those offices. If you need to consult, do it and get the work done," he said.
Suluhu said her government was ready to serve as a bridge to pave way for businesses between the two countries to thrive.
"It is not about competing and complicating things, but about developing business relationships to allow both parties to explore opportunities," she said.
Omamo said in their meeting, they held extensive consultations on a number of bilateral and regional issues of mutual interest with a view to consolidating the gains made and exploring possible new areas of cooperation.
The two ministers further re-committed to enhance cooperation at all levels to advance the Common African Agenda for Integration and Sustainable Development.
The duo took note of the close and historical bonds of friendship that exist between Kenya and Tanzania.
They reiterated the shared values and aspirations and continued cooperation across all spheres of mutual interest including the political, socio-economic, cultural and diplomatic domains.
Areas of cooperation within this framework include trade and investment, agriculture and livestock, transport and infrastructure development, tourism, defence and security, political and diplomatic consultation, ICT, art and culture, health, education, immigration, climate change and environmental issues among others.
This comes amid calls from manufacturers from the two sides for expedited resolution of non-tariff barriers (NTBs) and review of the East African Community Common External Tariff on the back of unsatisfactory trade levels in the last few years.
Speaking during a trade investment forum hosted by the Kenya Association of Manufacturers (KAM) and Confederation of Tanzania Industries held from Wednesday to Friday in Dar Es Salaam, Tanzania, Kenya's High Commissioner to Tanzania Dan Kazungu said the elimination of trade barriers would boost trade significantly.