Police clueless on Kangogo's whereabouts five days later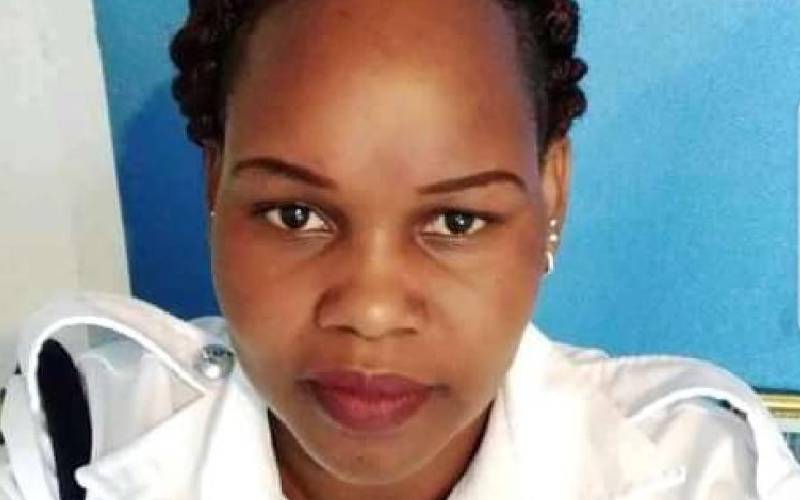 After a five-day manhunt, there is still no trace of Corporal Caroline Kangogo, who is the prime suspect in the killing of two men who include her colleague.
As of yesterday evening, detectives looking for the fugitive officer were yet to make a breakthrough even as they expressed optimism she will eventually surrender to authorities.
Senior police officers handling the case both in Juja and Nakuru East told The Saturday Standard that she was being given more space to turn herself in even though a manhunt for her was still on.
The police have reiterated that it was yet to be proven that Kangogo actually shot and killed Police Constable John Ogweno in Nakuru and Kiambu businessman Peter Ndwiga on Monday this week. Juja Sub-County Police Commander Dorothy Migarusha said that Kangogo was at the moment being treated as a suspect.
"It is still not clear if Kangogo actually carried out the shooting or not. At the moment she is only a suspect and a person of interest because of the evidence found linking her to the scene. We are hoping that she turns herself in," said Migarusha.
Her being at large has sent fears and panic among civilians as witnessed in Trans Nzoia County where a licensed firearm holder allegedly shot a woman in the abdomen after mistaking her for Kangogo on Thursday evening.
"We call for calm as we continue to search for her. She is not yet a threat to national security even though we urge the public to be on the lookout and alert the police should they spot her," said Migarusha.
Nakuru East Deputy Police Commander Phanton Analo said that the investigations had been moved to higher authorities. Analo, to whom Corporal Kangogo reported to, said the search for Kangogo was still on and that they also hope for her to surrender to the authorities.
"Today (Friday) is the fifth day since she went missing. If she isn't arrested or doesn't surrender herself to us within eleven days, I shall write a desertion letter," said Analo.
Nakuru East Directorate of Criminal Investigations boss Benson Mutie said that they had not received any information on her whereabouts in the previous 24 hours. "There has been a lot of information circulating but the truth is she has not been spotted anywhere or traced using a specific mobile phone," said Mutie.
The police denied reports of having traced Kangogo in Kenlands, Nakuru and later in Eldoret using a phone that she was switching on and off. Detectives who have spoken on condition of anonymity have explained why it has been an uphill task to get hold of Kangogo, among them being her training and experience as a crime buster in the service.
Details from Kangogo's file portray her as an experienced, well-trained and widely travelled person.
"She has served in Mombasa, Nyeri and Nakuru and hails from Elgeyo Marakwet. These and the alleged multiple lovers in different counties makes her an elusive and unpredictable," said a detective.
"This is a person who has interacted with every aspect of hunting criminals. She knows how we are doing it and this gives her an opportunity to be a step ahead," said a detective.