IEBC interviews: Catherine Kamindo taken to task over 2017 polls irregularities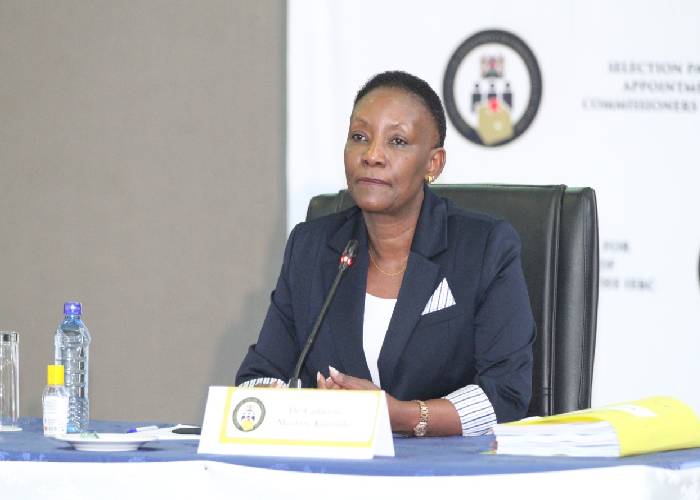 Dr Catherine Kamindo's role as head of IEBC's national tallying centre during the August 8, 2017 polls formed the foundation of her interview for the commissioner job. Dr Kamindo served as the operations chief at the Bomas of Kenya tallying centre.
The interviewing panel observed that had Kamindo been thorough in her results-tallying job, then the discrepancies the Supreme Court established while annulling the presidential election outcome would not have been witnessed.
In her defence, Kamindo said the irregularities might have been introduced during transmission of the results, and not at the tallying stage.
"The transmission of results was affected by factors beyond the Commission's control," she said, adding: "One of the challenges included some polling stations failing to relay the results electronically due to poor network in their locations."
The interviewee said her role restricted her to coordinating media and call centres and other IEBC departments at the Bomas of Kenya.
"Transmission of results from the polling centres did not fall within my mandate," she said.
She, however, said the IEBC learnt key lessons from the 2017 presidential election petition outcome.
"Measures have since been put in place to address some of the issues the court raised," added Dr Kamindo.
The job applicant told the Elizabeth Muli-led panel she would rely on her experience in election operations and networking skills to help transform the electoral board.
According to her, effective decision-making is a consequence of accountability and responsibility.
As part of enhancing effective decision-making, Dr Kamindo said she'll demand that all IEBC departments issue reports on a quarterly basis. This, she stated, would help the Commission in planning for fair polls.
Kamindo, who described herself as "calm" has experience of 11 years at the IEBC Secretariat. Her roles at the Commission entailed overseeing strategic planning, coordinating the tallying centre, among others.
She said she would bank on her composure to absorb the pressures that come with overseeing Kenya's general elections, which have often been described as draining, heated and controversial.
Kamindo is one of the 35 candidates seeking the four available IEBC Commissioner slots.
The interview to fill up the positions began on Wednesday, July 7 and will go on for 12 weekdays, with three applicants lined up for interviews on different dates.
The candidates' list is dominated by former commissioners, with at least 30 having served at the IEBC in senior capacities.