Two interviewed as the search for IEBC commissioner begins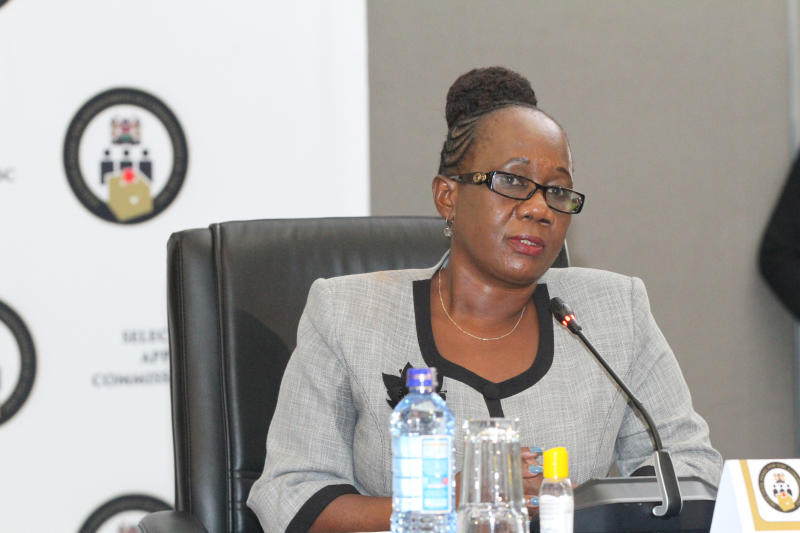 Oral interviews for the 36 candidates shortlisted for the position of commissioner at the electoral agency kicked off yesterday, with the first interviewee opting out over forgery claims.
The seven-member Independent Electoral and Boundaries Commission (IEBC) Selection Panel chaired by Dr Elizabeth Muli, sitting at the Kenyatta International Convention Centre (KICC) scheduled three interviews, among them that of Abdalla Mohammed who pulled out at the last minute. Dr Abdirizak Arale Nunow and Ms Anne Mwikali Kiusy were also interviewed.
According to the panel, Mohamed withdrew from the 9am exercise over questionable academic papers. Dr Muli acknowledged Mohamed's withdrawal following an email sent on Tuesday indicating that he would not appear.
She said they subjected all candidates to due process, writing to various institutions, agencies and professional bodies seeking reference and background checks on their suitability. The candidates also underwent a psychometric test last week.
"We received feedback from public and various institutions, agencies and professional bodies on the candidates," she said.
The Kenya Methodist University disowned Mohamed's bachelors degree certificate. "This is to confirm that Abdalla Mohamed was not a student of Kenya Methodist University. The academic certificate BUS-1-206-05 was not issued by us and is therefore a forgery," read Muli's statement.
During Dr Nunow's interview, the panelists were keen to know what he would do if he got the position, as a senior lecturer at Moi University who also sits on the board of the Competition Authority of Kenya, among other positions in different organisations.
"What makes me qualified is the fact that I am extremely familiar with the diversity in this country, after having the opportunity to work in nearly all corners of the nation," he told the panel.
According to his CV, Nunow has been serving as a board member of the Refugee Appeal Board, a government agency under the Ministry of Interior. However, Morris Kimuli a panelist, sought to know whether these institutions were private or public engagements and if he intends to continue should he get an opportunity at the commission.
"If you are successful, do you intend to continue doing these things that you are doing?" Kimuli posed.
Nunow said he would step down from the other responsibilities, but Mr Kimuli shot back: "So you are of the view that when you work for the commission and you continue working for all these other organisations there is a conflict of interest, but it's not a conflict when you serve in the public sector at the university and still hold these positions and still draw allowances from them?"
"I do not hold any positions, therefore, my responsibility is to go to class and teach and go. Board meetings are not continuous meetings," Nunow answered.
The panel also took him to task on what he would do if appointed and his response was that IEBC should be given capacity to enforce the Election Campaign Financing Act, 2013 by Parliament approving the regulations that bar candidates who violate the rules from participating in elections, through amendments to the Elections Offences Act.
"Those breaking rules should be barred and prosecuted. The Act should be implemented to the letter," he said.
He argued that one of the biggest challenges that Kenyans face during any election is the theory of "buying" elective positions.
Ms Kiusy, an advocate, said she is seeking an opportunity to fulfill her passion of serving the people, adding that the exercise slated for August 9, next year, should not be pushed forward by even a day. "Coronavirus is not a justification for postponing elections because there are mitigations that we can put in place and go on with the exercise," she told the panel.
Article 102(2) reads that postponement of elections can only happen when Kenya is at war."The term of Parliament shall not be extended under clause (2) for a total of more than twelve months."
Today, Ms Caroline Njeri, Dr Catherine Kamindo and Ms Cecilia Ngoyoni will face the panel.