Families recount horror of their kin abducted in broad daylight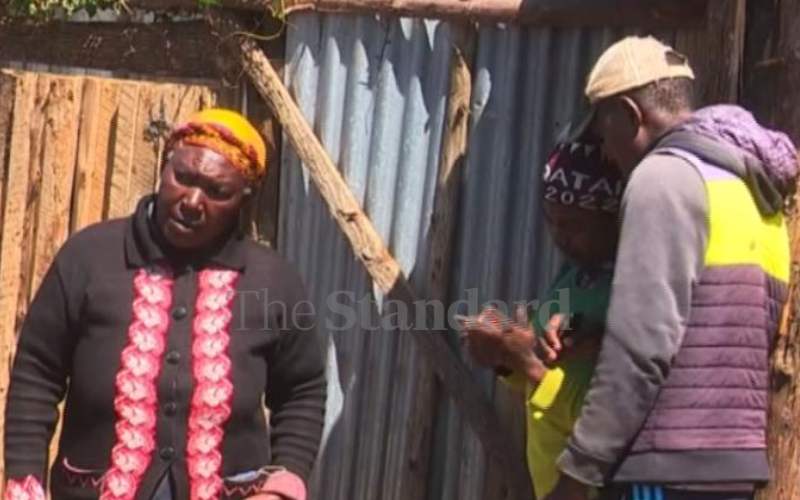 Residents of Kieni Constituency are living in fear following the abduction of five men within a week.
Family members who saw their kin taken forcefully at gunpoint are left with many questions, praying that their loved ones are found alive.
For Phoebe Muthoni, 28, whose husband Isaac Mwangi was abducted on June 27 at around 2.40pm, the incident still gives her nightmares.
The couple was travelling from Solio to Nyahururu with their eight-year-old daughter when on reaching Kia Nugu, three kilometres from Ndaragwa town, they were accosted.
"A vehicle parked in front of our car and three men alighted from it. One man asked my husband to get out and they started having a conversation with Mwangi," she recalls.
Muthoni watched the interaction from the rearview mirror. At some point, her husband took out his identity card from his wallet and handed it over to the men.
"The men seemed friendly and from the way they were talking to Mwangi, I didn't suspect anything bad could happen. One man came to our car and asked me to hand over our phones to him," she recalled.
As this happened, one of the men got into their car and occupied the driver's seat as they ushered Mwangi into their vehicle. "Madam, we're going with Mwangi in our car to talk and see if we will agree," one of the men told Muthoni.
Both cars took off towards Nyahururu.
When they got to Gwa-Kung'u, another shopping centre along the highway, the man driving Mwangi's car parked and left with the car keys as he walked towards the other vehicle. They then drove off.
She reported the matter at Gwa-Kung'u police station.
Mwangi operates an electronics shop, a bar and restaurant and he also owns a PA system, which he hires out to residents of Narumoru Town.
On the same day he disappeared, Wilson Mwangi Wairimu, 26, an employee at Mwangi's club in Narumoru is also reported to have been picked up by three men. Two days later, on June 29, another abduction was reported in Nyeri town. Gerald Guandaru, 45, a businessman in the town was accosted by three men a few metres from his shop.
Witnesses say Guandaru had tried to escape but the men held him and frog marched him to their vehicle. He was driven away in a Subaru Forester. Two other cars spotted at the scene all drove off.
His abduction was reported at the Nyeri Central Police Station. And just like Mwangi and Wairimu's case, police have not been successful in tracing his whereabouts.
One day later, two brothers, Bernard Wanjohi and Samuel Ngacha, in the company of four others, among them Mwangi's wife, travelled to Ndaragwa DCI offices in Nyandarua to follow up on their missing relative and friend.
The only information they got was that their phones had been switched off at the crime scene.
On their way back to Nyeri, three cars drove them off the road. The abductors asked Wanjohi and Ngacha to get out of the car at gunpoint, forced them into their vehicles and drove off with them. Police have been unable to tell whether the kidnappers are their fellow officers in plainclothes or it is a ring of criminals targeting businessmen in Nyeri.
The families of victims are now appealing to the government to help them find their relatives.
When we caught up with Mary Nyaguthii, the mother of Wanjohi and Ngacha, she was devastated.
"I'm crying for my sons. We have tried to look for them but they are nowhere to be seen. We just need to see them. If they did anything wrong let them be charged in court," Nyaguthii said.
"There is no progress so far and we do not have any leads as yet," Ali Ahmed, the police commander for Kieni West, said.