Intrigues that gave dock workers union chief fourth term in office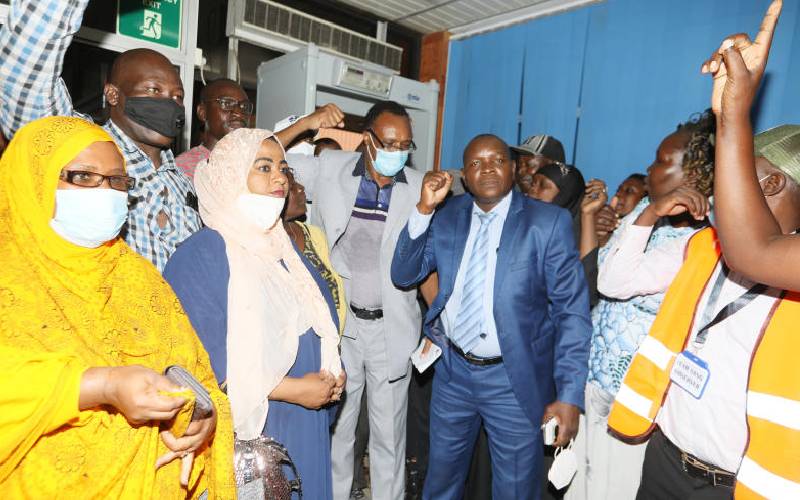 Collapsed talks by 12 candidates to form an alliance and low voter turnout worked in favour of Dock Workers Union (DWU) General Secretary Simon Sang to win a fourth term in office.
Interviews reveal aspirants seeking the post failed to agree on a single candidate, a move that divided their votes thereby giving Sang another five-year term in the just concluded polls.
After the controversial elections held on June 24, the combative unionist is now set to step into office this week once his team is registered by the registrar of trade unions.
Sang's fierce critics, including National Chairman Mohamed Sheria and Deputy General Secretary Anthony Odero, lost in the polls. Sheria had said he was behind the plans to unite Sang's rivals in a bid to galvanise the votes.
Sang garnered 1,055 votes against his main rival Juma Renson Thoya's 864.
Having been first elected in 2006, Sang becomes the longest serving general secretary of the union, followed by former Matuga MP and former Central Organisations of Trade Union (Cotu) secretary general, the late Juma Boy, who served for 13 years.
Thoya, who is the Mikindani MCA, once served as the union chief shop-steward at the port under Sang before he and 27 other workers were sacked for participating in an alleged illegal strike.
Other contenders for the general secretary position were Abubakar Mohamed who garnered 186 votes, Majengo Wara who got 179 votes, Mohamed Mabanda (153 votes), Edward Opiyo (112), Harrison Lusigi (101) and Athuman Athuman (87).
The recent elections could not compare to the last polls in 2016 where Sang had a clean sweep, beating his closest rival Bakari Bwetta by 2,701 votes to 365.
Sheria said although he lost to newcomer Mohamed Juma Mwasera in the polls a fortnight ago, the elections were free and fair. Instead, he blamed the quest to head the giant union by different candidates as one of the main causes for their defeat. He was wrestled by 10 candidates.
Abubakar Mohamed, who challenged Sang in the elections, confirmed unity talks failed because everyone wanted to be the preferred candidate. The former DWU deputy general secretary, however, claimed the elections were controlled by Sheria and Sang, who were influential in the selection of eight election board members out of nine.
But Sheria had defended the decision to pick the eight board members, saying the union's constitution allowed NEC members to do so and not fresh candidates.
Opiyo, who also challenged Sang, echoed Abubakar, saying they were not given a chance to participate in the selection of the polls' team that was chaired by former Deputy Commissioner for Labour Alice Tabu.
"Sang and Sheria chose members of the election board to serve their interests. Some candidates went to court but the case was thrown out. I know that was an election and everyone was looking for means of winning. I am, however, putting all that behind me," said Opiyo, the former head of terminal operations at the port of Mombasa.
Thoya, however, said he was still reflecting on the loss. "I will issue a statement later. Right now I want to get time to reflect," said the MCA.
At the same time, Tabu defended her election team saying it was constituted through a court order and that they conducted free and fair polls under a tight schedule.
A group of candidates sought court orders to stop the polls two days to the elections on grounds they did not participate in selecting the elections board and that they were not informed about the polls. The matter was dismissed.
Postponement of the polls on April 15, May 13 and May 20 as well as court battles are blamed for the low voter turnout in this year's elections.