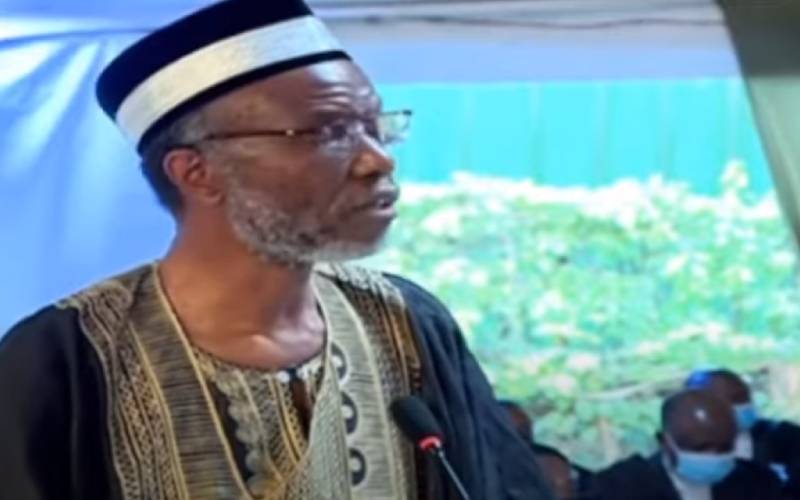 Suna East Member of Parliament Junet Mohamed and former Dagoretti MP Dennis Waweru, who according to Raila Odinga's lawyer Otiende Amolo were the sole promoters of BBI, should have collected and submitted over 74 million signatures to IEBC in support of the initiative.
This is according to arbitrator and activist Isaac Aluochier.
Making his submissions before the Court of Appeal on Friday, Aluochier said the BBI Constitutional Amendment Bill (2020) was dead on arrival over the failure by Junet and Waweru to recognise the principles on Articles 255 to 257 that stipulate the procedures necessary to effect constitutional amendments.
Aluochier argued that the two proposed a bill with 73/74 different amendments, and not a singular subsidiary legislation, and thus required at least one million registered voters to support each amendment.
According to Aluochier, IEBC should have followed due process as provided in the Constitution to duly decline Junet and Waweru's 1 million signature push for the multiple-issue amendments.
"If you want to amend it, not replace it; one issue and one matter at a time. Anything outside that mark is not to be considered, therefore, the Bill is dead on arrival. In fact, we are wasting a lot of time here [Appellate Court] dealing with something that is a fake document - a legal phantom, a constitutional charade with no value in the laws of Kenya," argued Aluochier.
The activist, who noted that he left farming in Rongo to take on the challenge to defend the constitution, added that he is obligated under Article 3 to speak truth to power and urged the seven-judge bench to order President Uhuru Kenyatta to personally bear the cost of the alleged fake process.
"He [Uhuru] was acting beyond his jurisdiction. He was not performing official presidential functions despite purporting to do so. He was performing his own private business; the business of trying to change or overhaul the constitution without authority from the constitution. And that is why I sued him – Uhuru Kenyatta - in his private capacity - not the President of the Republic of Kenya. He was abusing his office," said Aluochier.
Aluochier submitted before the Court of Appeal that the IEBC erred when they failed to halt Uhuru's 2013 ascent to power despite being drawn to impaling breaches of Chapter Six by the Head of State.
"It is not the first time that this court has found declarations of contravention of Chapter Six against Uhuru. The very first time it happened was in 2012, when he was the Chairman of Kanu. Four members got tired of Kanu's inactivity so they took him to court in Mombasa, Petition No.17 of 2010. Two months after the promulgation of the constitution, Uhuru was found to have contravened Chapter Six, specifically article 77, and refused to resign from KANU and remained the Deputy Prime Minister, Finance," he added.
In addition, he said, "Appellant Uhuru is now president but if the law had been followed, Uhuru would have never been president because of that valid Chapter Six filing against him, which he never appealed – nine years down the road. So, one wonders, why is he making so much noise about a Chapter Six finding in this BBI issue, while there is already an existing Chapter Six finding from Mombasa and in another case in 2016?"
In a plea with the court to affirm the High Court's judgment, Aluochier said Uhuru is void of authority to originate an amendment proposal to the constitution.
"I pray that you do the job that Kenyans put you in those offices to do; uphold, respect, and defend this katiba of ours - and don't let anybody, especially a mere employee of ours, hata kama yeye ni (even if he is) employee number 1 ride over us. We are the sovereigns; we are the people, and therefore, he must obey and follow the law - our law."
The seven-judge bench will deliver the judgment on August 20.