House team faults Karoney, NLC chair over summons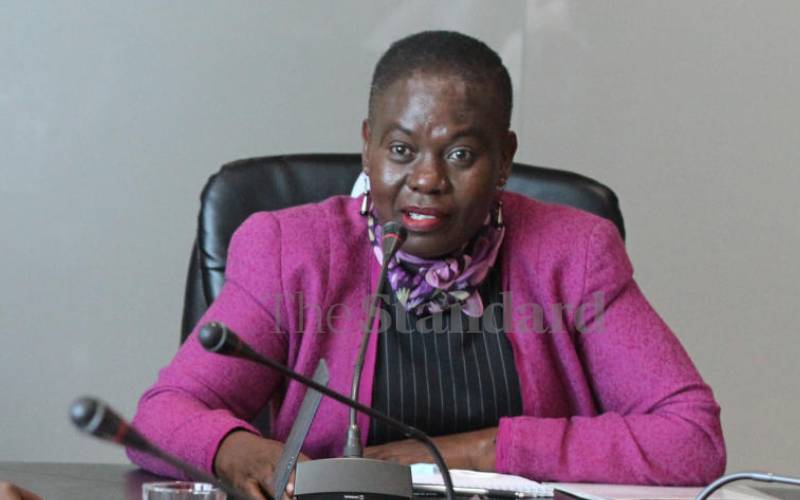 MPs have censured the National Lands Commission (NLC) chairman and Lands Cabinet Secretary for snubbing summons to respond to queries on land.
The National Assembly Committee on Implementation has taken issue with failure by Lands CS Faridah Karoney and NLC chairman Gerishom Otachi to honour their invites to deliberate on petitions pending before them.
In what has become a cat and mouse game between the committee, NLC and the ministry, the MPs said this hurts the ordinary man.
"I believe this is a way to try to evade responsibilities. If we continue like this, I think people will continue suffering because of the belligerence of government officials," said committee chairperson Richard ole Kenta.
Kenta said NLC and the ministry's actions were blatant disregard of parliamentary directives.
"In April they said they'll give us everything in seven days and they never did it. They've written to reschedule the meeting for July. The chairman called me this morning requesting for seven days," he said.
Although the CS and NLC chair wrote to the committee asking for rescheduling of the meeting, the legislators registered frustrations in dispensing with the matter before them, owing to strict timelines given by the House leadership.
They argued that the reasons given amount to excuses and lack of seriousness.
"These are weighty matters and the Lands Ministry is taking us in circles. This report was finalised in 2019 and we have given them more than enough time. We need to communicate with the ministry with deadlines for actions to be undertaken," said Mathioya MP Peter Kihara.
Among the petitions include renewal of leases of land by Delmonte Fruit Processing Company Limited.
The committee avoided virtual meetings with the two respondents and demanded that they appear physically to answer queries lodged against them.
"We get inconvenienced every time they cancel after we have agreed on a meeting. When they write letters with flimsy excuses, they should be sanctioned. Let the guys appear physically on July 20. They have to attend in person," said North Mugirango MP Joash Nyamoko.
Article 125 of the Constitution, its states: "Either House of Parliament and any of its committee has power to summon any person to appear before for the purpose of giving evidence or providing information."
Sitting as a quasi-judicial court, the MPs have powers to summon officials to respond to queries.
Article 153 of the constitution provides: "A CS shall attend before a committee of the National Assembly or the Senate when required by the committee and answer any question concerning a matter for which the CS is responsible."