George Aladwa backs renaming of street after Francis Atwoli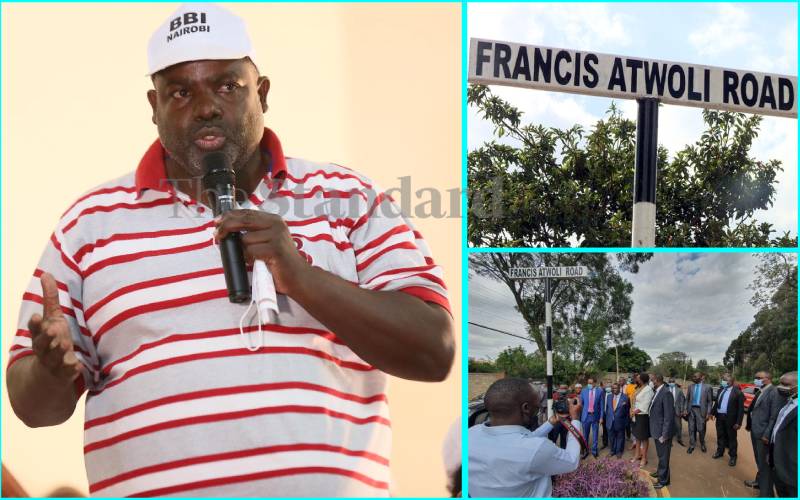 ODM Nairobi branch chairman, George Aladwa, has backed the renaming of a road in the county after trade unionist Francis Atwoli.
He is the latest leader to be dragged into the debate to rename the Nairobi County turned DikDik Lane - which runs in Kileleshwa near Kenya High School - into Francis Atwoli Road.
But renaming the road after Atwoli has caused an uproar among Kenyans, leading to two instances of vandalism as a protest against the decision.
Aladwa said yesterday the vandalism was the work of activists who were intent on denying Atwoli an honour he had earned.
Aladwa, a former Nairobi City mayor, said the Central Organisation of Trade Unions (COTU) Secretary-General fit the stature of having his name on a road.
"Why should we allow a few people calling themselves activists to paint him (Atwoli) as a lesser man who deserves nothing, yet these are people who lack the moral authority to pass judgment on our leaders," said Aladwa, who is also the Makadara MP.
The former mayor said he applauded the county assembly for its new drive to have city roads and streets renamed after great persons and heroes of Kenya.
Aerodrome Road has been changed to Douglas Wakiihuri Road, while Accra Road has been renamed Kenneth Matiba.
Aladwa said Atwoli too deserved the recognition for the role he has played in improving Kenya's labour sector and his contribution to the country's industrial revolution.
"I want to make it clear that as an MP in Nairobi, I firmly support the move by the county government to recognize the role Atwoli has played," said Aladwa.
He noted that Atwoli had received other honours, among them the Elder of the Burning Spear (EBS), and the Moran of the Burning Spear (MBS), for his role in championing social justice.
The Makadara MP called for the arrest of the people behind the vandalism. Twice it has been destroyed, once uprooted and recently burnt down.
"I urge the county to stand firm and protect the road sign from vandals who are out to seek attention by blatantly breaking the law, the police officers should also be on the watch out and help arrest those who engage in such evil acts," he said.
He added that it was unfortunate that some people had trivialized the matter and made an unnecessary and harsh judgment against Atwoli.