Magical straw that purifies dirty water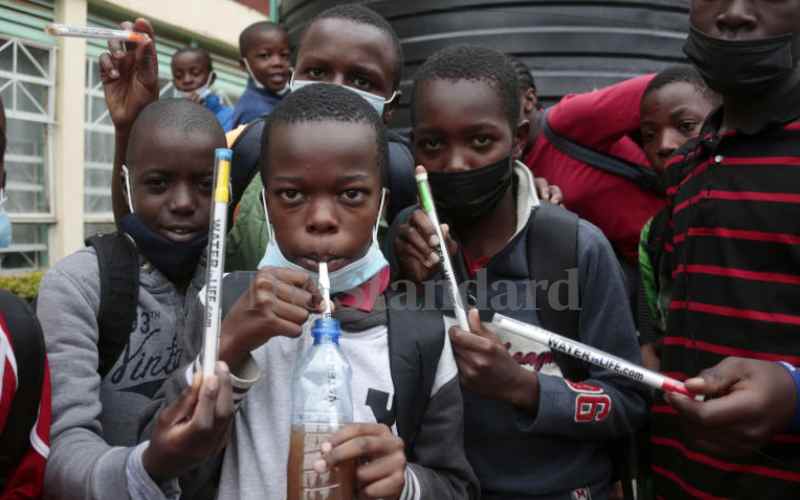 Imagine dipping a straw into a pond of stagnant dirty water and watch the brownness 'magically' turns into clear drinkable water.
That is the technology that an international organisation is championing in the country with hopes that it will mitigate against the many cases of waterborne diseases reported mainly in informal settlements.
The clean sip straw is a compact device that has an inbuilt infiltration system to remove microorganisms and debris in water.
The pipe filters the water in several stages. The first stage removes particles as small as 15 microns. The water then passes through a chamber filled with iodine crystals, killing bacteria and viruses.
In the final phase, a fine charcoal filter removes the water of its bad taste providing clean, clear water. With proper usage, it is estimated to last for more than two years.
Cote Terre, the director of Water is Life, the organisation that is distributing the straws said they offer immediate solutions to people who do not have access to clean water.
"The straws can be used to filter about 1,000 litres of water. They are a solution for low-income families that spend too much money trying to make their water safe for drinking," says Terre.
Terre was donating hundreds of the straws in Kibera on Saturday to enthusiastic school children who eagerly waiting to use them. In small groups, the children huddled around water bottles filled with dirty water.
Rosa Moraa, a fruit vendor in Kibera, says the straws could be a perfect solution if they are rolled out in large scale and made available in shops. She says most of the people in Kibera purify their water by boiling or adding chemical purifiers. The biggest misgiving she has about the straws is that many people are not used to drinking water using straws, so they are most likely to forget.
"I spend a lot of my time in the hot sun, and I get thirsty and I just want to grab water and drink. No time for straws," she says.
The clean sip straws are in use in 45 countries globally. In Africa, Ghana, Ethiopia, Madagascar and Tanzania are among the countries that have embraced the use of the straw. In Kenya, distribution was done in Kibera, and the team will be heading to North Eastern in September to do mass distribution.
"The focus is on areas that still have to walk several kilometers to access water, and even the water they get is not safe for cleaning," says Camilla Sancho who is part of the executive team of water is life.
More than 100,000 straws have been distributed in Kenya, and 750,000 have been issued globally.
The challenge the company faces is the likelihood of young people using the straws on juices and sodas which clog the filtration system. The straw can only work with water.
It comes in different coloured lids to allow usage within the family without people mixing them up.