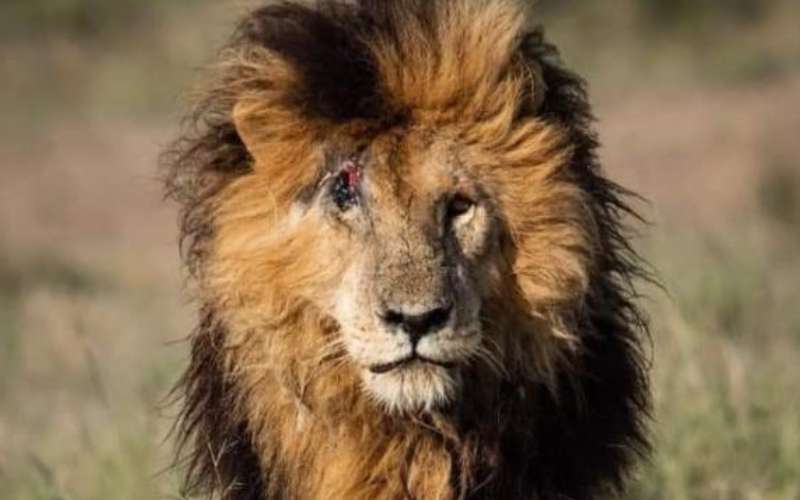 An iconic lion nicknamed 'Scarface' has died of old age after ruling the Masai Mara Game Reserve jungle for 14 years.
The lion that derived its name from the scar on top of its right eye was one of the most recognizable cats and a darling to big game lovers.
The 'Scar Face,' also known as 'Half eye' died on Friday at around 1pm around Mosiara where he was born in 2008.
Joseph Sindiyio, the Chief Park Warden confirmed the lion's death, terming it as one of the famous lions.
"He died of natural causes. He was not sick but has been weak for the last few months and on Friday he breathed its last. He has been living in solitude as he had been dethroned by younger males," Mr Sindiyio told The Standard.
Following the lion's demise, big cat enthusiasts eulogized the lion giving him the legendary status like other famous lions such as huge-maned Olorpapit who died last year aged 12.
The "Scarface" belonged to a group that the tour guides nicknamed the "Four Muskateers" that comprised of his three brothers; Hunter, Sikio and Morani from the Marsh Pride.
"Farewell, my friend. I was privileged to meet you out in the plains for many years and I enjoyed every minute. You were an extraordinary male lion, an icon, a legend, an ambassador for Kenya and the Masai Mara," posed a veteran wildlife photographer Peter Rettig.
The "Scar" earned the moniker in 2012 when he lost his right eyelid while fighting for territorial supremacy with his brothers.
Leonard Sadera, a tour guide described the lion as a 'hotcake' for tourists and the game drive could not be complete without seeing the famous cat.
"Scar was a celeb in the Mara. To sight him in real life is considered a "thing". When tourists on safari compare notes there is one defining factor; those who have seen Scar and those who have not. Majority of my clients always demand that we spot him," said Mr Sadera.
"He made an incredible journey this past week. Even though he was weak and dying, he summoned the strength to break away from his pride. We walked miles through Mara in record time. In the end, he chose the exact spot he was born. What a rockstar! what a King!," described Amy Montminy.