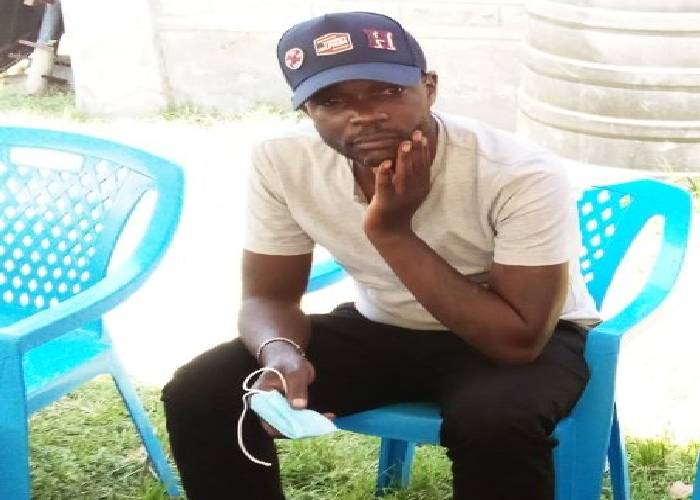 Caroline Akinyi, the mother of Elijah Obuong', one of the Kitengela Four men, says her son's body is "safe", and that no one should worry about where she took it after the exhumation drama on June 2.
Obuong' had been buried on May 13 in Holo Village, Chemilil in Kisumu County before seven people, one of them alleged to be his mother, exhumed his remains on June 2, and took them to an undisclosed location.
It was alleged Obuong' was brought up by his aunt, and that the 35-year-old, who was found dead on April 29, was buried at the relative's place, instead of his biological parents' homestead.
"His aunt felt she owed Obuong' a decent send-off because she brought him up from childhood to adulthood," a source privy to Obuong's family relations told The Standard in confidence.
Police said seven people exhumed Obuong's body in the wee hours of June 2, wrapped it in a plastic bag, loaded it onto a waiting hearse, lowered his empty coffin to the grave, refilled the burial pit with soil and, thereafter, sped off.
Kisumu County Police Commander Samuel Anampiu told The Standard they had launched a hunt for the seven people, including Obuong's mother, Caroline Akinyi.
It was reported Akinyi disapproved of Obuong's burial at his aunt's place, and wanted the deceased laid to rest at her home.
Kisumu Police boss, Anampiu, however, said police were yet to ascertain the exact motive of the exhumation.
"We are tracking down a close family member, whom we believe organised the illegal exhumation," he said.
Chemelil Ward MCA, Maureen Opondo, whose house is adjacent to that of Obuong's aunt, told The Standard she saw seven people exhuming the body and taking off with it; an early morning exercise that, she said, lasted less than 30 minutes.
Obuong's mother now says she exhumed her son's body because "it had been buried near the Chemelil Sugar Company sewer line".
"Had we not acted, the body would have been swept into the Chemelil Sugar Company waste pit," Akinyi told The Standard on phone on Saturday, June 12.
Asked whether she has reburied her son's body, and if yes, the location of internment, Akinyi said: "Elijah was my child. So, don't ask me where his body is. I can decide to bury it in Tanzania or anywhere else."
"What you should be prioritising is what progress the government has made in unravelling my son's killers. There's no concrete development so far."
Asked if she's aware police are pursuing her, Akinyi said: "I'm ready to turn myself in. Let me heal first."
Elijah Obuong' was among four men who went missing in unclear circumstances from an entertainment joint in Kitengela, Kajiado County on April 19.
Ten days later (April 29), his body was found in River Mathioya, Murang'a County.
His family members, including his mother Caroline Obuong', positively identified the body, which had been preserved at the Murang'a Level 5 Hospital morgue.
The only other member of the four, who was also found dead, was Benjamin Imbai.
Imbai was found dumped in a Gatundu North forest in Kiambu County on the same day: April 29.
Both Imbai and Obuong' were strangled, separate postmortem examinations revealed.
The other two members of the Kitengela Four, Jack Ochieng' and Brian Oduor, are yet to be found.