Appoint the six in the name of Constitution, ex-Chief Justice Willy Mutunga tells President Uhuru
Former Chief Justice Dr Willy Mutunga has called on President Uhuru Kenyatta to appoint the six judges who were left out in the recent appointments.
His sentiments come days after president Uhuru gazetted the appointment of 34 out of the 41 judges nominated by the Judicial Service Commission (JSC) to join various courts, among them the Court of Appeal, in 2018.
In an open letter to the president dated June 8, 2021, Dr Mutunga said there is a process of raising an issue against a sitting judge or a judicial officer and that the judiciary's independence is not negotiable.
"JSC has been tested on these issues and has dealt openly and fairly with complaints against judges of ranks even higher than the Court of Appeal," part of Mutunga's letter read.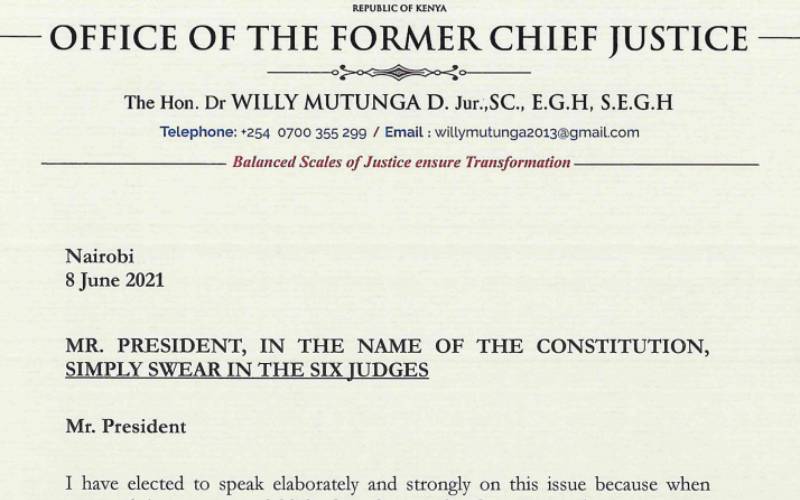 Mutunga says, while he was still in office in 2015, it was agreed that if the president had any adverse reports on the candidates shortlisted by the Commission, they should be shared at the recruitment stage.
"This is such a fair and commonsense approach that has worked before," he said.
According to him, the reports received by the commission should be investigated and shared with the candidate for his or her response.
"In the recruitment of the 41 judges, the president did not present any adverse reports at the appropriate (sic) leaving JSC with no option but to make recommendations for appointment," he went on.
The former Chief Justice also questioned why it took the President over two years without presenting any evidence to the Judicial Commission.
"That points to bad faith, and most likely, absence of any actionable information on the judges," he said.
Mutunga joins the long list of legal minds that have rebuked the President's move to leave out the six judges in the appointments on grounds that they 'did not meet the threshold'.
Law Society of Kenya termed the president's failure to appoint the six judges as a gross violation of the Constitution.
On her part, Chief Justice Martha Koome urged President Uhuru to appoint the six judges he rejected, saying the Judiciary is in dire need of more judges due to an increase in the backlog of cases.
The Kenya Magistrates and Judges Association (KMJA) faulted the Head of State for rejecting six Judicial Service Commission (JSC) nominees saying he lacks Constitutional powers to cherry-pick appointees from the list forwarded to him by the JSC.
The six judges who were left out are Justices Joel Ngugi, George Odunga, Weldon Korir and Aggrey Muchelule, Registrar of the High Court Evans Kiago and Judith Omange who would have joined the Environment and Land Court.
The other 34 judges were sworn in on Friday, June 4 at State House in a ceremony presided over by the President.