Dirty fuel: Burning sacks sucking life out of Korogocho residents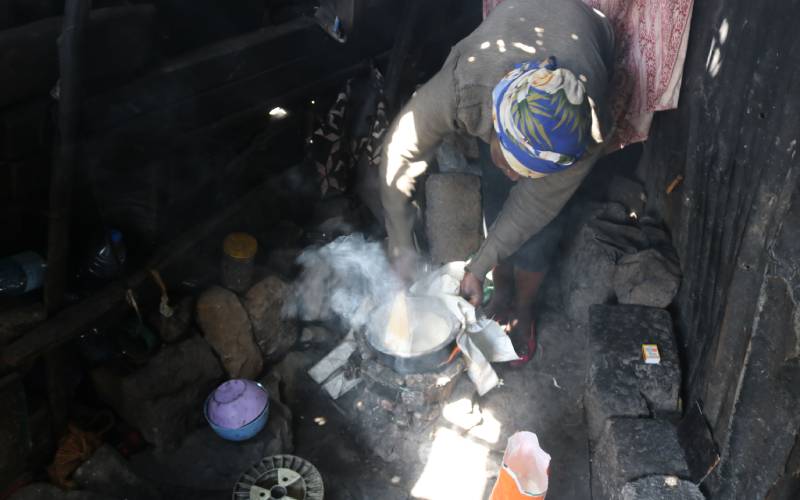 Smoke forked heavily under the sufuria of ugali that Mary Ndunge was preparing. She hoped it wouldn't be dense enough to wake her one-year-old daughter tucked in a makeshift bed a few meters from her. She was confident though that the coughing reverberations from her three-year-old daughter seated beside her wouldn't awaken her sister.
"I have to choose between the smoke and staying hungry," said Ndunge. "My kids understand it's the price they have to pay".
Lunch was fast approaching, her other four kids will be home from school and she has to add more sacks to the already burning fire to hasten the preparation.
With more sacks added to the fire, her three-year-old daughter Emily would continue to cough uncontrollably, the mother's eyes will ape the fire, turning redder with each addition.
"I can't use charcoal because it is expensive," said Ndunge. "My husband barely makes Sh200 per day which I have to balance between food, rent and school fees for my kids".
In Korogocho a sack of charcoal costs between Sh2,200 and 2,500 while Ndunge collects the sacks for free at the Dandora dumpsite with the help of her four children.
Her family is wrapped by sacks, her husband sews old sacks for reselling and she prepares food made from selling sacks by burning the plastic bag.
But this has come at a bitter price.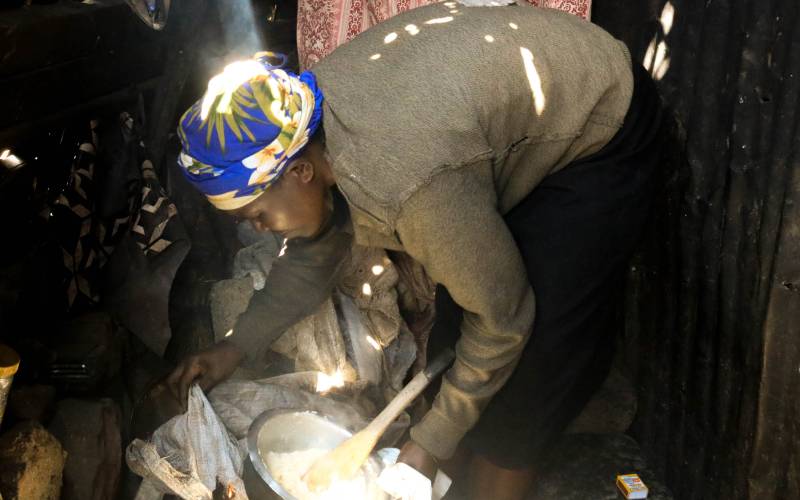 "Every month I have to take my kids to the health centre twice due to respiratory infection," said Ndunge, "I had to physically make three gaps on the iron sheet roof to reduce smoke in the house,"
She, like many others who live in the sprawling slums of Korogocho east of the capital, use unconventional fuel to prepare food.
Residents here burn tires to prepare food, while others use sacks to make their meals.
According to Dr Ndirangu Chege head clinician at Korogocho Health Centre majority of illnesses reported at the government facility is upper respiratory infection.
Chege says in a single day out of 10 patients that report at the health centre, six are treated for upper respiratory tract infections.
"Villagers here are sandwiched between two hazardous fumes, outside they battle air pollution from Dandora dumping site, inside their houses they are choked by unconventional fuel that they use to prepare food," said Chege.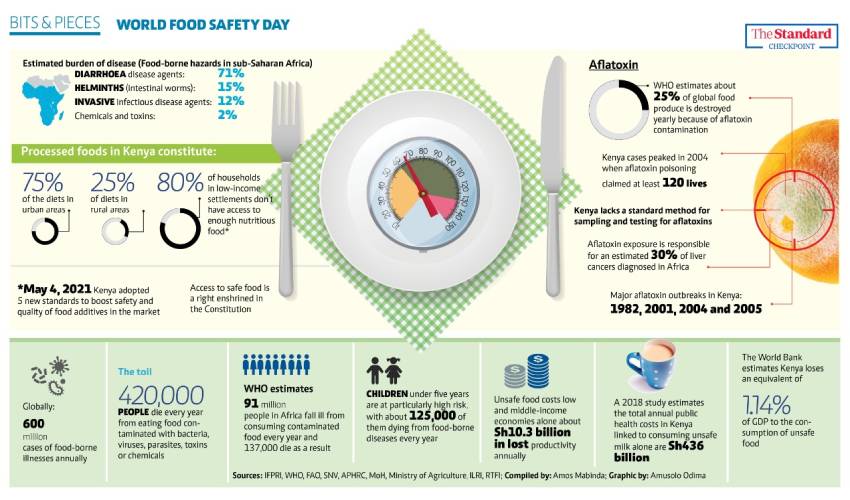 A recent report by the Kenya National Bureau of Statistics (KNBS) showed that 21, 650 Kenyans die of respiratory diseases, some of them caused by dirty fuels used in their kitchens.
In a 2019 Kenya Household Sector Cooking Study, Energy Cabinet Secretary Charles Keter noted that, "it is expected that clean cooking will reduce the country's annual disease burden attributable to Household Air Pollution from 49 per cent to 20 per cent."
But as the poor in Nairobi's informal settlement continue to choke on dirty fuel, the government plan to introduce VAT on clean cooking gas will recruit people into the unhealthy fuel usage.
According to the household survey 75 per cent of Kenyan households use charcoal and firewood for cooking. This number is even higher in rural Kenya, where at least nine out of ten people use charcoal and firewood.
This translates to 36 million Kenyans who are adversely affected by unclean cooking.
The KNBS report showed that the average household using LPG as their primary cooking fuel spends 17 per cent less than a household relying on kerosene, and 28 per cent less than one relying on charcoal.
Bio vision Africa Trust a not for profit organization that advocates for health and safety in food production says that usage of unconventional fuel used in preparing food among the poor in the country has increased drastically.
Dr David Amudavi the executive director at Bio vision trust said that the lack of concerted efforts from key stakeholders in tackling the dirty fuel menace in the country is hurting the poor.
"We can only treat this when all stakeholders read from the same script, from the policy part of it to the business side of it to the civil society as well, this is the sure way to provide alternative fuel thus ensuring food safety," he said.
Amudavi reckons that usage of unconventional fuel among the poor has not only increased chances of food contamination but also reduced significantly access to quality food.
"We can't win the war on food safety if we strengthen farmers with good farming practices but we let consumers prepare quality food in an unsafe manner," he said.
A few years ago a project by the government to distribute millions of gas cylinders to low-income households never got off the ground. The Mwananchi Gas Project, which was aimed at distributing 6KG cylinder to low-income households, stalled owing to multiple challenges including lack of funds, quality concerns and alleged fraud.
But the poor in Korogocho have tried to find an alternative to dirty fuel.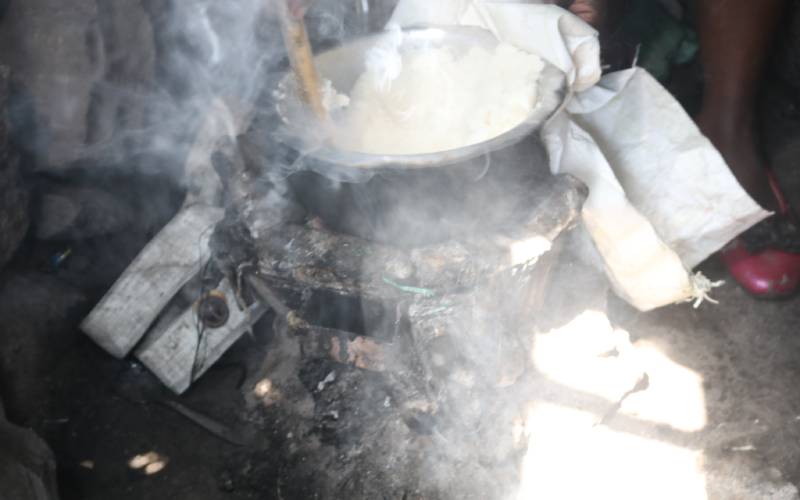 Across the dusty streets of Dandora phase one, Sophia Nzomo a mother of one continues to cook chapati under the scorching sun.
Unlike Ndunge, she uses charcoal briskets, made from charcoal dust and sand to prepare chapatti. The briskets are quite affordable and are cleaner compared to the burning of sacks or tires.
"I buy a sack of briskets for Sh1,200 and it can take me for three weeks, unlike a sack of charcoal which is twice the price and doesn't last for long," said Nzomo.
Due to the nature of her business; cooking in an outside space, she can't afford to use gas for cooking and the briskets are a safer bet for her.
At the shanty, Ndunge is done preparing lunch just in time before her young daughter wakes up. The family shares a meal around the table amid random coughs.
The soot-covered sufuria waits patiently for another round on the plastic fire, oblivious of the celebration outside as the country marks World Food Safety Day, which seeks to end its relationship with the dirty fuel.