Jomo Kenyatta takes over at Harambee House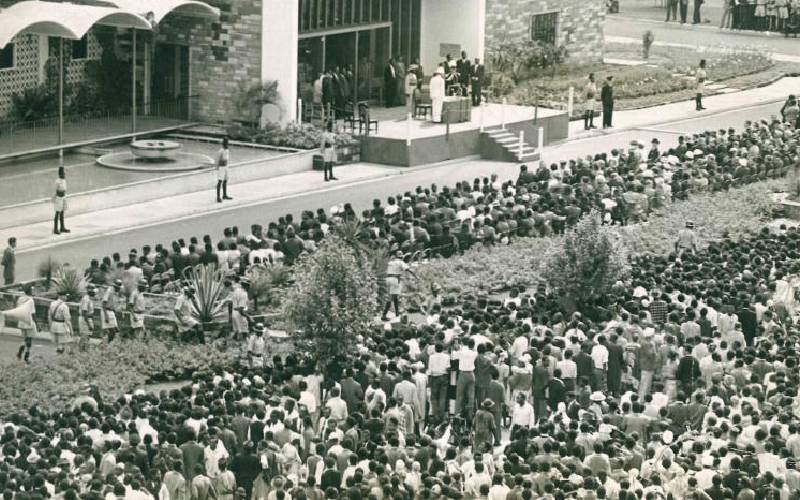 Harambee House was inaugurated in 1961 as the Ministry of Works along Coronation Road, now Harambee Avenue.
Prime Minister Jomo Kenyatta liked its design so much that he had the Works Ministry relocated to give way to the Office of the President that remains situated at Harambee House to date.
In the picture, a huge crowd is gathered outside the building on June 1, 1963, to witness British colonists hand over the government to President Kenyatta during his swearing-in as Prime Minister after Kenya attained self-rule.
Kenyatta used the occasion to popularise his 'Harambee' clarion call when he said: "As we participate in the circumstance, and as we make merry at this time, remember this; we must work harder to fight our enemies; ignorance, sickness and poverty."
The Harambee motto was conceived on the realisation of challenges of national building that lay ahead. It was informed on the need of government and citizens to pull together for a better prosperous Kenya.
The philosophy was based on principles of bottom-up development, collective good rather than individual gain, felt needs of the majority and maximisation of natural resources.
Kenyatta encouraged communities to work together to raise funds for all sorts of local projects, pledging that the government would provide their startup costs. Under this concept, wealthy individuals donated huge sums of money to local harambee drives.
The philosophy was soon to be abused due to forced contributions by government officials, corruption and use of funds for personal gain, misappropriation of funds by individuals and use of Harambee fund-drives as campaign platforms by political aspirants.
The "Harambee" word was assimilated into the Swahili language from Hindi during the construction of the railway from Mombasa to Uganda.
Indian labourers used the phrase "har har Ambey," or, "hail Ambey" – an exhortation to Amba, the Hindu Goddess – when performing difficult tasks that often required more than one person to be involved, such as lifting heavy loads.
In February 2018, a petition was presented to the National Assembly and Senate, seeking to have the word 'Harambee' removed from the public seal on the claim that it represented a Hindu god.
Hudson Gumbihi