Chopper crashes after dropping Raila in Siaya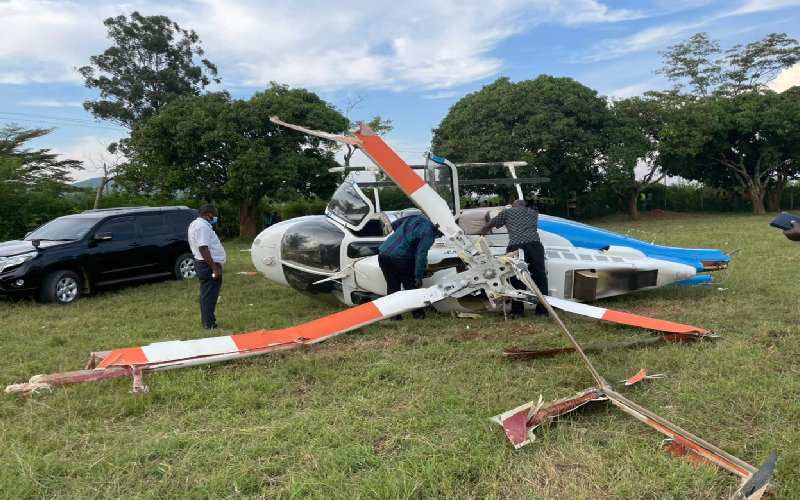 A chopper that had flown ODM leader Raila Odinga to a function attended by President Uhuru Kenyatta crashed as it tried to take off.
The helicopter had dropped the former Prime Minister at Kudho Primary School in Gem, Siaya County on Sunday afternoon when it went down.
According to Raila's spokesperson Dennis Onyango, the helicopter, Bell 407 registration 5Y-PSM, had dropped Raila and four others at the venue and was trying to create space for other choppers when it crashed.
He said the ODM leader was safe and had left the plane by the time of the incident.
"The former PM is safe following an incident in which a chopper that had flown him from Kisumu to Gem in Siaya County crashed shortly after dropping him and his entourage of four people," Onyango said in a statement.
Onyango said the pilot, and those who were on board escaped with minor injuries.
According to the chopper's pilot Julius Mwambanga, the helicopter crashed as he tried to take off after dropping Raila who had accompanied President Kenyatta to the area to commission various projects.
Mwambanga said the helicopter went down and overturned on the left side immediately after taking off.
"The chopper was about five metres from the ground when it went down.
The chopper's main and tail rotors were damaged.
Pictures taken at the scene show the chopper came to rest on its right side and "all major structural components" were in the immediate area of the main wreckage.
The cause of the crash is yet to be established.
pic.twitter.com/31DYkHGri2 — Raila Odinga (@RailaOdinga) May 30, 2021