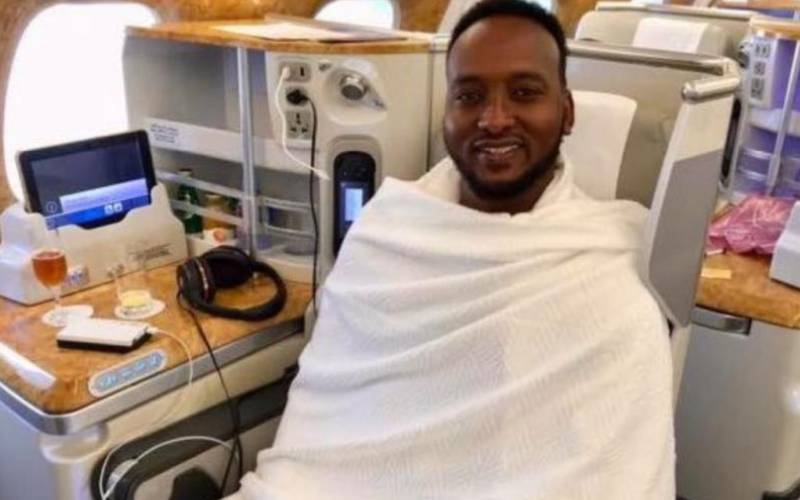 At slain businessman Mohamed Bashir's in-laws home in Green One estate home, South C, things appear to move in slow motion as family comes to terms with his sudden death.
Freshly laundered baby clothes drip from the clothe lines as a house help runs her chores on the side.
The widow, Suada Rashid Ali, is inside the house, tending to her new arrival. She has had to leave her matrimonial home in Lavington to keep close company of her parents in the wake of misfortune that has befallen her.
When we rang the bell on arrival at the gate, there was no response. We then summoned the house help and informed her that were journalists, and we wanted to speak to the family on Bashir.
She then emerged, a lonesome figure of grief, dressed in Islamic garb (Bui Bui), and tight-lipped too.
"Sorry we can't speak to the media for now," she softly said, as she retreated back to the house.
"I leave it to God," she says as she left, tears swelling in her eyes.
Rashid Ali, the father-in-law to the killed man had in an earlier interview informed us that his daughter was not comfortable giving a media interview."
She wails every time the subject comes up "Ali said.
For Ali, he said he is not ready to forgive the killers of Bashir anytime soon. He wants the Government to find the killers and punish them. "I hope justice will be done someday," Ali said.
"We will never forgive those who killed Bashir and we expect God will punish them as soon as possible. We are praying day and night," said Rashid Ali, father-in-law to the deceased.
She had hoped to go back to her home when the husband would finally be found but had to continue living with the parents when things took a deadly turn.
Mother-in-law to the deceased Amran Nunow also in an earlier interview said it was sad that Bashir lost his life in a cruel manner. She said the trend of people disappearing and their bodies being found later was worrying.
By Wednesday, police in Dagoretti had recorded statements from three people among them staffers of Bashir's company.