Kemri to conduct trials of two Covid-19 vaccines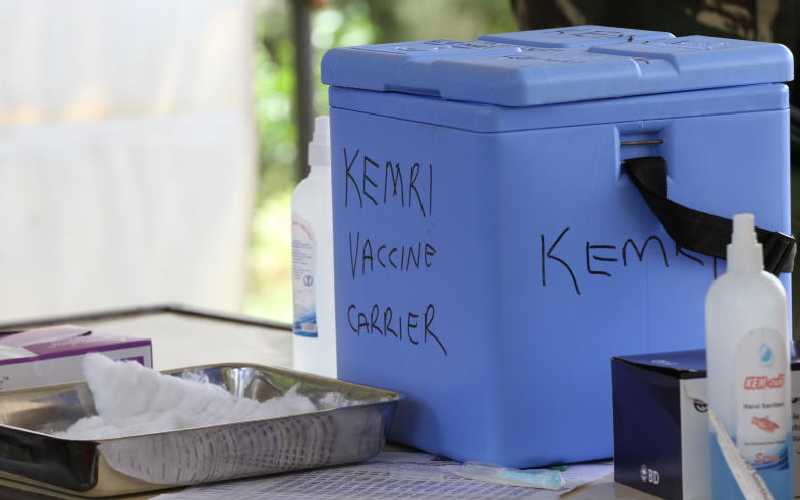 Kenya Medical Research Institute will conduct clinical trials of two Covid-19 vaccines from the US and China for approvals as the country struggles to address shortage of the jabs to fight coronavirus.
Deputy Director Prof Matilu Mwau said researchers and scientists at the Centre for Infectious and Parasitic Diseases Control Research in Alupe, Busia County were preparing for clinical trials of Tonix and Anhui Zhifei for emergency use in Kenya.
"We want to have options so that even if Astra Zeneca is not there we would still have other vaccines," he explained. "The trials on the safety of vaccines could start by end of the year."
Prof Mwau said the trials and use of the Anhui Zhifei from China could start 'soon' as the products were ready for shipping and "we only need to get the protocols approved so that the products could be imported to Kenya for trials" which will involve 60 to 100 participants for three months.
The supply and use of the two vaccines would boost Kenya's efforts to fight the pandemic through the injection of more people and those who had received the first round of the Oxford-Astra Zeneca (which is delivered in two doses) could still get Johnson and Johnson or other jabs for second dose which improves efficacy.
Prof Mwau said Kenyans should not worry about the shortage of Astra Zeneca or delayed supplies for second injections. "One jab is better than none and could offer 80 percent protection. The danger of delay in getting second injection is not as people put it. The first jab offers significant level of protection."
One million Kenyans have since received Astra Zeneca jabs and were waiting for the second round, but rising infections in India where the supplies come from led to a delay.
Prof Mwau added that Kemri was conducting sequencing to determine the mutation to help prevent the spread of the pandemic from other variants already in Kenya like the Indian variant recently reported in Kisumu.
The Indian variant, he said, "could be worse but not make us run back to forests and caves" since about 700 samples are tested for Covid-19 at the Alupe centre daily and mainly from transporters crossing the Kenya/Uganda border in Malaba and Busia, the local community and neighbouring counties.
Kenya is currently in the third wave and the government's initial target was to vaccinate 1.25 million frontline healthcare workers but was expanded to include the more vulnerable older people aged above 58 years, about 2.7million in this category in Kenya.
This means that nearly 4 million people are most at-risk – but only one million vaccine doses currently, yet the second dose will only be available around June, yet the second phase of vaccination was scheduled to start in May.
Mactilda Mbenywe