IED blast near Somali border kills young spy's dream wedding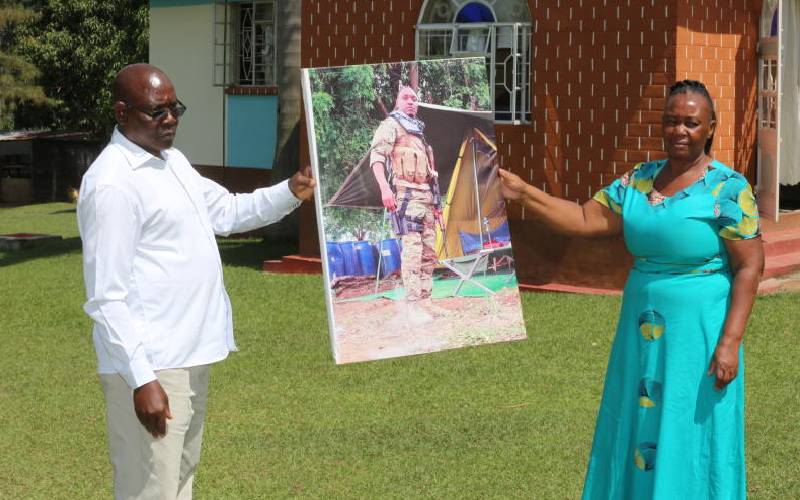 On May 5 this year, Enock Irungu Mukoshi officially introduced his wife-to-be to his parents at Ebukhai village in Eshisiru location, Kakamega Central sub-County.
Irungu, 30, had earlier visited his fiancé's parents and plans were in top gear for bride price to be paid ahead of their wedding to solemnise the union in August this year.
"My son told me that he wanted us to meet his future in-laws for bride price negotiations that would culminate into a wedding in August.
"We were very happy as parents and we wished Irungu and his girlfriend well before he went back to his place of work in Lamu," said Charles Mukoshi.
That was the last day Irungu's parents saw him alive.
Irungu was a police officer, who first worked in Runyenjes sub-County for at least one year before joining the National Intelligence Service (NIS) and moved to Lamu County as an intelligence officer four years ago.
He was among the eight Kenya Defence Forces (KDF) soldiers, who were reportedly killed after their vehicle hit an Improvised Explosive Device (IED) at Baure area in Lamu West along the Bodhei - Kiunga Road on Tuesday.
The officers were travelling from the Baure Camp in a Land Cruiser to the Kenya-Somali border where a security wall is being constructed.
"My son died on Tuesday while on duty but we have not received official communication from the government over his death.
"It was through his friends that we came to learnt on a fateful day around 8pm that he was with the KDF soldiers killed in the explosion," said Mukoshi.
The father of three said the body of his son was airlifted to Nairobi alongside the other seven and are being preserved at Chiromo Mortuary awaiting postmortem (conducted on Friday) but the immediate families have not been informed.
"We don't know why the government is taking too long to make an official communication to the affected families so that we can start preparing for burial," said Mukoshi.
Last call
Agnes Khayange said she was called by her son hours before he met his death.
"He called to inform me that he was going for an operation and that his phone will be off, we agreed to talk later in the day," said the distraught mother.
Khayange said that she didn't know that the brief conversation would be the last one between her and Irungu.
"My son has died a painful death while defending the country and this has put a lot of pain in my heart since he was my last born. My 'smiling machine' is no more.
"Ever since he was born, Irungu wanted to become a police officer or a soldier and at one point while at Masinde Muliro University, he deferred his course (a degree in criminology studies) and went for training at Kiganjo and after the pass out, he went back to clear his degree course," said Khayange.
The parents said they had huge hopes and expectations for their son.
"I would tell myself that he (Irungu) would rise through the ranks and become an influential personality based on his career progression, unfortunately, death cut short his dreams," said Khayange.
Close bond
Irungu would call his mother at least three times every day, sometimes seeking advice and on other occasions just teasing her.
"I loved my son and he loved me more. He was like a cornerstone in my life and now he is no more. I am praying for God to give me strength to overcome the grief," said the mother.
Baure and Sang'uri near the Somali border are believed to be some of the most insecure areas inside the Boni forest where soldiers suspect has landmines planted by those opposed to the border wall under construction.
Since 2014, when Operation Linda Boni was launched, several soldiers and police officers have lost their lives in similar IED attacks that have been blamed on Jeshi la Ayman, an offshoot Al Shabaab terror group.
The Kenya and Somali border remained porous, making it easy for Islamist militants to launch terror attacks in the country.
In 2015, the government for the first time revealed that it was erecting a wall on sections of Kenya's border with Somalia to fight Al Shabaab.
The wall is being erected along sections of border near the Coast, and that it will keep out illegal immigrants from Somalia, including Al Shabaab militia.