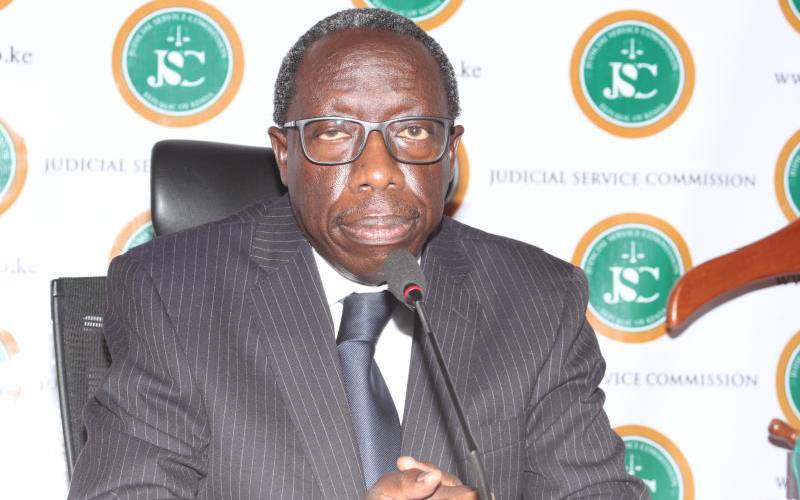 When Dr William Ouko was called to attend to a woman who had developed complications during birth in Usalo village on the afternoon of November 21, 1962, he had no idea that the unborn child would be later named after him.
"My mother told me that I was very big and that's why a doctor had to be called at home to help in delivery," narrates Justice William Ouko as we begin our interview.
On Friday, Justice Ouko who was named after the first African doctor to establish a private practice in Kenya was appointed Judge of the Supreme Court of Kenya.
Ouko's career growth traces its roots in Usenge Primary School between 1969 and 1976. He would walk about four kilometres daily.
"Going home for lunch was a ritual because we were not sure we would even find anything to eat," recalls Ouko, adding that there were more than 20 children from their homestead going to school then.
Ouko, who later joined his elder sister in Mombasa for his secondary education, tells Sunday Standard that while at Usenge, he studied with Moses Ologa who is now in France, Ooko Olando and David Ochieng, a former Harambee Stars goalkeeper among others.
The father of three girls says his late father Habil Okello Yaya was a strict disciplinarian and did not entertain noise in the homestead.
He adds that his father, who was a polygamist, was excommunicated from Anglican Church and later started the Christ Church in Africa in the village.
"My father was a clerk in ex-chief Okello Anam's office because of his good handwriting. He retired and ventured into fishing," he adds.
With 14 children and a meagre earning from fishing, Ouko says their father still managed to educate all of them.
Ouko who is a scion to a family of high achievers in matters of professionalism says he was inspired by pioneer lawyers like retired Justice Andrew Hayanga, Martin Opiacha and Dan Bondi.
"An uncle, Ratil Kowade, also inspired me and he always called me judge even before I became a magistrate," says Ouko, adding that Prof PLO Lumumba gave him all the notes and files that he used in university.
Lumumba, who was then a student leader at the university, would take him to all the functions he attended. "When I was in Form Two, I went to the courts to see how the late Opiacha was handling a case. I made up my mind then that I wanted to pursue law," he recalls.
Following his nomination approval by President Uhuru Kenyatta to join the Supreme Court, Justice Ouko becomes the first judicial officer to rise from the lower rank of a district magistrate to the country's top court.
In a Kenya Gazette notice dated May 13, 2021, the Head of State appointed Justice Ouko a judge of the Supreme Court.
The 60-year-old judge, who is described by colleagues and villagers as humble and a team player, joined the Judiciary in 1987 as a district magistrate II. He then rose to the position of deputy registrar, senior deputy, principal and later the Registrar of the High Court where he served for two years before he was appointed a judge in 2004.
He was later elevated to the Court of Appeal in 2012 and six years later, he was elected the president of the country's second-highest court.
His eldest brother Dundee K'Okelo was among the pioneer group of trained teachers from Yimbo.
"My elder brother had no time for people who didn't go to school and he would embarrass me when I introduced some of my friends to him," says Ouko.
His first born daughter, Jolly Lanji, who has followed in his footsteps, is pursuing her PhD in New York while the second born Joan graduated two weeks ago with a Bachelor's degree in Aviation Management.
The judge, who enjoys rhumba, Lingala, reggae and gospel music, says that judges have no social life.
"As a judge, there is no free time because if you're not in court, you are writing judgments," he explains, adding that he is currently reading The Room Where it Happened by John Bolton.