Each market has its own share of mad men, but Luanda has too many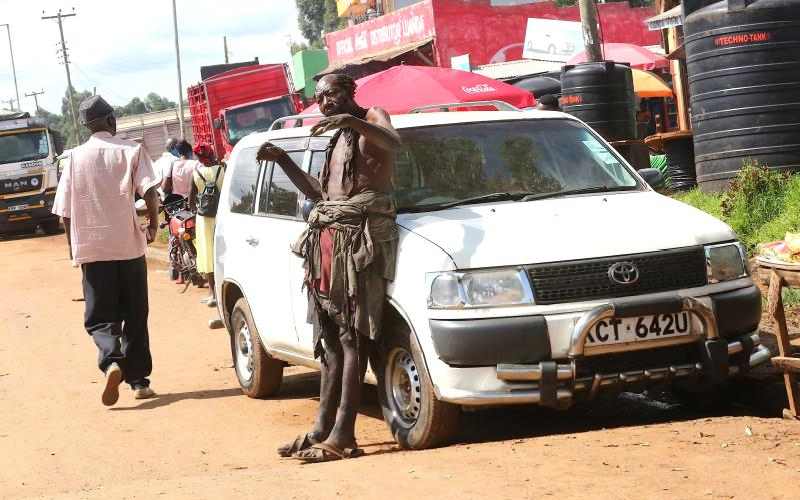 For residents of Luanda, the sight of mentally ill men is not an issue. They have accepted it as part and parcel of the centre.
The town that is located on the Kisumu-Busia highway is a fast-growing urban centre that is known far and wide.
Luanda Market in Vihiga County deals mainly in foodstuffs such as bananas, kumbekumbe (white ants), groundnuts, sugarcane and sweet potatoes.
On market days, which is, normally on Monday and Thursday of every week, when you walk around the town, you will meet mentally ill men doing all sorts of strange things. They loiter from place to place, sometimes nagging people to give them food or money. Others are peaceful and mind their own business smoking bhang.
But according to locals, there is much more than meets the eye since on normal days when they are not in the town, they are sound people.
It's around 10:15am at Luanda Bus Park, a middle-aged man emerges in torn trousers, which he has tied around his waist with a rope, and a woollen cap in Rastafarian colours on his head. In all fairness, he looks like a healthy man who has just decided to put on rags.
Brown sandals
The man bows for a matatu that is packed at the main bus stage three times before he marches away without uttering a word. But before he could move a metre away, a tout in the matatu clad in brown sandals, blue jeans and a navy blue shirt comes out and goes straight to the "mad man" and taps him on the shoulder.
The man looks and smiles back at the tout and then they go inside the matatu where they exchange pleasantries. From the body language, they have known each other for a long time.
Watching from a distance, I see the man dip his hand in his pockets and then gives the tout three rolls of some things that look like cigarettes and sachets. The tout gives him Sh150 and alights from the matatu. The tout calls him back, he gives him another Sh20, and then they all burst into laughter.
The tout then disappears into the public toilets that have been erected at the bus stage for a puff.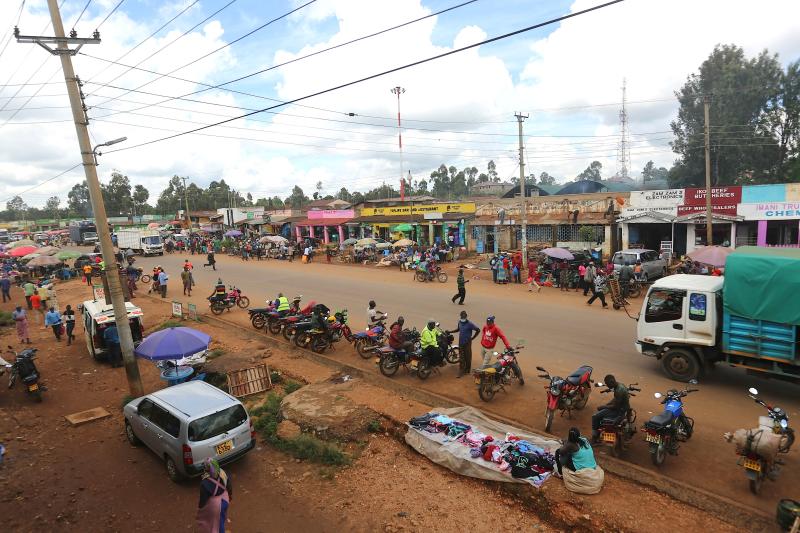 After 10 minutes, he comes out of the toilet and his mood seems to have changed. He bangs on the matatu and they leave the stage in search of passengers heading to Kisumu city.
"This is not a mad man, but a drug trafficker. The rolls you saw are not cigarettes but bhang and the sachets contain liquor. They are many and are untouchable," said a shuttle driver who also witnessed the incident.
As we drive back to the main road, we meet another "mad man" known as Daudi. He is standing next to a Probox opposite Goodwill Bar.
He has rags around his waist, is bare chest and wears akala shoes. Daudi appears listless, with bloodshot eyes, and dry cracked lips. On noticing we are taking photos of him, he clicks and walks away but stops a few metres away when he meets "a fellow mad man" and they strike a conversation in low tones.
Daudi hands "his friend" something stuffed in a newspaper and he receives Sh100 in return. They burst into laughter.
Now there is a heavy traffic snarl-up caused by a petrol tanker that is turning at the Kisumu bus stage.
Booming business
Daudi becomes very busy after noticing five trailers in the traffic jam and walks towards them. All the drivers in the trailers wave at him and they seem to know him well.
He gives them something wrapped in newspapers. The first drivers hand him some cash.
When the road clears, he quickly goes back to where the Probox is parked, gets agitated and tears his clothes.
People who know him say he is a normal person who engages in menial jobs in the villages on most days.
At Big Ben boda boda stage, another man is talking to himself. He is known as Otieno and he is smoking bhang in the open without any fear. When he finishes smoking, he starts hurling unprintable insults at boda boda riders at the stage who in return chase him away.
At the Omena market, we meet another woman begging for money from passersby. Those who did not drop some coins to her small tin risk insults and even physical confrontations.
When she saw us, she demanded cash and we dropped Sh20 into her tin but she refused to budge until we gave her Sh50. Anyone who attempted to eject her, including county askaris, was turned away by her noisy wails.
And behind Butamu Bar and restaurant, a few metres to Mumboha Secondary School, we meet a group of three young men and a woman. Dressed in baggy T-shirts and carrying portraits of reggae legends such as Bob Marley, Peter Tosh and Lucky Dube, they openly smoke bhang.
They ordered us to take their photos which they promised to pay for once we deliver the pictures.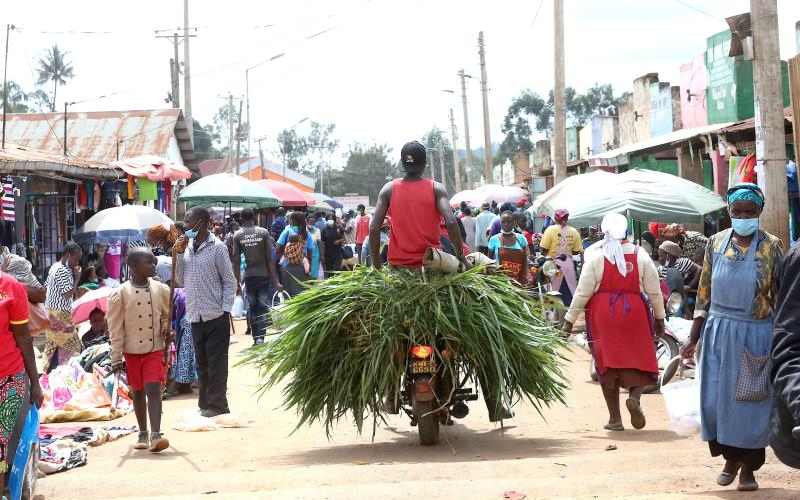 They were smoking bhang openly but no one dared question them. Locals say if you try, they descend on you and beat you senselessly.
"It's true we have many mad people in Luanda town, but some of them are not mentally ill but are being used to sell drugs to the locals. They have disguised themselves as mentally challenged individuals to escape the law," said Newton Kwame
Mr Kwame, the Luanda Township Community Policing Chairman, told The Sunday Standard that they have specific customers like truck drivers, youth and school going children and that is why it is hard for police to notice them.
He said the drug dealers get the substances from Uganda via Sofia and Mayenje border points – porous entry points along the Kenya-Uganda border in Busia.
Public transport
"They also use public transport to sneak contraband goods into the country in fish baskets, omena sacks and mitumba clothes. Some come hidden in cereals at night," said Kwame.
"Bhang that is sold here in Luanda is not grown in the area as a result of the high population and the small size of the farm that are not productive. It is imported from neighbouring Uganda," said Kwame.
Joseck Ang'ana said the levels of poverty in the region are very high, adding it forces many to come to the town to loiter around looking for food and that is why they become candidates of selling drugs disguised as mad people.
"Some of the mad people you see at the market speak good English. They used to perform well in class work and some had well-paying jobs but due to witchcraft, they are on the streets trying to eke a living. The situation became worse when they started using drugs," said Mr Ang'ana.
According to Ang'ana, whenever someone commits suicide or is murdered in the area, they are the ones who are paid to bury them.
He said most of them are not natives of Luanda town but from Tanzania, Uganda, Kisumu and Busia.