Echoes: Getting a driving licence was no mean feat for Kenyan motorists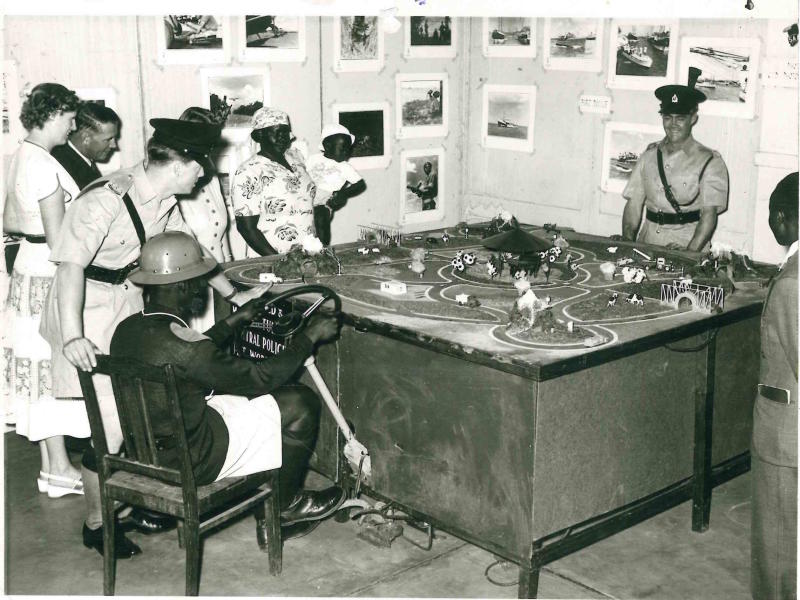 Pioneer drivers in Kenya had to jump through hoops to be allowed on roads.
The colonial government was notoriously strict with those seeking to be issued with driving licences. When a driver showed up for testing, which was conducted by police instructors, they were subjected to a barrage of tests.
There were instances where a load of bricks was suspended on their heads such that whenever they made a wrong turn while mimicking driving on the road, they would get a hard knock from the stones.
At the police station, depicted in the picture above taken in November 1955, learner drivers sat on a big table with an improvised steering wheel, a gear lever and breaks. They sat facing a model road where a police officer with a swagger stick conducted the test with the majesty of a choir master.
While the table still remains where drivers undergo theoretical tests, some of the training techniques have been modernised by the numerous driving schools, which are now found in almost every street alley in major towns.
Today, learning how to drive has been made so easy. In some of Nairobi's estates, rogue instructors pack their personal vehicles by the roadside and invite interested learners. They place a board on top of their vehicles advertising their services for which they charge about Sh50 per session.
Some old driving instructors have also adopted colonial habits where learners who grip the steering wheel are hammered with a stick to ease their hold.
Automobile Association of Kenya is among the oldest driving schools in Kenya, having been established in 1962. Before then, AA, which had been started in 1919 by Lionel Douglas Galton Fenzi as the Royal East Africa Automobile Association, majorly concentrated in catering for the welfare of its members (motorists) by providing information and advice about the purchase, maintenance and repair of vehicles, as well as negotiating insurance premiums, road mapping and the setting up of petrol depots.
That was then. Today, the country is littered with all manner of driving schools some which just gobble learners' fees and present them with bogus driving licences. And with futuristic assembly lines in the developed world now keen on manufacturing driver-less cars, driving schools may become obsolete but that is in the distant future.