I won't apologise to you, Havi tells CJ nominee Koome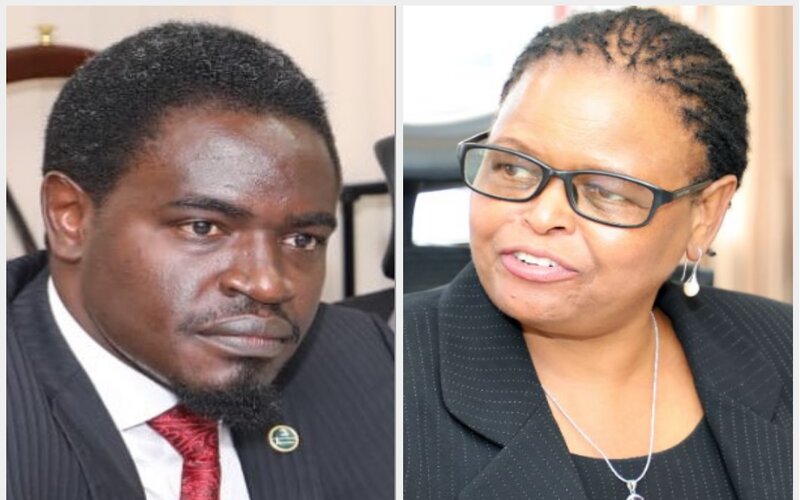 The Law Society of Kenya president Nelson Havi has said he won't apologise to Chief Justice nominee Martha Koome over alleged defamatory remarks.
On April 30, Koome stated she would sue Havi for maligning her in his submissions to the Judicial Service Commission (JSC). Havi, on behalf of the LSK, suggested in a memoranda dated March 29 that Koome was not suitable to succeed David Maraga at the apex court.
The lawyer's submissions came after Koome was shortlisted for the CJ interviews.
Shortly after she was announced the winner in the Chief Justice contest, Koome, on April 30, wrote Havi a letter, stating her intention of suing him if he won't retract the remarks he had made before the JSC.
Havi now says he is ready to have the matter go all the way to court, because – according to him – his remarks were made before a legal commission, and were, therefore, privileged.
"The publication to JSC is absolutely privileged," said Havi in his response to Koome's demand letter, which was crafted through her legal reps, PM Kamaara and Associates.
Havi further defended himself, saying his submissions to the JSC about the CJ nominee were true.
Take a quick survey and help us improve our website!
Take a survey
The LSK president also said he made a "fair comment", and, therefore, shouldn't be slapped with a defamation suit.
"I will not retract the memoranda dated March 29, 2021 and April 6, 2021 by myself on behalf of the Law Society of Kenya (LSK) and submitted to the Judicial Service Commission (JSC)," he said.
"Similarly, I will not apologise to Justice Koome nor admit liability for libel in respect to the impugned memoranda," added Havi.
According to the LSK president, Justice Koome is flexing her muscles with the intention of muzzling him.
"I perceive the demand [letter] to be an attempt to intimidate me from submitting, on or behalf of the Law Society of Kenya, information to the National Assembly on Justice Koome's competence, integrity and suitability as a judge and prospective Chief Justice," said Havi.
The lawyer claimed the timing of Justice Koome's demand letter to him was suspect.
"This apprehension is based on the fact that the demand was made following the notice published by the National Assembly on April 30, 2021 in the Daily Nation, inviting the public to submit information on the suitability of Justice Koome.
On April 30, National Assembly Clerk, Michael Sialai, invited members of public opposed to Koome's appointment to submit affidavits to his office ahead of her vetting by MPs on May 13.
If she sails past the vetting hurdle, Koome, 61, will be Kenya's 15th Chief Justice, and the first woman to hold the position in the country's history.