Why Matiang'i wants to end affairs among officers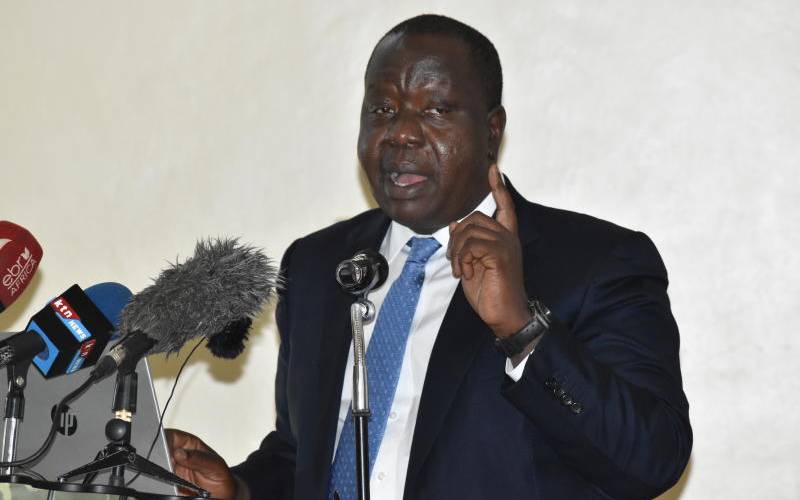 Forbidden love in uniform. The Kenya police service is trying to tame the hearts of senior police officers from being arrested by the beauty of their juniors.
The consequences of untamed hearts burning above or below their ranks are an undisciplined police service where sexual molestation and gender violence flare-up.
"If you were a senior officer and there you are dispatching a squad to combat a gang of armed criminals, would you dispatch your wife or girlfriend? It is impossible for a husband or a wife to give commands to their spouse, especially in a life-threatening situation," explained a senior police officer, yesterday.
A number of other officers opened up on a subject that has been a taboo among police officers although there are numerous cases of cross rank affairs.
One junior officer based in Nairobi recalled a case a female colleague who was befriended by their Officer Commanding Police Division (OCPD).
"It was hell at the station. My colleague could not be sent on any assignment. Every time our Officer Commanding Station (OCS) sent her to do something, she would report to her boyfriend, the OCPD. Things became so bad that she could not be disciplined because the OCPD intervened and ended up having the OCS transferred."
And when the new OCS reported, she was warned to stay clear of the well-connected junior officer or risk the ire of their sub-county boss.
There were other cases of junior female police officers who used their love affairs with their bosses to informally run entire police divisions, creating fiefdoms of untouchable officers in their stations.
But there are others who have been forced into loveless affairs by their bosses and ended up with children born out of wedlock while others were infected with sexually transmitted diseases.
Insiders we talked to revealed there had been cases where male officers held informal "resource allocation committees" whenever their stations received newly graduated female officers. During such meetings, the available female officers were shared out amicably to avoid conflicts and love triangles in future.
A number of police insiders we talked to explained that there are no avenues of reporting such love affairs or cases of sexual violence, especially where senior officers are involved.
The police service is structured in such a way that complaints must follow a chain of command, meaning if a police constable has been violated, they must first report to the OCS who will forward the complaint to the OCPD for onward transmission to her bosses and ultimately the Inspector General of Police.
Improper relationships
Interior Cabinet Secretary Fred Matiang'i lifted the lid off this genie bottle while addressing cadet officers training at Kenya Police College, Kiganjo, on Friday.
"I wish to remind all of you that fraternisation between officers and service members is prohibited. This includes having improper relationships, ranging from overly casual relationships to intimate friendships which have the potential of undermining command, order and discipline," said Matiang'i.
He said in other countries such improper love affairs are strictly forbidden as they poison the work environment and may result in abuse of power and privileges and weakens fair and judicious evaluation of junior staff for reward, training or proper deployment. It also negatively affects the morale of police officers, the CS added.
While warning that commissioned officers will not be allowed to marry their juniors, Matiang'i urged male police officers to be their sisters' keepers in the service.
He said there had been level of intolerance in the service, which demanded a rethink of how to deal with gender-based violence within the service.
"Is there a moral justification for attacking someone with an intention of injuring or killing her because you are not on the same wavelength in your love life?" posed the CS.
"Surely, this is an intriguing indicator of how badly our social fabric has been frayed."
In the reforms Matiang'i is advancing, the service will be structured in such a way that professionals in various fields such as medicine, law and information technology experts are recruited into the police service as cadets so that they can later be promoted.
The first batch of 300 cadets will be sent to police stations across the country to be leaders, mentors and work with the communities at the grassroots.