Hallelujah, pastor transforms top club in Kakamega town into church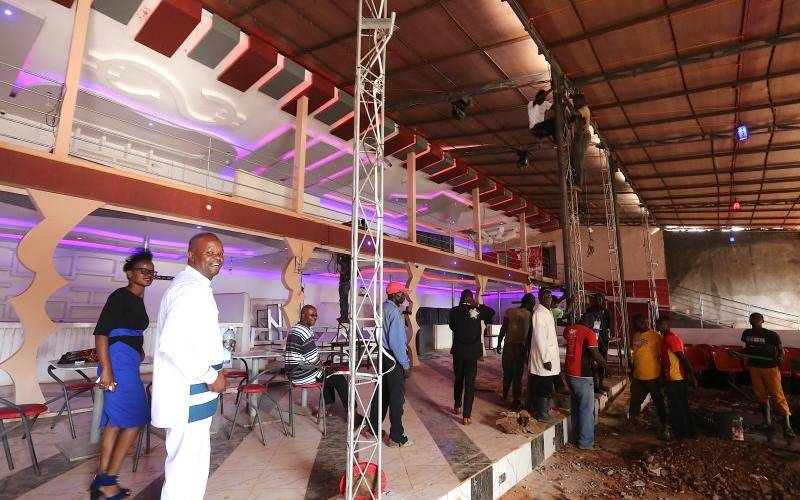 A partygoer who may have been missing in action for three months is likely to be lost if looking for Scotch Baron Lounge, an entertainment spot. For the last three months, the place has transformed and where the expansive club stood is now a church.
Apostle Ken Baraza, a man on 'a holy mission', says he wants to win as many people as possible for the Lord using an approach that is unique. The change must have come as a shock to many revellers who frequented the club. Most of them do not understand why their favourite joint has been converted into a worship zone.
"At first I thought it was just some sort of a joke until the church moved in full swing," said a reveller who used to frequent the club.
Apostle Baraza has set his sights on buildings that housed bars and clubs. The first place he turned a bar into a church was Ndumberi, Kiambu County, in 2004. His latest conquest for the propagation of the word of God is the Scotch Baron Lounge club in Kakamega which is under renovation.
"It was not easy though. It took us four months of resistance and negotiations to succeed," he says.
Against the din in the background as workers go about the business of restructuring the place, turning it from the architecture of a bar to the standards of a church, Baraza opines that "God receives glory when the church takes a bar than when a bar takes over a church."
"Our core mission is to bring light where there is darkness. We condemn the spirit of darkness, not the person, and for that reason, we are open to drunkards who wish to join our church," he says.
Responding to whether the history of the premises will have a negative impact on the church, Pastor Michael Situma says "Jesus died for sinners, not the righteous".
Baraza says his church journey began under the spiritual guidance of Bishop Arthur Kitonga of the Redeemed Gospel Church. He later founded the New House of Grace Church in Kahawa West, Mlolongo and Waithaka. He also founded the church in South Africa where he had gone for further studies at Rhema University.
Yet even as he targets bars in his spiritual fights, Baraza acknowledges he was born into a family of people who were addicted to liquor. As a young man, Baraza recalls he used to brew and drink alcohol.
"I come from a family of alcoholics. Everybody used to drink, including my sisters. By the grace of God, I overcame that habit".
That past, he says, is the motivation for him to win as many souls as possible for the Lord. In support of her husband, Judy Baraza adds: "We employ a transformative approach towards preaching the gospel. We empower our sheep to go out and fish and when we transform people, we allow God to be glorified".
A large part of the churches membership is made of college students. On whether his church preaches the gospel of prosperity or the gospel of damnation, Baraza says "if one starts a church with the intention of benefiting oneself, that is definitely wrong. However, prosperity must be used to propagate the word of God. Poverty is not a measure of spirituality".
Baraza believes Kenya is the springboard of world revival. He is a well-travelled man and his church has branches in South Africa and Tanzania. Locally, there are branches in Kitale, Bungoma and now Kakamega. He started preaching in his house after returning from abroad last year. Despite the restrictions of Covid-19, his church has been growing and he believes it will continue to grow in the coming years.
The transformation of the famous club into a church has elicited mixed reactions on social media.
Moh Tracy Likomm wrote: "I said this will fail mapema sana and some of my friends said I'm an enemy of progress. I'm sure hata hakurudisha capital. Wrong choice of location. You can't weka a club where you are surrounded by a church, residences, bank and police station then expect to succeed. Never".
Richard Mumia wrote: "Businesses in Kakamega is under siege. Anyway, I'm happy about a church taking over the place."