Matiang'i bans intimate relationships between senior, junior officers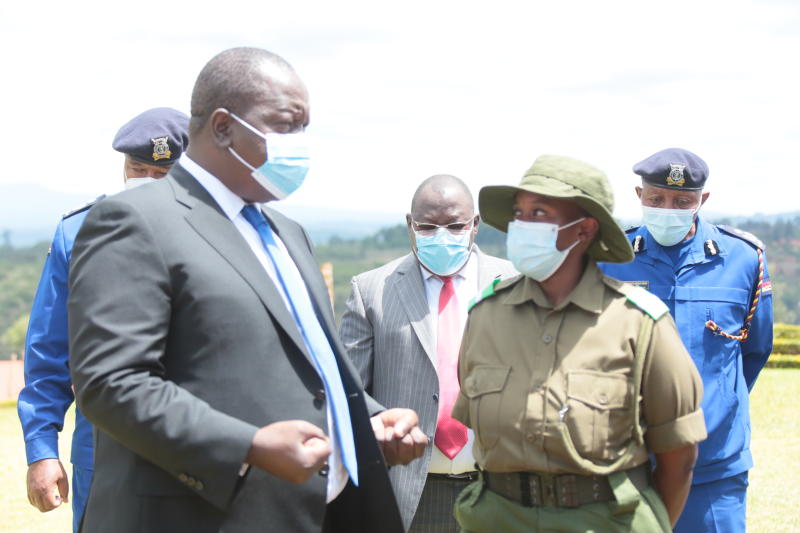 The Government is now seeking to review National Police Service standing orders to stop commissioned officers from marrying their juniors.
In a move aimed at instilling discipline, Interior Cabinet Secretary Fred Matiang'i said he would be seeking the approval of the National Security Council to introduce the changes.
Matiang'i said intimate relationships between the senior officers and juniors "has the potential of undermining command, order and discipline among officers."
Speaking at Kiganjo Police Training College in Nyeri where she presided over the commencement of training course for 300 officer cadets, the CS said the situation can no longer be tolerated, insisting there is a need to adopt a new way of doing things.
He said the police service will adopt a policy similar to that of the Kenya Defence Forces (KDF).
"It's necessary that we adopt a new way of doing things. We expect you to guide and lead those who will graduate as police constables. We have already put up a team that will look at how we manage male-female relationships in the security sector in the country," Matiang'i told the cadets.
Gender office
The CS said he is awaiting the approval of proposed new standing orders by the National Security Council (NSC).
The National Police Service (NPS), Matiang'i said, plans to set up a Gender and Ethics Office under the Inspector General of Police's office to manage male and female relationships in the service.
But a Nyeri-based lawyer Charles King'ori, said the proposed standing orders do not have a force in law, terming the move as unconstitutional.
"It's a social right that cannot be alienated from a person. Such orders are just by laws. The CS will need to amend the law if they are to be implemented," the lawyer stated.
The CS, however, defended the proposal as necessary to rein in officers who have run amok.
"The integrity we expect is not unusual to us. We will draw a clear line. However, we will not affect those already married," the CS added.
Matiang'i also said that upon approval, the ministry intends to create an Ethics and Gender relations office that will be directly under the Inspector General of the Police's office.
"We cannot look away anymore and ignore the challenges we have had in the security sector. We have had complaints mostly from our female officers about sexual harassment, these are the things we seek to address," he added.
However, those already in matrimonial unions will not be affected.
"If it gets to that point, then one of you will have to quit the service," he stated.
Cases of police officers killing their loved ones who are also officers have been on the rise.