State declares UoN Papal Dais, other vital sites national monuments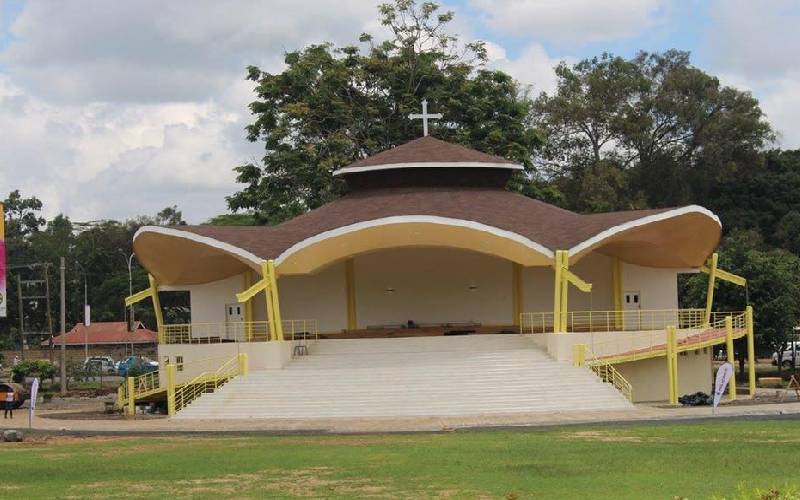 The Papal Dais at the University of Nairobi is among the sites that have been declared national monuments.
In a gazette notice Number 40114 of April 30, Sports and Culture Cabinet Secretary Amina Mohammed said the site was found to have historical value and would be protected.
The dais, designed by Tectura International, an international architectural and design firm, and constructed by Milicon's Limited was used as a podium for the Pope's address to thousands of Christians during his 2015 visit Kenya.
It also hosted dignitaries and senior clergy in the catholic church during the event.
"In exercise of the powers conferred by section 25 (1) (d) of the National Museums and Heritage Act, the Cabinet Secretary for Sports, Culture, and Heritage declares the building specified in the Schedule, which she considers being of historical interest, to be a monument within the martial; of the Act," said CS Amina.
The building and the surrounding compound measuring approximately one acre situated within UoN sports ground, Kilimani Sub-Location in Nairobi is now protected.
Also declared as national monuments were the Granary of the Kikuyu in Thuti Sub-location, Othaya Township Location, Nyeri County, and the 16th Century Ngomeni Shipwreck which is underwater [depth of 7-10 metres] in Ngomeni Bay, Ngomeni Village in Gongoni Ward, Kilifi County.
The National Museums of Kenya (NMK) concluded in 2015 that the Ngomeni shipwreck is of Portuguese origin and was the oldest shipwreck in Kenya having made its last ill-fated journey in the Indian Ocean waters about 500 years ago.
The ACK Kamathanga church within Kyaani Sub-location, Mua Hill Location, Machakos Town Constituency in Machakos County will also be reserved as one of the historical buildings.
House of Commons
The popular House of Commons situated in Sheila Ward along Vasco da Gama Road on the seafront, on plot No. 1144, Malindi Town, Kilifi County was also declared a national monument.
Also declared a national monument is House of Habib Swaleh Bin Alwi Jamal Al-Layl also known as Nyumba ya Habib Swaleh measuring approximately 12metres by 9 metres located Riyadha/Langoni in Lamu Town, Lamu County.
CS Amina told those with any objection to the said declarations to lodge complaints with her office in two months from the publication of the gazette notice.
"Any objection to the declaration shall be lodged with the Cabinet Secretary within 60 days from the publication of this notice," CS Amina directed.