Religious barriers breaker Bishop Willybard Lagho hosts Muslims for Iftar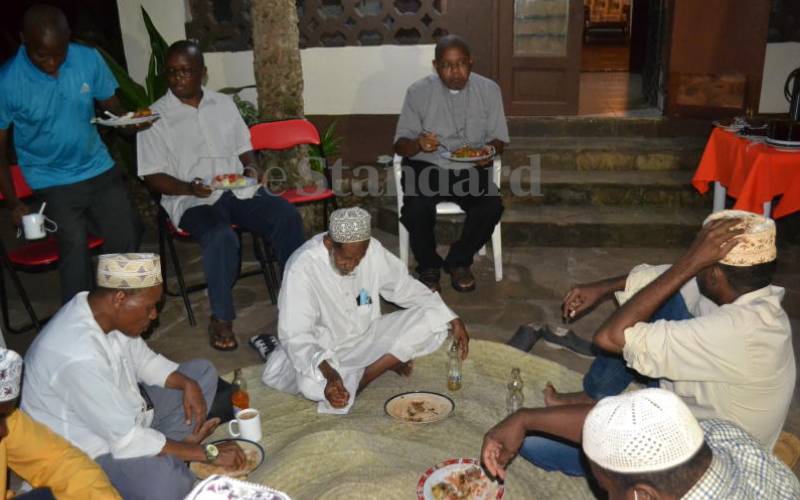 Bishop Wilbard Lagho is courteous and soft-spoken but never hesitant to delve into religious topics or actions many people fear to engage in.
In 2014, at the height of terror attacks at the Coast, he stepped up criticism against alleged extrajudicial killings.
He argued that terrorism was a war of the heart that could not be won by a gun.
Then a Vicar General of Mombasa Catholic Archdiocese, Lagho started a programme to teach ideological similarities between the Catholic and Islam in a bid to bridge the differences.
On Monday evening, when he hosted a group of Muslim clerics for an iftar meal at his Malindi residence, many were reminded of his years of sowing religious tolerance in the region.
Iftar is the first meal for Muslims after a daylong fast during Ramadhan.
For Muslims, iftar is a combination of spiritual and physical food. For others, a delicious meal is also a gateway to a heart.
One of the Muslim clerics Sheikh Aboud Bazmaleh, the chair of Supkem in Kilifi, said clerics agreed to forge common ground on issues affecting the society.
The clerics shared the rich history of the two oldest Abrahamic religions, and how the two have over the decades worked together during times of disasters.
The clerics resolved to work together to confront challenges in the society such as drug abuse and early marriages, that are prevalent at the Coast.
Lagho said his decision to host Muslim clerics for an iftar "was just a normal" thing and "I wanted us to talk about issues that affect the community we serve."
Yesterday, Kenya Muslim National Advisory Council (Kemnac) described Bishop Lagho as a strong pillar in the fight against radicalism; a man who has also played a big role in bridging religious differences.
"The gesture by the Bishop promotes real interfaith relations," said Kemnac chair Sheikh Juma Ngao.
He added that similar gestures were also made by the late Tanzania president John Magufuli.
"Magufuli conducted a harambee in a church to aid the construction of a mosque in Dodoma," the Kemnac chair said.
"When Moroccan King Mohamed VI visited Dar es Salaam, Magufuli asked him to help in the construction of a modern mosque for Muslims."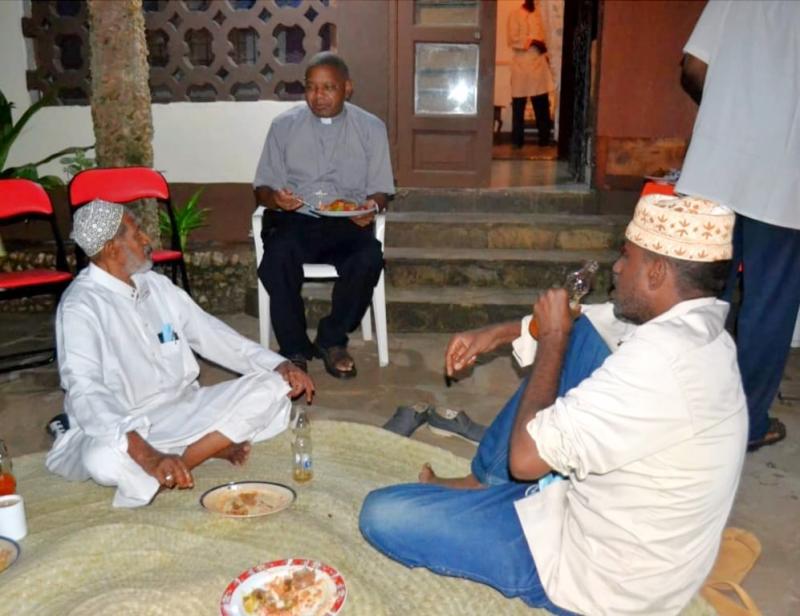 Ethical principles
Sheikh Ngao said small gestures like an iftar "can do miracles in a divisive community like ours" especially at this time when there are threats of terrorism.
Lagho's appointment as the new Catholic Bishop of Malindi Diocese in December did not come as a surprise to many.
He replaced the late Bishop Rev Emanuel Barbara who died on January 5, 2018.
Bishop Lagho holds a diploma in Arabic language from the Pontifical Institute of Arabic and Islamic Studies (Rome), Licentiate in Arabic and Islamic Studies (Rome), Masters in Religious Studies from the Catholic University of Eastern Africa, Nairobi.
"I wanted to be a lawyer after school but I later realised that that career would not be in conformity with my ethical principles as I was raised in a strict Catholic family," said Lagho.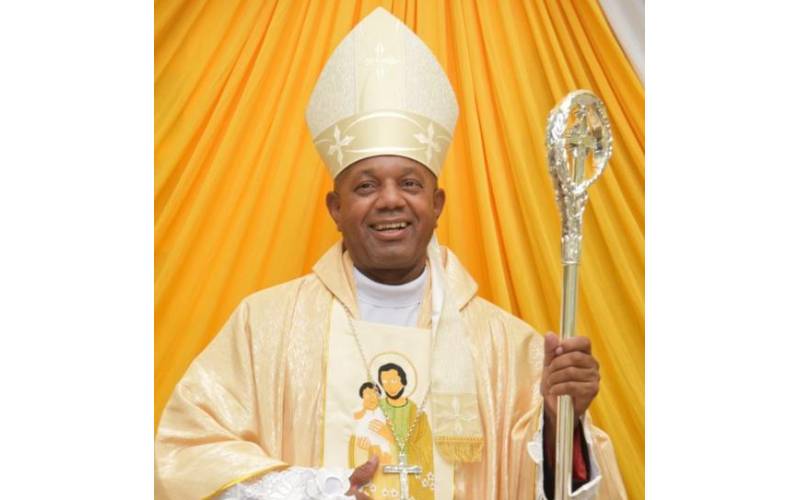 Bishop Lagho has never shied away from talking about the similarities in Christianity and Islam.
He argues that Islam and Catholics believe that God is the creator of the universe, there is life after death, existence of angels, Jesus son of Mary and all honour Mary the Mother.
"Catholics and Muslims fast and donate to the less fortunate members of society. We both denounce abortion and believe life is from conception to natural death," said Lagho.
Currently, the Bishop of Malindi Diocese uses the Bible and the Qur'an to illustrate similarities in the two faiths such as the requirement to worship one God and to love one's neighbour.
"We opposed artificial methods of birth controls up to the UN together. Mary the Mother of Jesus who Catholics respect so much, is mentioned many times in the Quran than even the Bible," said Lagho.
"We believe in one God although they don't believe in the Holy trinity. We believe that Jesus will come back during the day of judgement. These things we will like to teach the youth during the caravan."
His last working station as a priest was St Joseph's Catholic Church, Tudor in Mombasa County, and he was also as the Vicar General of the Mombasa Archdiocese.
He also headed the Apostleship of the Sea (AoS), the Catholic Church agency whose patron is the Virgin Mary also known as Stella Maris (Star of the Sea).
The AoS offers support and spiritual nourishment to the world's seafarers in form of pastoral care by various chaplaincies in ports dotted all over the world.
The Catholic prelate has held several senior positions like consular on Pontifical Council for Inter-religious Dialogue (Rome) Italy.
He was ordained deacon on December 21, 1985 and ordained as a priest on April 25, 1987 in Mombasa Archdiocese.