Martha Karua tells government it 'was not on leave' when Njiru structures went up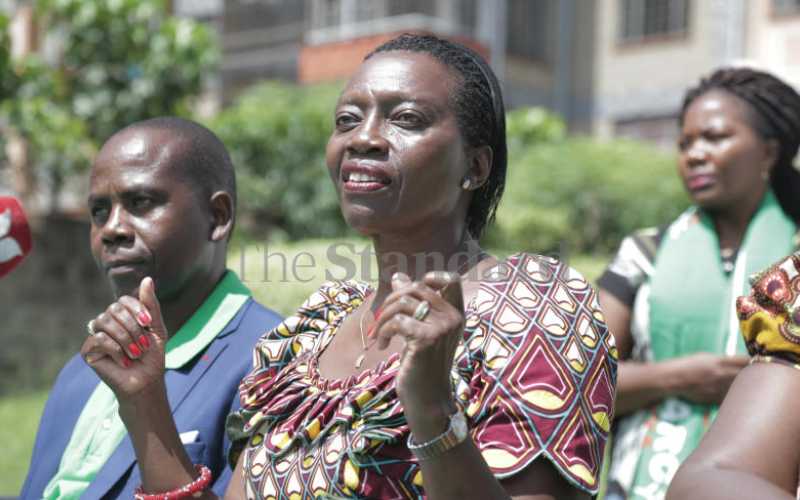 Narc Party leader Martha Karua has accused the government of creating a humanitarian crisis in the middle of an ongoing pandemic.
She was responding to the demolitions in Njiru estate in Nairobi last week where 5,000 homeowners lost their property. Most had painstakingly made savings or taken loans to invest.
Some of those hit hard like 60-year-old Hesbon Wahu are admitted to hospitals due to shock. Wahu who has since recovered and discharged had put up a five-storey building.
Taking to Twitter, Karua said, "Immoral and heartless, a gross violation of human rights of the vulnerable which has now become a recurrent practice for this …."
She called on the Nairobi Metropolitan Services as well as human rights groups to look into the crisis.
According to Erick Onyango, a member of Sisi Sasa Self Help Group, they were initially told only a small portion was being repossessed to pave way for the construction of a public school.
"But they have gone ahead and flattened all houses and brought in contigents of police officers to guard the place day and night. We don't know who is behind this insensitive eviction at a time when people are fighting Corona," Onyango said.
Speaking on Spice FM's Situation Room on Monday, the Narc party leader said instead of the government shielding its people from the effects of the pandemic, it has turned into the creator of a crisis.
"Even if it [the government] may have had the right to demolish, the people should have been notified and helped to relocate."
Karua said the demolitions have exposed the residents to harsh weather and Covid-19 among other health risks.
This is a wake up call to @StateHouseKenya @InteriorKE Stop fighting Kenyans! @SpiceFMKE #thesituationroom pic.twitter.com/f1KpWsCUnB — Martha Karua SC (@MarthaKarua) April 26, 2021
"The government had not gone on leave or vacation when those people built those structures," she added.
Karua went on, adding that the government seems to be at war with its people, instead of helping.
Many of the affected residents urged the government to look into the situation, seeing as the 8pm curfew and the disease-zone lockdown, which includes Nairobi county, are in effect.
Karua added that even though the lockdown only involves five counties of Nairobi, Kajiado, Kiambu, Machakos and Nakuru, these are major regions that hurt economic activities as they are the central link with other counties.